Looking for the best Christmas lights in Lakeland? We've got a list of amazing neighborhood Christmas light displays around Lakeland, Bartow, Mulberry & Plant City, as well as local events where you'll find an abundance of Christmas lights.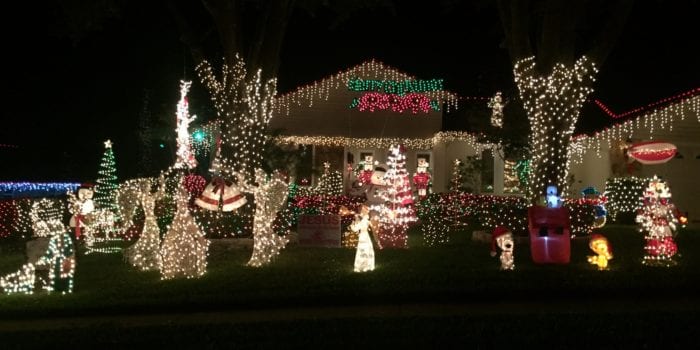 Thank you to Light Up Lakeland for sponsoring this post!
Christmas Lighting With a Purpose
Light Up Lakeland is an exceptional holiday lighting service that outshines all others. Whether for residential or commercial lighting, founder Brian Seeley and his team pay great attention to detail and will provide installation, maintenance, take down and storage. Light Up Lakeland provides their clients an outstanding holiday experience that is convenient and hassle free.
As a blessing to the community, a portion of all profits are given to Gospel, Inc. and will benefit Lakeland's homeless.
Call us at  863.808.9440 for all your Christmas lighting needs!
Visit our Website to see places Light Up Lakeland has "lit-up."
Learn More
Neighborhood Christmas Lights in Lakeland 
There are some houses that go all out for Christmas, and for that the rest of us say THANK YOU! I love driving these streets and seeing people's creativity. If you do go on a Christmas light drive, keep in mind that you are in someone's neighborhood. Make sure you print out our CHRISTMAS LIGHT SCAVENGER HUNT list before you go.
Note that some locations are marked unconfirmed for 2017 which only means we haven't been by yet to confirm their lights are up this year.
We've also included a handy map below that you can edit to create your own Christmas Light Drive – don't forget the pajamas and hot chocolate!
Lancelot Drive off Lake Miriam
Lake Miriam Dr & Lancelot, Lakeland, FL 33813 (MAP IT)
Almost every house on this street is COVERED with Christmas lights and more inflatables and yard decorations than you can imagine. On weekend nights, some of the residents are outside handing out candy canes. (I take a quick drive down this street anytime I'm out after dark in December!)
Lochnivar Dr. off Lake Miriam
Lake Miriam Dr & Lochnivar, Lakeland, FL 33813 (one street East of Lancelot) – (MAP IT)
Has a few houses all decked out – worth a drive after you've visited Lancelot (see above)
Curtis Family Lights
Yarborough Lane, 1/4 mile south of 540-A in South Lakeland (MAP IT)
Tune into 99.7 when you arrive for a light and music display! Visit their Facebook page for more details.
Don Weaver's Christmas Lights
3832 Marquise Ln, Mulberry, FL 33860 (MAP IT)
Don Weaver, Lighting Director creates an amazing light display for the month of December in Mulberry, Florida. Lights and music will run every night from Dec 1 thru Dec 31 beginning at 6p- 10p. Santa and Hot Chocolate night is December 16. See the Facebook photos/video here. He's also been featured in the news!
Inflatables Galore
Woodland Hills & Sagamore Street off Edgewood Dr. (MAP IT)
Inflatables. LOTS and LOTS of inflatables! They also have a beautiful nativity and light display in front of the house.
Letchworth Family Lights 
Palencia Place off S. Florida Ave. just south of Edgewood Drive (MAP IT)
Light display synced to music. Tune in your radio to listen to this great show!
Christmas Lane in Bartow
E. George Street & Spring Court in Bartow – (MAP IT)
You'll find quite a few houses in this area decorated with great light displays! Make sure you explore Spring Court, and then go across to E. George Street and down all of the side streets (Helen St. & Lila Circle) from there. You know it's impressive when it is known as "Christmas Tree Lane" to the locals!
Ariana Village Lights 
1625 Ariana St, Lakeland, FL 33803 
(MAP IT)
From
December 15 – 23
nightly from 6-9pm the gates will be open for you to visit Ariana Village! Take Harden Blvd and head West on Ariana Street. The park is located about a 1/2 mile on the right. Bring your kids to see Santa and Mrs.Claus for treats at the exit. The park has a 
Facebook Page
 where you can see photos people have taken this year.
Oakmont Lane
5908 Oakmont Lane, Lakeland, FL 33812 (MAP IT)
Skating penguins, Santa and reindeer, soliders and LOTS of lights set to music!
Country Oaks Neighborhood
Old Polk City Rd & Odoniel Dr, Lakeland, FL 33809 (MAP IT)
From a reader: Country Oaks neighborhood off of Old Polk City Rd is worth a drive. Each year they do a "Come to Bethlehem" drive. A good portion of the homes have lights, nightly luminaries, and figures out of wood that are all headed to "Bethlehem" with the final house as the full nativity.
The next two houses have Plant City addresses but are only 5-7 minutes from where Drane Field Road meets County Line Road, so we are including them because they will be very close for some of our readers. They are just 2 miles apart so make sure you find both of them if you're out driving!
Lights of Winter in East Plant City 
3212 Bella Garden Lane, Plant City, 33566 (MAP IT)
November 22 – January 3 / Sunday – Thursday from 6pm-9pm / Friday & Saturday 6pm-10pm
Lights Of Winter is a computerized Christmas light show in Plant City, Florida featuring over 35,000 lights dancing on TWO houses!  Tune in to 107.5 FM when you get there to hear the music that goes along with the lights. Check our their Facebook Page for a video and photos.  **MAKE SURE YOU TURN DOWN THE DRIVEWAY – they want people to come down the driveway instead of blocking traffic on Sparkman Road**
Masters Family Christmas in East Plant City 
2329 Jim Johnson Road, Plant City, 33566 (MAP IT)
Over 50,000 LED Christmas lights in an amazing display! Check our their Facebook Page for photos.  Lights will be on 11/23/17 – 01/01/2018. Turn your radios to 88.3 to hear the music. **MAKE SURE YOU TURN DOWN THE DRIVEWAY – this is the best way to see all the lights and they welcome you to turn in.**
Lakeland Christmas Lights Map
We've created a driving tour map that covers all of the locations in Lakeland/Bartow/Mulberry – to modify it for your own Christmas Light drive, simply click "View Larger Map" or "More Options" in the upper left corner to open it in your Google Maps app or website, and then you can move/delete locations to make your own driving tour. Note that Plant City locations are not included in this map – we could only include 10 stops!
Community Events & Christmas Lights Around Lakeland
Munn Park Lights in Downtown Lakeland
Every year the City of Lakeland makes our downtown magical with the addition of light displays all over Munn Park. Lights come on at dusk every night, so pick a night to eat at a great local eatery downtown, and take a stroll through the park! Or visit during one of this month's special events, such as First Friday on December 1.
You can also find light displays around Lake Morton and Lake Mirror in the downtown area.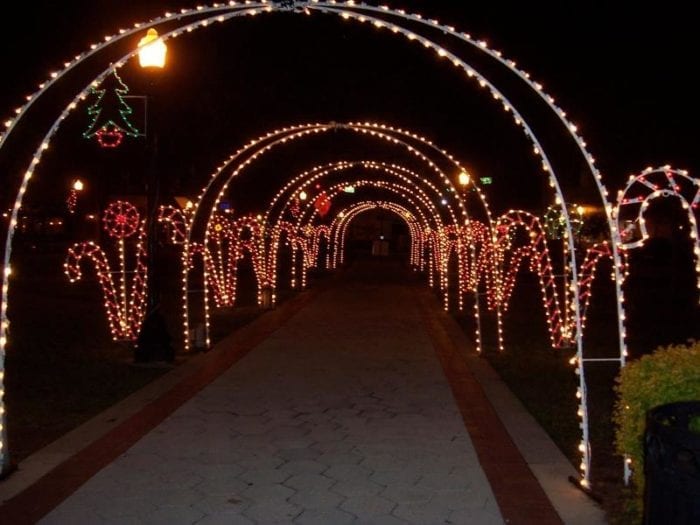 Lights of Lakeland
You'll find an impressive display of OVER 500,000 LIGHTS at Lights of Lakeland! This is one of my family's favorite events every year. Located just south of the Polk Parkway on Lakeland Highlands Road, Lights of Lakeland is Highland Park Church's ANNUAL, FREE walk-thru Christmas experience the whole family can enjoy! Includes The Grinch, Santa's Workshop, Live Reindeer Barn, Pictures with Santa & Mrs. Claus, Walk through Bethlehem experience with live camels, sheep, and donkeys, Food Court with local food trucks, Sweet Shoppe with homemade treats, General Store for children to Christmas shop on their own, Photos with cartoon characters for kids.
LAKELAND MOM'S "KNOW BEFORE YOU GO": There are plenty of volunteers directing parking, and if you end up on the West Campus across the street, there is a shuttle to take you across the road. Traffic gets a little backed up on these nights, so avoid the area if you aren't attending the event! Also, if you're looking to see Santa, you can find him along with Mrs. Claus in their own house near the entrance. Sometimes the line to see Santa can get quite long, so be prepared for a wait! If you can avoid taking a stroller, I highly recommend carrying little ones. The event is on mulch/dirt so it can be difficult to push the stroller, not to mention that its hard to navigate through the crowd.
December 1, 2, 3 and 8, 9, 10 from 6:30-9pm. (Fri, Sat, Sun each weekend)

Highland Park Church – 4777 Lakeland Highlands Rd, Lakeland, FL 33813 (MAP IT)
Plant City Light Displays & Christmas Events
Christmas Lane at the Florida Strawberry Festival Grounds in Plant City 
Christmas Lane is an extraordinary light display that originated in the 1980s for the Dover, Florida community. This light display has grown exponentially over the last 35 years.  In 2015, Christmas Lane relocated to the Florida Strawberry Festival grounds in Plant City, FL. Various Christmas themed displays, photos with Santa, live entertainment, food, and rides (additional cost for food & rides). Parking is free and can be accessed from Lemon and Oak streets.  Live nativity every Thursday & Saturday night at 7:00 & 8:30pm.
November 24 – December 24 / Thursdays – Sundays from 6-9pm

$5 for adults; $3 for children ages 4 to 12; free for children under 3 (Rides & food extra)

Florida Strawberry Festival grounds – 2508 W Oak Ave, Plant City, FL 33563 (MAP IT)
The Christmas Trail in Plant City
The Christmas Trail is an outdoor Christmas attraction located in Plant City, Florida. Featuring over a 1/4 mile walking trail filled with Christmas themed scenes and several thousand lights throughout. Photo ops, a 25ft tall Christmas tree, and even snow highlight a few of the magical aspects of The Christmas Trail.  You might even catch a glimpse of Santa walking through the trail!   Along with the trail guests can purchase an assortment of concessions including marshmallows for roasting and hot chocolate. Santa is also at the Trail nightly for pictures and Jack Frost creates magical snowfalls through the night. We also have vendors and free face painting.  Guests can walk the trail at their leisure but can expect it to last around 15 minutes. The Christmas Trail is a Free Event but donations are appreciated. There are a limited number tickets available each night and they advise arriving early. Concessions and other items will be for sale along with vendors selling merchandise.
Open from 6 – 10pm on the following dates – December 8, 9, 15, 16, 21, 22, 23
Open from 6 – 9:30pm on the following dates – December 10, 17, 20

FREE Event but donations are appreciated. Ticket reservation strongly recommended (check website)

2837 South Frontage Road Plant City, FL 33566 (MAP IT)
Wonderland of Lights at the Hillsborough County Fairgrounds 
At Wonderland of Lights, the Christmas season springs to life with dazzling displays of electric cheer. These illuminated spectacles are easily visible during drive-through car tours, but at Santa's Village, even more holiday wonder awaits. Meet Santa, ride ponies & camels, ride the North Pole Express Train, games, holiday food & treats, and more.
November 23 – December 30. Select nights from 6 – 9pm or 6 – 10pm. See website for dates/times.

Prices start at $20/vehicle with up to 8 passengers. Train Ride & some activities extra.

GROUPON DEAL

 – $12/vehicle with up to 8 passengers, or $19 for one vehicle and 4 Train Rides. 

Click here for details

.

Hillsborough County Fairgrounds – 215 Sydney Washer Rd, Dover, FL 33527 (MAP IT)
If you know of a Christmas Light Display in Lakeland or the surrounding area that isn't on our list, leave us a comment below and we'll get it added ASAP!
Do you

♥

Lakeland Mom?
If you find this information useful, we ask you to consider making a small donation!
These donations go towards the many expenses associated with running LakelandMom.com. Your support allows us to continue providing you with great information on kids activities and family-friendly events in Lakeland and across Polk County.