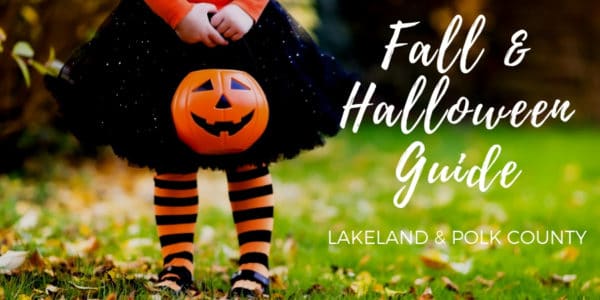 FALL & HALLOWEEN 2018
Looking for Fall & Halloween activities and things to do with kids in Lakeland, Winter Haven, Bartow, Mulberry, Auburndale, Lake Wales, or Haines City? You've come to the right place. We've got lots of great content planned for Fall 2018, and you'll find it all listed here as it gets posted!
🎃 We'll have info on Corn Mazes, Pumpkin Patches, Hayrides, Halloween costume ideas, Trick-or-Treating tips, Haunted Houses and Zombies, Halloween Movies and TV Specials, Fall Festivals, Trunk or Treats, and so much more! 🎃 
Looking to explore a corn maze, working farm, or just get outside for a fall afternoon? We've got a list of corn mazes and pumpkin festivals happening in Lakeland and nearby areas.
Single Day Fall & Halloween Events
This section feeds from our calendar and only shows upcoming events tagged for Fall & Halloween 2018. Click on the name of any event to get more details. Visit our calendar page to see a full list of events this fall.