Anthem Buddies will welcome the players to the court, then stand with the players and coaches during the playing of the national anthem. After, they are escorted back to their seats to enjoy the game. This is a fun chance for kids to be on the court and feel like part of the game! Lakeland Mom will select approximately 20 kids to serve as Anthem Buddies on February 10th.
Requirements:
You must be inside the arena at the RP Funding Center no later than 6:30pm
You must purchase tickets to the game (starting at only $10 for 2 tickets)
Your child must be age 3 or older (it is loud and exciting when the players enter the court)
Lakeland Electric Customer Appreciation Night
Special Guest Appearance by Lakeland Electric Mascot, Watson
First 300 Fans in Attendance Receive Lakeland Electric Promotional Giveaway
Special In-Game Entertainment
Lakeland Electric Prizes Provided Throughout the Night
Special Offer Available:

Buy One $10 Ticket and Get One $10 Ticket Free | Promo Code: LETHANKS
The Promo Code Box will appear once you start the checkout process
Kid Friendly Fun at Lakeland Magic Games
Whether you love basketball, enjoy family friendly events, or just like to have a FUN time with your kids, the Lakeland Magic games have something for everyone!
At the Lakeland Magic Games you'll find:
2 hours of action packed basketball where every seat in the arena has a great view!
A kids zone with basketball hoops, inflatables, coloring sheets and activities
Pre-game entertainment and in-game activities
Fun music, dancing, and crowd engagement
Post-game autograph session on the court and photos with Swish (free programs are available when you enter, otherwise bring your own item to have signed)
Kid friendly time frame – games last approximately 2 hours, so it's not a late night!
Tickets for Lakeland Magic Games start at only $10 per person. For more information on the Lakeland Magic visit http://lakeland.gleague.nba.com/.
Lakeland Mom's Photos from Lakeland Magic Games
Enter to be an Anthem Buddy
This giveaway has ended. Click here to check for current giveaways!
Submit your name and email below to enter your child/children to be an Anthem Buddy at the Lakeland Magic game on Saturday, February 10 at 7pm.
The deadline to enter to win is Tuesday, February 6 at 8pm. Winners will be contacted via email or text. Full contest rules are at the end of this post.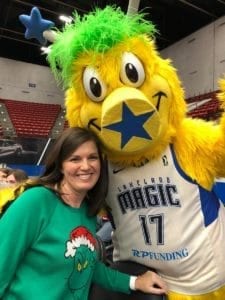 April from Lakeland Mom with SWISH – the Lakeland Magic Mascot
GIVEAWAY RULES:
Tickets are for the event, date, and time specified and cannot be transferred to another event or show time unless the information above states otherwise.
You must be 18 or older and live in Central Florida to enter this giveaway.
You must use a valid email address to enter this giveaway.
One entry per person. Additional entries will be removed from our list.
Winner will be selected randomly from all entries.
We will contact the winner via the email address provided OR via Facebook as soon as the winner is selected. The winner will have two [2] days (48 hours) to respond. If the winner does not respond within the two[2] days (48 hours), the prize will be forfeited and another winner chosen. Directions for claiming the prize will be given via email. A valid photo ID and/or mailing address may be required.
By entering this giveaway, you are subscribing to Lakeland Mom's weekly newsletter email list. Visit our Site Policies page for our Privacy Policy.
For a complete list of Lakeland Mom's giveaway policies and terms and conditions, see our Site Policies page. By entering this giveaway, you agree to comply with Lakeland Mom's terms and conditions.