The Voluntary Prekindergarten Education Program – or VPK – is a FREE prekindergarten program for 4-year-olds who reside in Florida and who are not participating in the Gardiner Scholarship Program. A child is eligible to enroll in a free VPK program in the year they turn 4 on or before September 1, and the State of Florida pays for 1 year of VPK attendance per child. Details regarding the types of providers and different programs available can be found below.
NEW: Delayed Enrollment Option
A law was passed in 2016 allowing parents with children born between Feb. 2 through Sept. 1 to postpone enrolling their child in VPK the year they turn 4 and wait until the following year when their child is 5. This allows parents of younger 4-year-olds to postpone the year their child begins VPK, enabling the child to begin kindergarten and first grade as a slightly older, more mature student
See the chart below to help determine eligibility.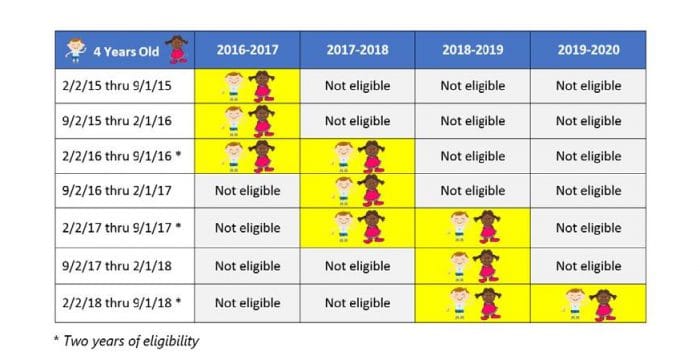 What types of VPK Programs are available
Providers – include private preschools, charter schools, and Polk County Public Schools. Note that not all preschools for 4 year olds accept VPK certificates.
Hours –  Providers have flexibility to structure the hours per day and days per week to meet the required number of instructional hours, so each program will look different – some could be 8:30-11:30, other 9-12:30, and even some that run from late morning into the afternoon. Programs are typically 3-3.5 hours each day. Many providers do have "wrap around care" which covers the remainder of the day for a fee. Some providers also require your child to attend all day at an additional cost.
School Year and Summer Options – The School Year Program includes 540 instructional hours. The Summer Program includes 300 instructional hours. There is also a VPK Specialized Instructional Services Education Program that takes place outside a traditional classroom setting and is for 4-year-olds with special needs who have current individualized educational plans (IEP) from their local school districts.
How to find a VPK Provider
This is probably the information we see requested most often in the Lakeland Moms FB Group – parents looking for help selecting a daycare/preschool/VPK program. While we do have a list of reader recommended and self submitted childcare providers in our Childcare, Preschool & VPK Directory, there are SO many providers in Polk County we couldn't begin to keep track of who provides VPK services and who does not. Plus, some have extended waiting lists while others have openings on a regular basis, so it will require some phone calls to find the right fit for your family.
VPK programs are provided at private locations, charter schools, and public schools.
Help Finding a Child Care Provider or VPK Program
The Early Learning Coalition of Polk County has a Child Care Resource & Referral (CCR&R) program to help you find quality child care that fits your individual needs. The CCR&R can also provide referrals to other organizations that may be able to provide additional assistance for anything from food and clothing to car seats and other child safety equipment. A Parent Counselor is available to you to help educate you on all the child care options available and give you resources that can help you select a provider that will meet your needs.
To find your Parent Counselor click here and scroll down to the Eligibility & Client Services section, they are assigned based on the first letter of your last name. Or call (863) 577-2450 and let them know you are looking for assistance with a child care referral.
How to apply for your VPK Certificate of Eligibility
Visit the Early Learning Coalition of Polk County's website and log into the Family Portal to apply. You can begin this process on January 1 of the year you plan for your child to start VPK. You will need the documents listed below in electronic format to submit with your online application.
One

Proof of Florida Residence – Acceptable Proof of Florida Residence may include documentation such as:

Utility bill (electric, gas water), cable, or home phone bill
Pay stub
Residential rental agreement or receipt from rental payment
Government-issued document (e.g., Florida driver's license, Florida identification card, property tax assessment showing a homestead exemption)
Military order showing that the child's parent is a service member in the United States Armed Forces and is assigned to duty in Florida when the child attends the VPK program

One

Proof of Child's Age – Acceptable Proof of Child's age may include documentation such as:

Original or certified copy of the child's birth record filed according to law with the appropriate public officer
Original or certified copy of the child's certificate of baptism or other religious record of the child's birth, accompanied by an affidavit stating that the certificate is true and correct, sworn to or affirmed by the child's parent
Insurance policy on the child's life which has been in force for at least two years
Passport or certificate of the child's arrival in the United States
Immunization record signed by a public health officer or licensed practicing physician
Valid military dependent identification card
If you are applying for VPK Specialized Instructional Services (VPK-SIS), you will also need a copy of your child's Individual Educational Plan (IEP).
If a family does not have access to technology to access the VPK application online, contact the Early Learning Coalition of Polk County to make alternative application arrangements (click here for office locations and phone numbers – also listed below).
How to delay VPK for 1 year
A new law was passed in 2016 allowing parents with children born between Feb. 2 through Sept. 1 to postpone enrolling their child in VPK the year they turn 4 and wait until the following year when their child is 5.  If you decide to postpone enrollment, the state still only pays for 1 year of VPK attendance.
It is simple to delay your Certificate of Eligibility – log into the Family Portal to apply, after you input your child's birthdate, it will give you the year(s) they are eligible to apply. So birthdays between Sept. 2 – Feb. 1 will be given one year to select, and birthdays between Feb. 2 -Sept. 1 will be given two school years to choose from. You don't even need to apply on your "assigned" year if you plan to delay, simply wait until the following year. (If you want to verify which school years your child will be eligible, you can create a log-in and start the process and just cancel after you input your child's birth date.)
Note that even if your child is not eligible to delay their VPK  enrollment, at many preschools a parent can still choose to postpone starting VPK until age 5 and would be responsible for paying the full amount without any VPK funds.
What if you already applied for VPK in 2019-20 and want to delay?
The online system where families enroll for VPK (Family Portal) allows parents with eligible children to apply for either program year. If an eligible child already has a Certificate of Eligibility for their first year of eligibility and has not attended VPK yet, the parent may request to postpone VPK to the following year in the Family Portal.
If your child has already attended VPK, but not more than 70 percent of the program, please contact your early learning coalition to apply for a re-enrollment into the subsequent program year.
Florida law states a child is no longer eligible for VPK once they enroll in kindergarten.
Florida School Enrollment Requirements
Children in Florida are not required to attend either the state's prekindergarten or kindergarten programs, but are required to attend school the year they turn 6 by February 1.
Additional Options for Financial Assistance with Child Care / Day Care 
School Readiness
Families who are trying to work or get training to work may be eligible for school readiness help. The School Readiness Program offers financial assistance to low-income families for early child education and care so families can become financially self-sufficient and their young children can be successful in school in the future.
Services vary based on individual need and range from extended day to extended year and school age care in some instances. The program serves children from 6 weeks to 12 years of age. Eligibility is based on total family income and both parents must be working 20+ hours/week or going to school. Click here to learn more about the program and eligibility requirements.
Head Start
Head Start and Early Head Start programs provide free learning and development services to children ages birth to 5 from low-income families. Eligibility is generally based on family income at or below the poverty level according to the Poverty Guidelines published by the federal government. Children in foster care, homeless children, and children from families receiving public assistance (TANF or SSI) are eligible regardless of income. Click the links to learn more about Head Start at Polk County School sites or Redlands Christian Migrant Association (RCMA) sites.
Benefits of early education and the VPK program
The most important growth and development in the brain happens by the age of five.
The early years are the learning years. A child's ability to be attentive and to follow directions emerges in the early years. Structured early learning fosters these abilities for later success in school and in life.
Pre-K prepares children to be ready for school. Children who participate in high-quality early childhood education programs develop better language skills, score higher in school-readiness tests and have better social skills and fewer behavioral problems once they enter school. They are also better prepared for Kindergarten, especially in the areas of pre-reading, pre-math and social skills.
Pre-K promotes a love of learning in children. Pre-K enhances what a child learns at home and instills a love of life-long learning.
For additional information on Polk County's VPK programs, call a local Early Learning Coalition office listed below, and their helpful staff can answer any questions and walk you through the process.
115 S. Missouri Avenue, 2nd Floor, Suite 201
Lakeland, Florida 33815
Phone: (863) 577-2450
Toll-Free: (800) 843-9780
Fax: (863) 577-2451
Office Hours: M-F, 8:00 am – 5:00 pm
(Closed on Holidays)
Services Offered: Eligibility & Enrollment, Parent & Family Resources, and Provider Support & Reimbursement
203 Avenue A, NW, Suite 200
Winter Haven, FL 33881
Phone: (863) 508-2037
Fax: (863) 508-2038
Office Hours: M-F, 8:00 am – 5:00 pm
(Office Closed for Lunch 12pm-1pm)
(Closed for Holidays)
Services Offered: Eligibility & Enrollment, Parent & Family Resources, and Provider Support
120 SR 60 E
Lake Wales, FL 33853
Phone: (863) 676-3708
Fax: (863) 508-2038
Office Hours: M-F, 8:00 am – 5:00 pm
(Office Closed for Lunch 12pm-1pm)
(Closed on Holidays)
Services Offered: Eligibility & Enrollment, Parent & Family Resources, and Provider Support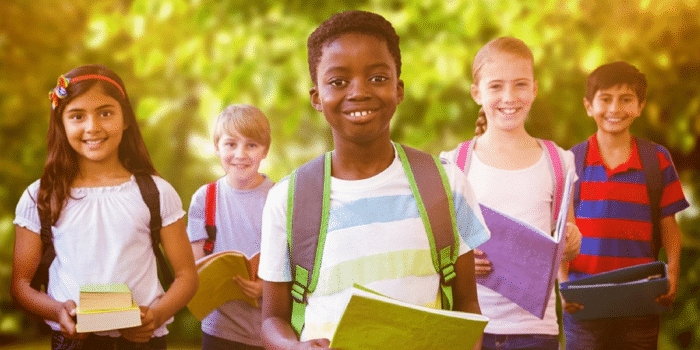 Polk County School Choice Options
Looking for information on grades K-12? Check out our School Choice Guide for details on Magnet, Charter, IB, Academies, Private, and other schools in Lakeland and Polk County.
About the Author: April Mucci
April is the owner of LakelandMom.com. She has lived in Lakeland since age 2 and is passionate about our community and connecting families with local resources. She is a mom to 2 boys and a mini goldendoodle, wife to Matt. You can often find April at the baseball field where she cheers on her baseball loving 11 year old, or home building Legos with her 9 year old. She loves reading, saltwater fishing, and working on Lakeland Mom!