• Featured Events •
May 2019
Storytime is an interactive activity that focuses on promoting literacy, exploring the world we live in, having fun and socializing. The program is intended for little ones ages two to five and their caregivers, and sessions last 20-30 minutes.  Select Wednesdays @10:30am.
Find out more
June 2019
July 2019
August 2019
September 2019
October 2019
November 2019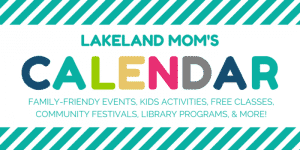 Lakeland Mom's Local Event Calendar is a compilation of all of the family-friendly events the Lakeland area has to offer! We guarantee you won't find a more comprehensive list of events for kids and families anywhere else in town.
Are you interested in having your event featured on this page and promoted by Lakeland Mom? Get more info here.
Do you know of a family friendly event that isn't listed on our calendar? Submit it below.

CALENDAR DISCLAIMER

The LakelandMom.com Event Calendar is provided as a community service to local citizens and organizations. While we work hard to keep our calendar updated, we encourage you to check directly with original sources via the links provided. Events are occasionally canceled, edited, rescheduled, or postponed for a variety of reasons, and we are not always made aware of these changes. We cannot guarantee the accuracy, timeliness or quality of the content of every source listed here.