On Saturday, May 18, 2019 your whole family can visit Bok Tower Gardens for FREE as part of National Public Gardens Day!
Bok Tower Gardens is a national historic landmark that features a majestic bell tower, daily carillon concerts, Hammock Hollow children's garden, outdoor kitchen and edible garden, and Pinewood Estate all on over 150 acres of wild Florida beauty.
Visit https://boktowergardens.org and look for the "Claim Voucher Here" link. Free admission coupons are only valid on Saturday, May 18th, and each coupon is valid for up to 6 guests.
Pinewood Estate is not included in free admission but can be added to your visit. Experience the majesty of this historical 20-room estate which reflects the grandeur of the 1930's and 1940's. Don't miss this historic jewel nestled in the heart of Bok Tower Gardens.
National Public Gardens Day is a national event is designed to raise awareness about the role America's public gardens play in promoting environmental stewardship and awareness, plant and water conservation, and education in communities nationwide. Activities include behind-the-scenes tours of the Gardens and other educational opportunities.
HOURS: Bok Tower Gardens is open 365 days a year from 8 a.m. – 6 p.m. Last admission from the entrance gate is at 5 p.m. The Singing Tower carillon concerts are at 1 & 3 p.m. daily with short selections played on the hour and half-hour.
LOCATION: Bok Tower Gardens is located at 1151 Tower Blvd, Lake Wales FL 33853 .
QUESTIONS: Visit https://boktowergardens.org/ or call 863-676-1408.
FREE Admission is also available to moms for Mother's Day on Sunday, May 12. Regular admission prices apply on Sunday for all other guests. Click here for details and a full list of Mother's Day ideas.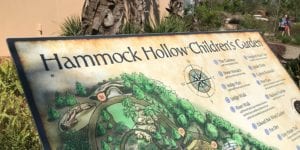 Think of a place where children can explore in nature, using their imagination to cook in an outdoor kitchen or put on a stage show. Sit back and watch as they climb and run, play outdoor music, and look for insects and worms. This amazing outdoor play area is right here in Polk County – Hammock Hollow Children's Garden at Bok Tower Gardens.