Start your engines and race on over to Lakeland's new car-themed playground at John McGee Park. Your kiddos will love pretending to drive a car or truck, climb on tires, and run the gas pump.
This brand new playground in Lakeland is located in John McGee Park, formerly named Cypress Youth Sports complex, on E Edgewood Drive.
Lakeland's newest playground was designed with an automotive theme to recognize McGee Tire Stores, started by the late John McGee.
The playground was added to the existing Cypress Youth Sport Complex as part of an expansion. In addition to the new playground, two new multipurpose fields were added to the existing fields in this complex, and a new 1/2-mile walking path.
Video Tour of McGee Park Playground
Photos of the playground at McGee Park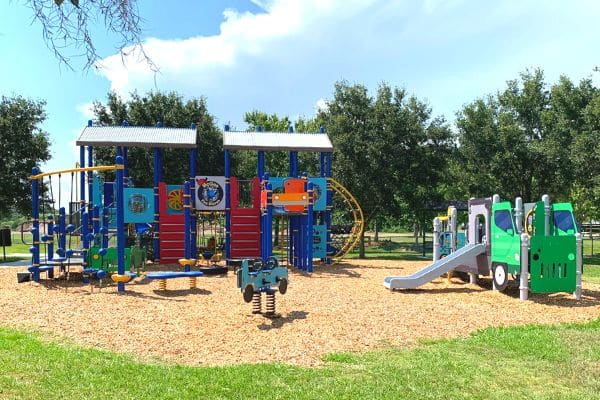 Where are the bathrooms at McGee Park?
Bathrooms are located in the building near the playground, women are on the playground side, and men around the back side.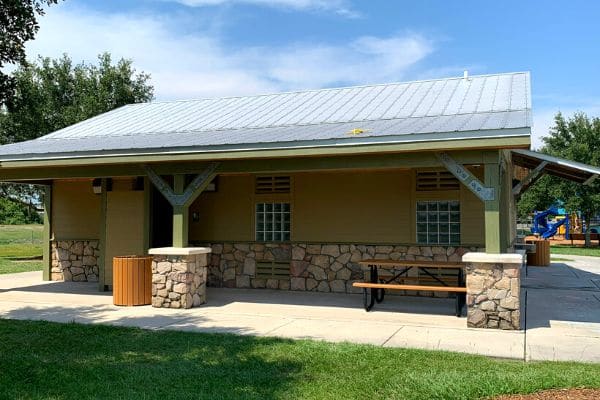 Is the McGee Park Playground fenced in?
The playground is located in a large open space and is not completely fenced in, however there is a fence between the playground and the parking lot (as well as a ditch). The playground is not located near the parking lot, you have to take the walkway shown below to get from the parking lot to the playground (and vice versa – important if you have a runner!)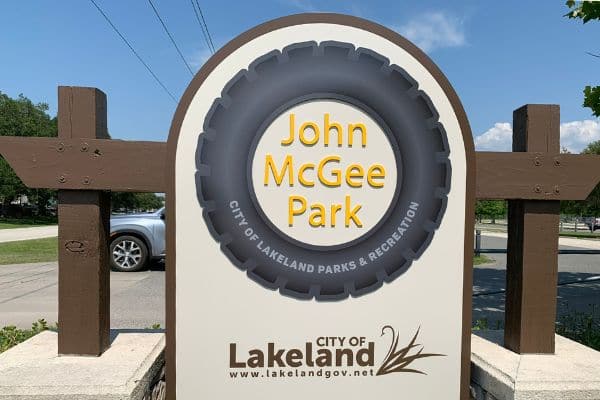 Is there shade at McGee Park?
The playground itself is not shaded and equipment may get hot during the day in direct sunlight. This park is ideal for morning hours or later in the afternoon. There are some benches nearby with shade, and the bathroom building has an overhang on each side that can provide a shaded spot to sit and rest.
Looking for a playground to visit when it is hot? Check out our list of shaded playgrounds in Lakeland.
Picnic Tables
Picnic Tables at John McGee Park are first come, first serve. There are a few tables under and around the bathroom pavilion, as well as around the playground.
(Editor's opinion – If you're looking to have a birthday party at a playground, this might not be a good fit – there are no pavilions or large groups of picnic tables at McGee Park. We've got a list of the best playgrounds for a birthday party where there are a lot of tables nearby).
Directions to John McGee Park
John McGee Park is located at 2125 Edgewood Dr S, Lakeland, FL 33803 (it may still be listed as Cypress Youth Sports Complex in your mapping programs). Some mapping programs have it listed at 2399 Edgewood Dr S. It is located just down the road from South McKeel Academy.
You might also like: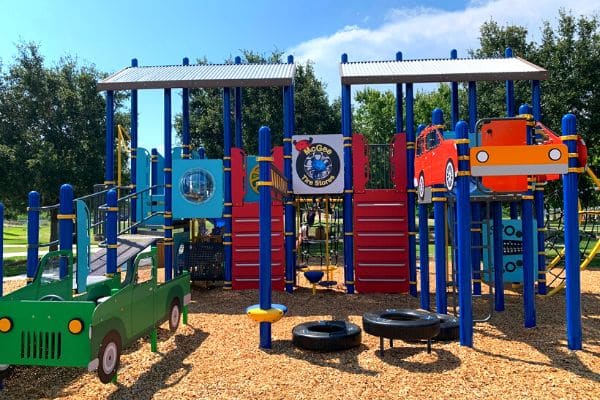 100+ Things to Do with Kids
Check out our Ultimate List of Things to Do with Kids in Lakeland + Polk County to find indoor fun, outdoor fun, free things to do, seasonal activities, and more.