When a local 13-year-old named Sarah tested positive for COVID-19, her parents worried how the virus might impact their daughter's health. Sarah is blind, non-verbal, has a small stature, a chromosomal abnormality, and Peter's anomaly (a rare eye disorder) – all underlying health conditions that can cause complications with COVID-19. After Sarah developed a fever and became lethargic, her parents consulted with their pediatrician who suggested bamlanivimab to try and prevent any additional symptoms.
The bamlanivimab infusion at Lakeland Regional Health was a success – Sarah's fever was gone before she even finished the hour-long treatment, and she was playing outside later that day. Her parents were so impressed with the efficacy of the drug that her father Jon (who had also tested positive) received it the following day. They are sharing their experience to help make other families aware of this treatment option – you can read more of their story on the LRH website.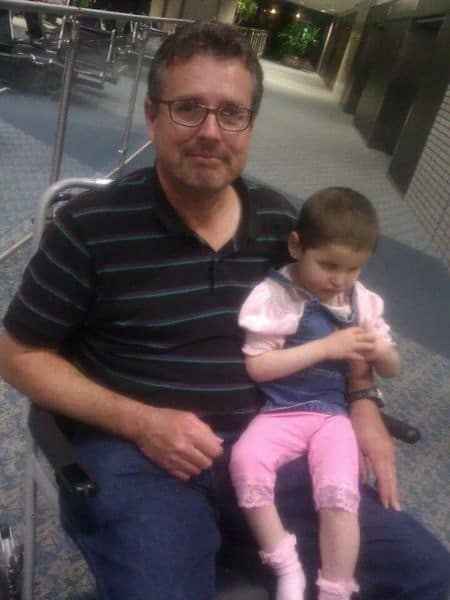 To learn about antibody infusion treatments available in Lakeland and find out if you or your family members are eligible, read our FAQs below.
Frequently Asked Questions
What are Bamlanivimab and Regeneron antibody infusion treatments?
Since November 2020, Lakeland Regional Health has been administering Bamlanivimab/Etesevimab and Regeneron antibody infusion treatments to eligible patients who test positive for COVID-19. These antibody infusion treatments are new drug therapies approved for emergency use in COVID-19 patients. These infusions can boost the immune system, reduce the severity of symptoms in patients with underlying health issues, and eliminate the need for hospitalization.
(Utilizing combination therapies helps to combat the circulating variants and increases the efficacy of the antibody infusion. LRH does not offer Bamlanivimab on its own anymore).
Are these antibody treatments still available?
Yes! Regeneron and bamlanivimab are readily available for individuals who test positive for COVID-19, meet health criteria set forth by the FDA, and are not currently hospitalized.
Eligible patients include children ages 12-17 who have underlying health issues such as asthma, obesity, sickle cell disease, neurodevelopmental disorders such as cerebral palsy, medical device dependence, and more. Ages 18-55 have specific high-risk criteria, and all individuals ages 65+ qualify as high risk. Click here for a full list of criteria.
How long does the treatment take to administer?
Treatment consists of a one-hour IV infusion and one hour of monitoring.
Is this a blood transfusion?
No, these drug therapies are not the same as convalescent plasma. Regeneron and bamlanivimab infusions are monoclonal antibody treatments, which means they are laboratory-produced substitute antibodies designed to limit viral replication and prevent or lessen COVID-19 symptoms.
What to do if you or a family member might be eligible:
If you test positive for COVID-19 and think you meet the criteria at the link above, ask your Primary Care Provider about these treatments. Healthcare providers, parents of COVID-19 patients ages 12-17, and adult COVID-19 patients can also call Lakeland Regional Health at 863.284.1693 for more information or to refer a patient. (Even if you are unsure but think there is a chance you or a loved one are eligible, call this number and a Lakeland Regional Health Team Member will be happy to talk with you).
Why is this treatment important for our community?
"These COVID-19 drug therapies have been shown to be extremely effective at preventing children and adults from being admitted to the hospital. We want to educate our community that this treatment is available for those with mild to moderate COVID-19 symptoms." –Hal Escowitz, MD, Lakeland Regional Health Quality Officer and Chief Medical Informatics Officer
More about Lakeland Regional Health: