As the COVID-19 pandemic has completely disrupted our normal routines, our ability to socialize, the news we consume, and so much more, the discussion of mental wellness has risen to the forefront as a concern in our community.
As adults, we have experience dealing with life's challenges, but for kids, some of them are experiencing extreme emotions and changes for the first time. As many of the activities our children and teens enjoy have been changed or canceled, parents are left to figure out how their children have been affected and how to help them navigate anxiety, isolation, and other emotions.
While we don't know the long term effects of the pandemic on children, we can talk about the mental health resources currently available to families, as well as tips for parents to navigate this uncertain time.
Recently I did a video interview with Dr. Aarti Patel, a Child and Adolescent Psychiatrist from Lakeland Regional Health, to talk specifically about the mental wellness topics affecting children and teens right now.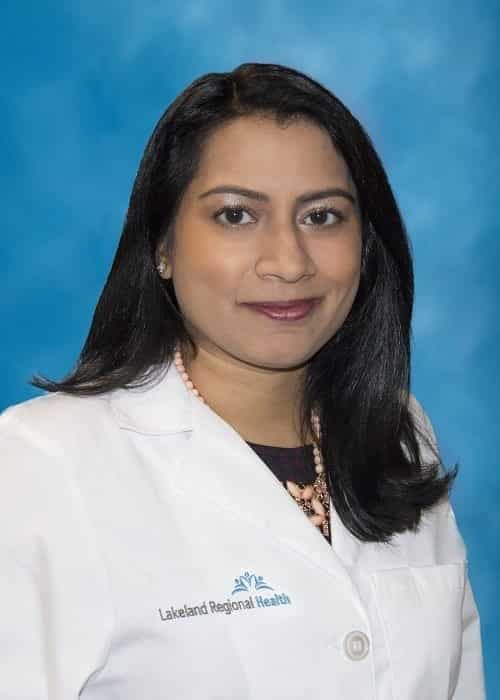 Dr. Aarti Patel
Psychiatrist specializing in Child & Adolescent Psychiatry
Lakeland Regional Health
We are proud to have Lakeland Regional Health as a Lakeland Mom Sponsor and share more about the services they provide to our community. Below you'll find both the video and a summary of our conversation to help you learn more about how current issues may be affecting children and teens.
Watch the Video:
Interview:
Q: Dr. Patel, can you tell me a little bit about what you do, what type of patients you see?
I am a medical doctor, just like any other doctor you would normally see for an illness, but I'm specialized in adult, child and adolescent psychiatry. I completed my residency in adult psychiatry and then got fellowship trained to specialize in child and adolescent psychiatry at the University of Kentucky. At Lakeland Regional I see kids between the ages of 5-18 and do a comprehensive diagnostic examination of symptoms related to disorders of thinking, feeling and/or behavior affecting children, adolescents, and their families. I pay close attention to physical, genetic, developmental, emotional, cognitive, educational, family, peer, and social components. Sometimes I'll recommend medication and sometimes I'll recommend therapy, and sometimes it's a combination of both.
Q: You have obviously seen firsthand the impact COVID-19 is having on children and teens. I have heard there is an increase in children's mental health cases right now. Is that the case or is something else going on?
There has been a surge in mental distress across age and demographic groups. Young adults and those with children have experienced the most pronounced spikes. Among adults living at home with kids under the age of 18, the rate of severe distress rose from just 3% in 2018 to 37% last month. So it is important to note that as parents' distress rises, this will affect their children's mental well being. While we don't have specific data for children, I expect to see a surge in the coming months.
Q: Let's discuss the loss of social connections. In general, what do you see happening when a child's social connections are limited?
It's especially important for our younger kids to have good quality interaction with the caregivers, parents and their immediate family, even if they don't have their peer interactions. Because most of them weren't really chit-chatting with their friends on their phone.
What I have noticed is younger kids are spending more time on their gaming systems, because that is a way for kids younger than 12 to still talk to their friends. We want to have a balance there though. So I don't want us to just say all gaming is bad. I'm not one of those types of doctors. I actually enjoy gaming myself, but we want to be able to have a balance of family quality time, that face to face interaction with our parents and our siblings, and also then have our peer interaction from the gaming.
Teens are more into their cell phones. There are certain social media apps out there that can be used in a positive way, for teens to communicate. For example, Tik Tok is one of those social media outlets that promotes a sense of connectedness because people are doing different dances or sharing different family things all at once. But parents, you know your teens best and should use your discretion to know what is emotionally and intelligently appropriate for your child.
I do think that moderation and preset parental expectations are key when it comes to electronics.
Q: Now we're in this really uncertain time where things are opening back up and some people are interacting outside of their families. How do parents decide what is safe and right for their kids and their teens? And how do they decide what to do about in-person socializing?
Each parent will have their own level of comfort surrounding continued social distancing. For parents who have already laid out the foundation of getting to know their children's close friends and their families, they are in a position to discuss social distancing expectations. If both are on the same page about appropriate precautions then they are able to build their own small pandemic social group. This does require a lot of trust that each member is taking the discussed precautions.
Another key factor in this is that even each husband, wife, or caregiver will have their own individual ideas of what is acceptable, and that can be its own little scenario when it comes to deciding what to allow kids to do.
From what relationship therapists say, you should follow the lead of the more stringent person in the family, to keep someone you love from feeling overwhelmed because it's just a really uncertain time for all of us.
Q: What advice do you have for parents with teens who think they are "over the top" with all the rules and guidelines?
I get that from a lot of parents I've talked to. It is actually developmentally normal for teens ages 14 to 18 to think they have a better understanding of the world than they actually do. It's normal for them to challenge their parents' decisions at this point.
The key is communicating your thoughts, your feelings, and your hesitations with your child so that they understand a little bit about what it is that you're thinking and why you're making the rules you're making. The parent's job is to see the bigger picture and to make a necessary decision sometimes, even if it's not the most accepted. At the end of the day, listening to your gut and attempting to make shared decisions is the goal ultimately, but we may not always get to a shared decision with our kids.
Q: Let's switch gears a little bit and talk about anxiety. I know this has been a very anxious time for all of us, parents and kids. What do you consider a normal amount of anxiety versus something that is concerning? Either for a parent, child, or teen?
Currently in the age of COVID, anxiety is high and is a natural physiological response to uncertainty. Young people, even infants and toddlers, are keen observers of people and environments, and they notice and react to stress in their parents and other caregivers, peers, and community members. They may ask direct questions about what is happening now or what will happen in the future and may behave differently in reaction to strong feelings (e.g., fear, worry, sadness, anger) about the pandemic and related conditions. Children also may worry about their own safety and the safety of their loved ones, how they will get their basic needs met (e.g., food, shelter, clothing), and uncertainties for the future.
Q: What can parents do to help their children and their teenagers process what is happening and deal with the disappointment of maybe a summer that isn't going to look like what we're used to?
You hit that right – disappointment – that's the key word right now.
Even my own daughter, who is four years old, just recently had to go through this. She turned four over the weekend. And her idea of what a birthday party should be was not what happened. We had our birthday parade, but still, she wanted to hug her teacher, her friends, and that did not work out. So she was disappointed. But what I was able to do, and what I encourage other parents to do, is try to emphasize what we do have control over and give them some control over things that they can choose. For her specifically, it was "Well, what kind of birthday cake do you want?"
Also, most of the kids I talk to focus on changes involving school and childcare, social distancing home confinement, this is all interfering with their sense of structure and predictability, giving them some insecurity. So some children may be irritable or clingy. They may regress, demand extra attention, they may need their parents nearby all the time, when before they would normally be able to play perfectly fine alone in their room. So, it's new and it's challenging, but showing empathy to your child during this time can help them work through the disappointments too.
Q: Anxiety isn't always obvious. Are there other signs of anxiety or behavioral changes that parents should be on the lookout for? And is there a point at which a parent can tell that anxiety and a child's behavior is really debilitating and needs some additional attention or help from a doctor?
The National Institute of Mental Health (NIMH) estimates that 25% of adolescents between the ages of 13 and 18 years will experience an anxiety disorder, and 6% will experience a severe anxiety disorder.
They may have unexplained physical symptoms such as stomachache, nausea, or headaches, shortness of breath. They may tend to avoid situations that make them anxious. It's important just to observe your child to see if they are changing from their normal routine or their normal pattern of behavior. Most parents can pick up on that. And if you're noticing some of these typical symptoms that I've pointed out as being even more prominent, that's when you should think about talking to a professional.
Q: What about depression? Can you talk about some of the obvious and not so obvious signs of depression parents might see?
Obvious signs that are noticeable to most caretakers and parents include self-isolation in their room, changes in their appetite, lots of crying episodes for the younger kids. Even sometimes you see excessive crying in older kids. Also if you see any sort of self-harming behaviors or thoughts, those are really obvious to most parents, and that's what triggers them coming to see me.
Not so obvious signs that may be present are irritability, lashing out for no obvious reason, perfectionism, and a lack of concentration leading to poor grades in school. For teens, you may even see your teen doing things that they normally wouldn't do with substance abuse or high-risk behavior.
Excessive social media usage leading to poor sleep may be noticeable, and could also be a sign of depression. These are the types of questions I tend to ask to understand "what level of depression are we at?"
Q: What is the first step if a child, teen, or even an adult, needs to seek attention for anxiety or depression or any other concern?
It's really important for a parent to understand the acuity of what they need at that moment. If your child is having self-harming behavior or talking about suicidal thoughts or texting comments to their friends or saying things on social media, then you want to go ahead and get help right away. You want to call 911 or go to your local emergency room to get an evaluation done right away because they may need something right then and there.
If things are a little bit more stable and you're not noticing those types of acute symptoms, then you can reach out to a therapist or psychiatrist or mental health counselor or psychologist, and even starting by contacting your own insurance, they may have an EAP associated with it that can help you kind of navigate this whole process.
Editor's Note: An employee assistance program (EAP) is an employee benefit program that assists employees with personal problems and/or work-related problems that may impact their job performance, health, mental and emotional well-being. EAPs provide free counseling services to employees and their families. If an EAP is provided by your employer, you can call your EAP program and speak to a counselor over the phone who can then provide referrals to local medical professionals. A limited number of in-office visits are covered free of charge. If you have health insurance, be sure to check and see if EAP benefits are included before you seek treatment.
Q: Some people are very nervous about the first visit if they've never been to a mental health provider. How do you convince a child to talk to a professional and prepare them for a visit? Are you doing Telehealth visits? What else is available right now to families?
What you say to your 6-year-old will be quite different from what you tell your teen.
For young kids, remember that a visit to the doctor is usually associated with pain such as shots. Make it clear to them right away that you are going to a different type of doctor. Explain to them a psychiatrist is the kind of doctor who helps you with your angry feelings, sad feelings, or your confused feelings.
For teens, it's a harder sell. Teens care a lot more about what others might think of them for going to a doctor in psychiatry or even struggle with what they think about themselves. They also need to have more insight into understanding your thoughts on why they're being asked to go to a doctor.
It's important for the parent to explain to them "these are the reasons I think a doctor can help with your mental health." Nine out of ten times, most teens will understand what you're talking about. Once you get the little bit of the buy-in, they're more likely to engage in the actual appointment. If you bring a teen in who doesn't want to be here, it does not always go according to your plans.
Yes, we are seeing parents with their children for appointments via Telehealth. It's important for the parent and the child to be present for these appointments. So that's also another aspect of this that I like to always mention because sometimes parents forget that they need to be part of the appointment.
Q: Medicine gets such a bad rap for children's psychiatry. How far has medicine come in the last decade? Is there a reason to be conservative/cautious still? Should medicine be a last resort?
It has come far. Many of our basic psychiatric medicines have a lot of evidence-based research behind them, and they've actually been around for a long time. The FDA, which is the Federal Drug Administration, is in charge of vetting and approving which medications should be used for what. Many times medication is not the first resort, many times it is just going to see a therapist. The combination of psychotherapy with medication management has been heavily researched, and studies show children who receive the combination of psychotherapy plus medication have fewer anxiety symptoms than children who receive medication only or psychotherapy only.
I'm not the type of doctor that just always jumps to medicine. I just think it's one tool in many different options of tools that we have to help our youth.
Q: So I'm going to ask a big question here. But I think it is something a lot of parents have worried about lately. Do you think that children and teens will bounce back from this? How can we help them bounce back as we get back to "normal"?
It depends on what you mean by bouncing back. We are all shaped by our experiences, whether they're positive or negative. This is one of those life shaping experiences that we're all going through. I believe focusing on the positive can be helpful to shape our attitude for the future. This crisis is one giant reminder that life is not set in stone or guaranteed as we assume it would be, and we should not be afraid to make changes that are necessary for us to survive and thrive for the future. Children are pretty resilient. By nature, I'm an optimistic person, and so I believe we should embrace the post COVID world, whatever it turns out to be, and take it and shape it in our own way to our advantage.
Q: I love your optimism. I appreciate that and I think we all can definitely use optimism these days. Do you have any other thoughts or encouragement that you'd like to share with parents?
As adults, we are experienced dealing with life's changes, but for some kids, this is their first time dealing with intense emotion and sudden change. I recommend hugging your children for no reason at all. Apologize if you get upset at them, show them grace when they get upset. Do something silly to make each other laugh. And most importantly, make time to do something for yourself as a parent too, because when you are calm, then you're more likely to nurture calmness in your own child.
The important thing that I hope parents take away today is that help is available. You don't have to go through all this alone. We're here if you need help.
Aarti Patel, MD, is a Child and Adolescent Psychiatrist at Lakeland Regional Health. To make an appointment with Dr. Patel, call 863.687.1222.
Additional Resources:
More About Lakeland Regional Health:
About the Author: April Mucci
April is the owner of LakelandMom.com. She has lived in Lakeland since age 2 and is passionate about our community and connecting families with local resources. She is a mom to 2 boys and a mini goldendoodle, wife to Matt. You can often find April at the baseball field where she cheers on her baseball loving 13 year old, or home building Legos with her 11 year old. She loves reading, saltwater fishing, concerts and live performances, and working on Lakeland Mom!