Are you expecting a new baby? Or are you a pregnant mom who has recently moved to the Lakeland area? Start your parenting journey with our resources for a healthy and happy pregnancy. In this Guide you'll find listings for hospitals, OBGYN's, midwives, doulas, lactation consultants, baby stores, new mom support, pediatricians, and more.
Plus, once your new bundle of joy arrives, we have plenty of information to help you enjoy the Lakeland area with your little one(s).
Our Pregnancy & New Mom Guide contains both sponsored and free listings. 
Thank you to our Sponsor: Lakeland Regional Health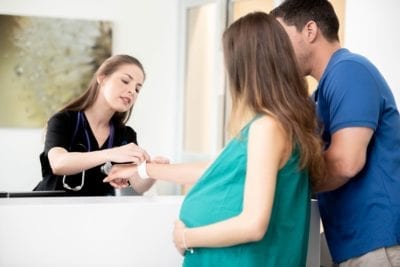 Having a baby is an exciting time in your life, and Lakeland Regional Health feels privileged to share that experience with you.
Lakeland Regional Health has a large team of OB/GYN physicians, advanced practitioners, nurse midwives, nurses and other skilled providers to help make sure your childbirth experience is safe, memorable and what you would expect. Click on any topic to learn more about their services and see contact information:
Lakeland Regional Health is more than just a hospital. The LRH Physician Group provides care in over 20 specialties at convenient locations throughout Polk County. LRH is home to highly skilled OB-Gyn physicians, certified nurse midwives and a compassionate care team offering expert obstetric and gynecologic care in a comfortable, nurturing environment, located right at the Carol Jenkins Barnett Pavilion for Women and Children.  They provide complete prenatal and birthing care from your pregnancy all the way through delivery.
For women with a high-risk pregnancy or other underlying conditions, the Center for Fetal Care provides specialized evaluations and consultations. They use advanced technology and testing to give you peace of mind and to achieve the best possible outcome for both you and your baby.
LRH offers a variety of classes for soon-to-be parents and those planning to become pregnant. Class topics include: Breastfeeding, Newborn Care, Prepared Childbirth, and New Parent 101. Click here to see upcoming classes.
With approximately 3,100 deliveries each year, Lakeland Regional Health is experienced in welcoming babies into the world. The Carol Jenkins Barnett Pavilion for Women and Children with its contemporary design and state-of-the-art technology, is why Lakeland Regional Health is your ideal childbirth destination. Take a virtual tour of the Pavilion or sign up for a free Labor & Delivery Tour to take a closer look at their rooms and services.
Lakeland Regional Health's spacious home-like birthing suites allow expectant mothers to be supported by family and friends, if desired, while under the care of the highly skilled obstetric team. Each mom also receives a special gift from Lakeland Regional Health upon arrival to the Mother-Baby Unit. If your baby requires specialty care, Lakeland Regional is home to the only Level III Neonatal Intensive Care Unit (NICU) in Polk County, with a design that will allow you to stay in the room with your child. Additionally, lactation specialists provide support and education for those mothers who want to breastfeed their babies.
Your baby will see a pediatrician while still in the hospital, and when you select a Lakeland Regional Health pediatrician, you will receive a continuum of care from the hospital to the doctor's office. LRH is home to multiple board-certified pediatricians and two board-certified nurse practitioners (APRN) who provide care in Lakeland and Winter Haven.
Lakeland Regional Health hosts a monthly Breastfeeding Support Group, a time for sharing and support for breastfeeding moms, led by Certified Lactation Consultants. All breastfeeding moms and nursing babies welcome. Also for expectant mothers who are considering breastfeeding their newborn. Held the first Monday of the month at 10am in the Carol Jenkins Barnett Pavilion for Women & Children. Click here to see upcoming dates.
Learn more about Lakeland Regional Health in our posts near the bottom of this article. 
Replay Lakeland: Upscape Kids Resale & Unique Boutique
The Nest
3838 Lakeland Hills Boulevard, Lakeland, Florida 33805
The Nest is a nonprofit organization that serves the community of Lakeland and its surrounding areas through carefully designed programs and support groups in order to enact positive changes within local families.
EDUCATION – We offer many opportunities to inform, strengthen, and empower parents to make the decisions that are just right for their family. Our most popular classes are Prenatal Nutrition, Breastfeeding Basics, Natural Childbirth, Infant Massage, and Infant & Child CPR. We also host workshops and other informative events at our office from time to time.
LACTATION – Group and private support available. Our staff includes four Certified Breastfeeding Specialists and an International Board Certified Lactation Consultant (IBCLC). We strive to be a source of education, encouragement, and support for mothers who have chosen to provide this naturally healthy start for their children.
DOULA SERVICES – The Nest Doulas provide non-clinical educational, emotional, and physical support to women and their families during pregnancy, labor, and in the postpartum period. In this role, we share unbiased, evidence-based information and recommendations to aid women in making informed decisions about their care and that of their baby.
At The Nest, we believe that strong families help build strong communities. Our mission is to help parents feel confident and supported as they make the best choices for them and their family. Please visit our website for more information.
Snugs & Kisses LLC - Postpartum Doula
Snugs and Kisses LLC was created to empower moms and promote family bonding with your newest little bundle. I wholeheartedly enjoy serving mothers (and their families) during this time of transition. I provide both day and overnight postpartum care for mom and baby. Using my 10 years of newborn and infant care experience, I will work with you to understand your needs and customize a care plan that benefits you. I look forward to serving and EMPOWERING you!
My time in your home (day or night) will focus on:
-Being a non-judgmental support
-Educating on newborn care
-Mothering the mother
-Breastfeeding support
-Preparing light meal/ snacks
-Promoting healthy sleep habits
-And more!
Call today for your free consultation! (813) 808-5866
Watson Clinic Obstetrics & Gynecology
1755 North Florida Avenue, Lakeland, Florida 33805
Watson Clinic's Obstetrics department provides pregnancy and childbirth care that really delivers. Generations of families have taken the first step to a healthy baby by choosing Watson Clinic's experienced, skilled and compassionate women's health specialists.
Their vast roster of services anticipate an expectant mother's every need – from infertility counseling to 4D ultrasound imagery to around-the-clock rotations of hospital delivery coverage at Lakeland Regional Health Medical Center. Education classes are offered to prepare both moms and dads for the miracle of childbirth, and cover topics like labor pains, breathing exercises and medication options during delivery.
Additional services address concerns that women might encounter during pregnancy and beyond, including those targeting urinary incontinence and bladder health issues. When more specialized care is needed, patients can receive swift, hassle-free referrals to Watson Clinic's extended family of over 200 board-certified physicians across 40 medical and surgical departments.
The obstetrics team is housed in three convenient locations that serve each region of our community – Watson Clinic Highlands in south Lakeland, Watson Clinic Bella Vista Building in central Lakeland, and Watson Clinic Bartow Obstetrics & Gynecology.
Women's Care Florida, Lakeland OB/GYN
1733 Lakeland Hills Boulevard, Lakeland, Florida 33805
Women's Care Florida is the largest independent women's health practice in Central Florida, offering a full range of care for women. We remain true to our mission of improving the lives of women every day. Two offices are located in Lakeland.
Women's Care Florida has expanded to include patient care in several women's specialties including gynecologic oncology, urogynecology, gynecologic pathology, breast surgery, genetic counseling, plastic and reconstructive surgery, maternal fetal medicine, behavioral health, endocrinology, gastroenterology, primary care and fertility.
Women's Care Florida has 58 locations across the Tampa Bay and Central Florida areas, including two Women's Health Centers and a pathology lab. More than 250 health care providers care for approximately 350,000 patients annually and deliver 14,000 babies each year.
Once Upon a Child Lakeland
4278 U.S. 98, Lakeland, Florida 33810
We know how tough parenting can be sometimes, so we want to make it a little bit easier for you. At Once Upon A Child you can earn cash on the spot for the gently used clothing, shoes, toys, books, and equipment that your little ones have outgrown. We buy all seasons, all day, everyday, no appointment needed. Plus, you can find all your favorite brands under one roof and save up to 70% off retail prices every day. From preemie to teen and everywhere in between, Once Upon A Child has you covered.
The Tidy Nest - Organization & Closet Design
Welcome to The Tidy Nest! Let me help you simplify your life and beautify your home. My services include home organization and closet design.
After receiving a degree in Interior Design (go Noles!), I have had the chance to work for builders and a prominent closet company. I believe in simplicity: less is more! I can help make your home easy to maintain by creating a system that is easy to follow. I believe homes should be lived in and enjoyed while still being beautiful and functional!
Thank you for stopping by, and I hope to have the opportunity to assist you! – Sully Harry
What to expect during Pregnancy?
What to bring to the Hospital?
Car Seat Checks
Assistance with Medical Care
Additional Resources
Articles for New Moms & Babies
For a full list of Pregnancy, Childbirth & New Mom Resources, click the links below to visit our Directory:
Would you like to see your business featured above?
Only interested in a text link/directory listing? Click here.