Are you searching for daycare or a preschool in Lakeland, Winter Haven, or Polk County? Below you'll find a list of high quality preschools and child care centers where your children can thrive. This list includes infant daycare centers, church daycare, Christian preschools, Montessori Preschools, head start preschools, VPK free preschool programs, and more. Look at the categories by each listing or click through to the descriptions to see what ages they cover.
We recognize that finding a daycare with available space can be a daunting task. If after contacting the daycares on our list you are still having trouble finding an opening, visit the Lakeland Moms Group on Facebook and to ask your fellow moms if they know of a preschool or daycare with availability. Also, if you are pregnant and will need infant care, it is never too early to start looking for a daycare, many will put you on a waiting list based on your due date.
Useful Resources:
For information on Private Schools, visit our Private School Guide.
For information on After School Care, visit our After School Care Guide.
For information on Polk County Public Schools (including Magnet, Charter, IB, Academies, & more) see our Polk County Public School Guide.
Our Preschool & Daycare Guide contains both sponsored and free listings. This is by no means a comprehensive list, there are over 395 registered child care providers in Polk County. Visit myflfamilies.com for a full list.
FEATURED LISTINGS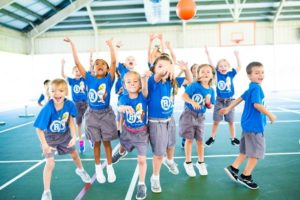 Polk County Catholic Schools has 4 preschools serving children entering Pre-K3, Pre-K4, and VPK. Neumann Early Learning Academy and Resurrection Catholic School are located in south Lakeland. St. Anthony Catholic School is located in north Lakeland and St. Joseph Catholic School in Winter Haven. For more information about our preschools, please visit us at www.polkcountycahtolicschools.com
Schools Include: 
Neumann Early Learning Academy (Pre-K3, Pre-K4 and VPK) – 501 E Carter Rd, Lakeland, FL 33813
Resurrection Catholic School (PreK – 8th) – 3720 Old Hwy 37, Lakeland, FL33813
St. Anthony Catholic School (PreK – 8th) – 820 Marcum Road, Lakeland, Florida33809
St. Joseph Catholic School – Winter Haven (Pre-K3 – 8th) – 535 Ave. M NW, Winter Haven, FL33881
Santa Fe Catholic High School (9-12) – 3110 US-92, Lakeland, FL33801
3720 Old Road 37, Lakeland, Florida 33813
535 Avenue M Northwest, Winter Haven, Florida 33881
820 Marcum Road, Lakeland, Florida 33809
501 East Carter Road, Lakeland, Florida 33813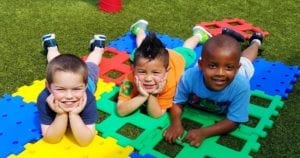 The Louise Hizer Early Childhood Center at All Saints Academy includes three sections: PreSchool for 2- and 3-year-olds; and PreKindergarten for 4-year-olds. Classroom work extends to other parts of the campus and the community, including the Great Room, where imaginations flourish; the state-of-the-art playground, where lifelong friendships evolve; and the Outdoor Classroom, where nature speaks and young minds listen.
What makes your school unique?
Our PreSchool 2 and PreSchool 3 classes foster the development of a growth mindset as the children are introduced to a broad range of intellectual, physical, artistic, and social experiences to provide a solid foundation.  Goals include reading readiness; a basis for understanding mathematics; good physical and personal habits; appreciation of music, art, and poetry; cultural and environmental sensitivity; and responsible sharing and conversation with other children and adults. Students are given an introduction to Spanish through participation in songs and games as early as Preschool 2.
The formal curriculum begins in PreKindergarten for 4-year-olds through an integrated hands-on approach that includes the academic disciplines and is aligned with national preschool learning expectations.  The program is enhanced by a variety of experiences including art, physical education, music, Spanish, Mandarin Chinese, robotics, and media.
Family involvement is a hallmark of the Early Childhood division.  Parents participate in a weekly Morning Opening where the children practice their speaking and listening skills through musical presentations.  In addition, there are monthly special events where families come together and participate in engaging activities.  Favorites include Father's Day Olympics, Fall Hoedown, International Morning, Big Truck Day, the Easter Parade, and Mother's Day Picnic.
Ages Served:
Ages 2 – PreK 4 in the Early Childhood Center. All Saints Academy serves through 12h grade.

School Hours / Schedule: All Sains Academy runs on a traditional school schedule with Summer Camp programs available in June and July.
Open Houses / Tours: Campus tours are available throughout the year.  Contact the Admission Office with interest, questions, or to set up an on-campus experience.
Registration Dates / Details: ASA encourages all interested families to schedule a personal visit and tour or attend an Open House event. Applications are accepted throughout the year.
Click here to learn more about All Saints Academy for grades K – 12.
5001 Florida 540, Winter Haven, Florida 33880
ADDITIONAL LISTINGS
Use the filter button (3 sliding bars in top left corner) to filter by city and type of preschool or daycare.
MAP OF PRESCHOOLS & DAYCARES
Daycare Near Me Lakeland, FL
Preschool Near Me Lakeland, FL