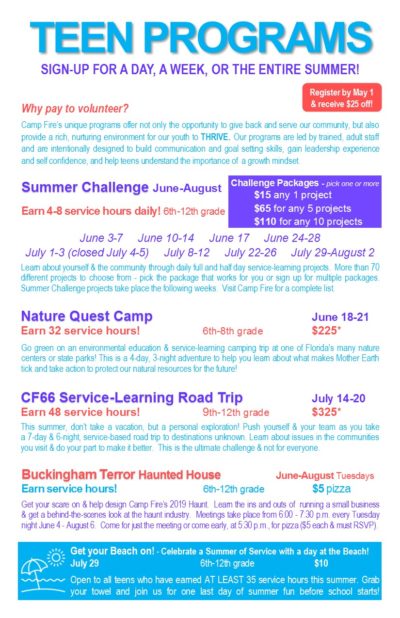 2600 Buckingham Avenue
Lakeland
Florida
33803
US
Camp Dates
Vary by Camp - see description below
Registration Type
Weekly Registration, Other
Camp Description
► Camp Fire's CF66 Service-Learning Road Trip (entering 9th-12th grade)
CF66 is a locally developed, weeklong service-learning road trip for teens in 9-12th grade. Fourteen teens and three adults' travel by van throughout Florida learning more about our wonderful state and giving back to the communities they visit. The trip is full of youth empowerment and leadership opportunities. Teen are responsible for themselves and their teammates, helping with activities such as budgeting their money for the week, meal planning, map reading, solving puzzles, and of course, exciting service projects. This program is a rewarding and memorable experience that pushes teens to their limits.
► Camp Fire's Nature Quest Camp (entering 6th-8th grade)
Nature Quest is an environmental education based service-learning trip for teens entering 6th-8th grade – a 4-day & 3-night camping trip. Teens travel by van throughout Central Florida learning more about the wonderful state, exploring the many facets of Florida wildlife and ecosystems, and learning about environmental advocacy, while giving back to the communities they visit.
► Camp Fire's Summer Challenge (entering 6th-12th grade)
Earn 4-8 service hours per day! Teens 6th-12th grade learn about yourself & the community through full day & half day service-learning projects. See a full list of projects and dates on the website. Projects range from working at a wildlife refuge to helping feed the homeless. Projects are educational and are a collaborative effort with other agencies throughout the state.
► Buckingham Terror Haunted House
Get your scare on and help design this year's haunt.
Camp Fire also offers:
Camp Light-A-Spark for K-5th Grade
http://lakelandmom.com/summer-camp-directory/listing/camp-fire-light-a-spark-summer-day-camp
Camp Ignite for 5th – 6th
http://lakelandmom.com/summer-camp-directory/listing/camp-ignite-summer-day-camp-camp-fire