This summer, your family can join the Swan Princess and her Prince as you experience the magic of Swan Lake at the historic Polk Theatre in Lakeland. There is no better place to see Swan Lake than in a city nicknamed Swan City!
Swan Lake is a timeless love story that mixes magic, tragedy, and romance into four acts. It features Prince Siegfried and a lovely swan princess named Odette. Under the spell of a sorcerer, Odette spends her days as a swan swimming on a lake of tears and her nights in her beautiful human form. ​Discover how the spell gets broken and how prince Siegfried falls in love with Odette, betrays her trust but still beats evil and saves their love.
Swan Lake will be performed by the students and principal dancers from Russian Ballet Orlando, a premier ballet school in Central Florida. Adults and children alike will enjoy this performance featuring a favorite classic story, talented dancers, as well as kids from ages 5 and up. Girls and boys will love seeing other children dancing on the stage.
Russian Ballet Orlando performs 20-30 shows each year across Florida. They wowed local audiences in December with two sold-out performances of The Nutcracker, and again this spring with another favorite – Cinderella. Now they are back with a performance of Swan Lake!
This article and all giveaways are sponsored by Russian Ballet Orlando.
The show is going to be magical!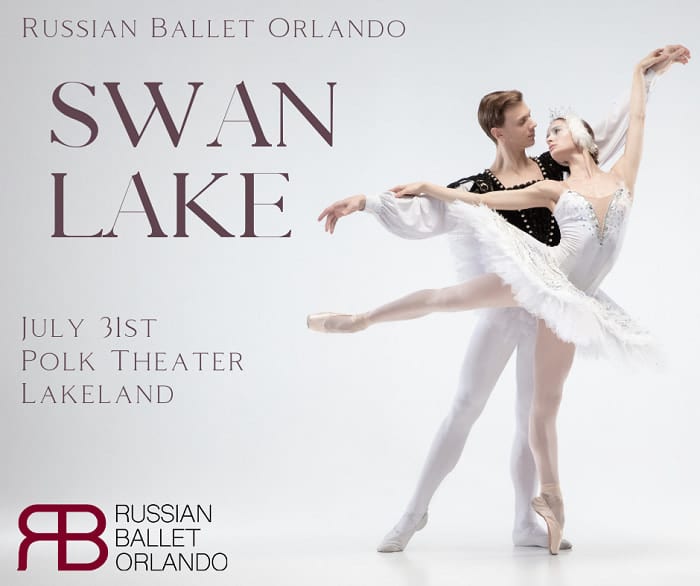 Purchase tickets now for your family to experience a memorable performance this summer.
Saturday, July 31, 2021
The Polk Theatre – 121 South Florida Ave, Lakeland, FL 33801
Two Shows – 2pm and 7pm
Seating at the Polk Theatre is limited and appropriately spaced for social distancing. Larger groups desiring to sit together please call the box office at 863-682-7553 for group seating.
VIP Meet & Greet Tickets
Come on stage after the show and meet Odette, Prince Sigfried and all the characters from Swan Lake! Includes a picture (using your camera/phone). The VIP Meet & Greet is an add-on per person, be sure to also purchase a ticket for the show at 2pm or 7pm.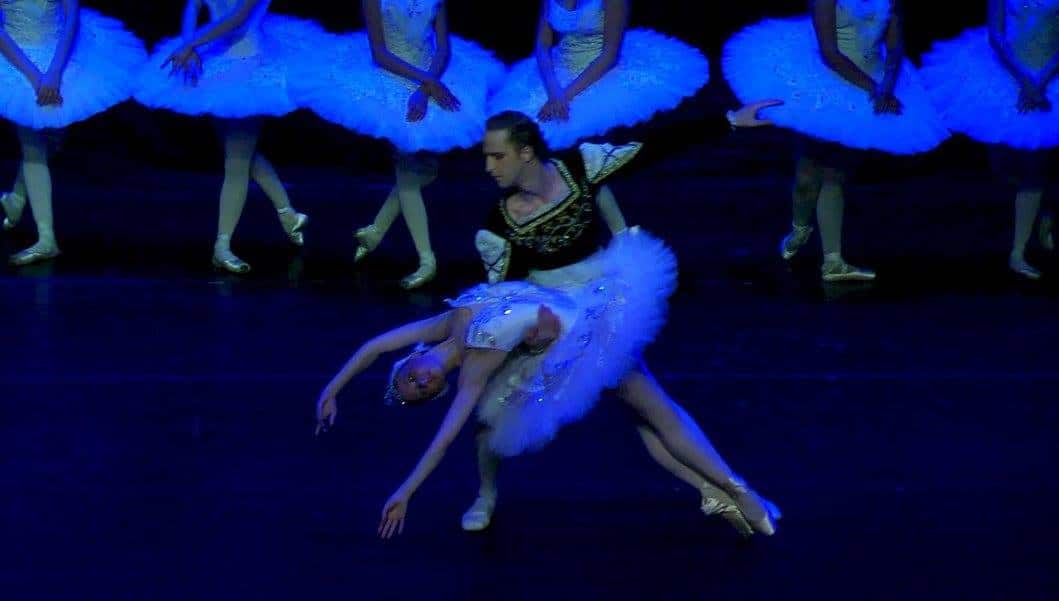 More about Russian Ballet Orlando
Russian Ballet Orlando is a Pre-Professional Performing Arts company. They train students in the Russian "Vaganova" method, with many who go on to become professional dancers. Their ballet students have the opportunity to perform on stage throughout the year, providing real-world training experiences with a focus only on ballet and point.
Russian Ballet Orlando has a unique Polk County connection… in the fall of 1996, Vadim Fedotov, Principal Dancer of the National Theater of Ukraine, came to the US temporarily and accepted an offer to choreograph a 30 minute Nutcracker on Ice at Cypress Gardens in Winter Haven, Florida. He was offered a resident position with Orlando Ballet and went on to open Russian Ballet Orlando in 2000. His daughter, Katerina Fedotova, is now Artistic Director and President. It all started with The Nutcracker here in Polk County!
Visit the Russian Ballet Orlando website to learn more about their unique history or their dance programs. Future shows at the Polk Theatre include Mermaid in June and Swan Lake in July, and we look forward to enjoying Russian Ballet Orlando performances here in Lakeland.
Swan Lake Ticket Giveaway
This giveaway has ended. Sign up for our email newsletter to receive updates on future giveaways.
Russian Ballet Orlando has provided us with a pack of 4 show tickets AND 4 VIP Meet & Greet passes to give away to Lakeland Mom readers!

Submit your name and email below to enter to win tickets for the 2pm performance of Swan Lake on Saturday, July 31, 2021 at the Polk Theatre.

The deadline to enter to win is Tuesday, June 8. Winners will be contacted via email or text. Full contest rules are at the end of this post.
GIVEAWAY RULES:
By entering this giveaway, you are subscribing to Lakeland Mom's weekly newsletter email list. Visit our Site Policies page for our Privacy Policy.
Tickets are for the event, date, and time specified and cannot be transferred to another event or show time unless the information above states otherwise.
You must be 18 or older and live in Central Florida to enter this giveaway.
You must use a valid email address to enter this giveaway.
One entry per person. Additional entries will be removed from our list.
Winner will be selected randomly from all entries.
We will contact the winner via the email address provided OR via Facebook as soon as the winner is selected. The winner will have two [2] days (48 hours) to respond. If the winner does not respond within the two[2] days (48 hours), the prize will be forfeited and another winner chosen. Directions for claiming the prize will be given via email. A valid photo ID and/or mailing address may be required.
For a complete list of Lakeland Mom's giveaway policies and terms and conditions, see our Site Policies page. By entering this giveaway, you agree to comply with Lakeland Mom's terms and conditions.
100+ Things to Do with Kids
Check out our Ultimate List of Things to Do with Kids in Lakeland + Polk County to find indoor fun, outdoor fun, free things to do, seasonal activities, and more.