Recently I had the opportunity to tour All Saints Academy, an independent private Christian school with a college prep focus conveniently located between Lakeland and Winter Haven on Winter Lake Road. ASA serves students starting at age 2 all the way through Grade 12.
From the small classes and personalized attention to the innovation and unique activities available to students, I was thoroughly impressed! After touring the school and talking to students and staff, I firmly believe that All Saints Academy is a a school where your children can grow and flourish, not only as students, but also as people.
Read on to find out more about my tour and what stood out to me. If it sounds like a place you'd like your children to attend, I highly recommend scheduling a tour so you can see for yourself.
This post is sponsored by All Saints Academy, but all opinions are our own.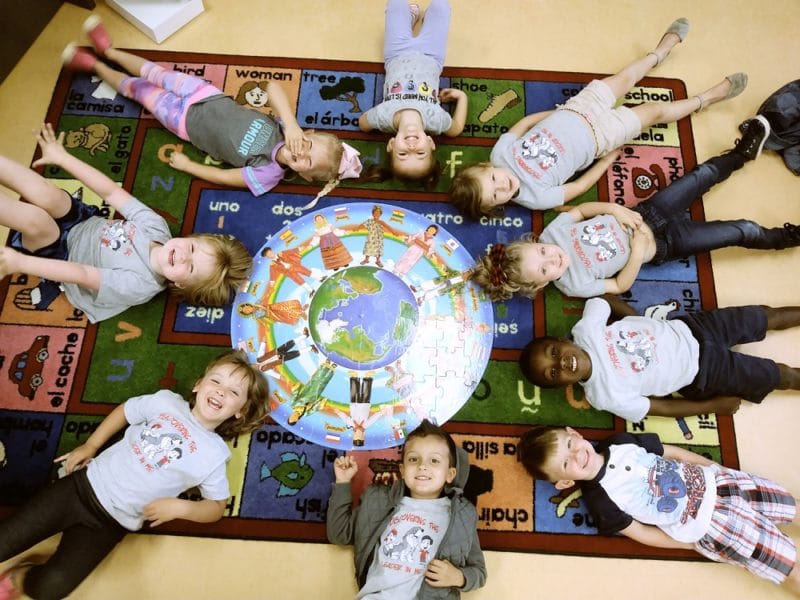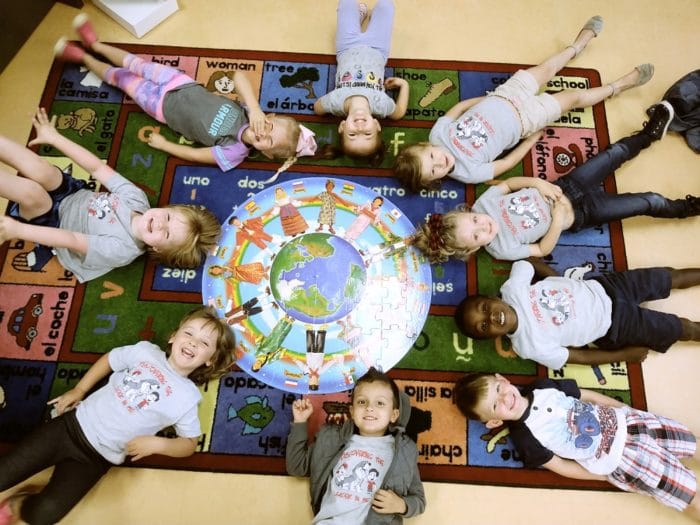 While all students at All Saints are part of one big campus, the school is divided into the Lower School (PreK2 – 5), Middle School (6-8) and Upper School (9-12).
All Saints Academy Lower School
My tour started in the Lower School with the Friday Morning Opening for Preschool and Kindergarten. The Lower School lunchroom was filled with parents watching their kids excitedly share the songs and lessons they had learned throughout the week. While this is a fun weekly opportunity for parents to share in their kids school experience, it also teaches children to confidently stand in front of a crowd at an early age. Family involvement is a hallmark of preschool at ASA, with monthly special events where families come together and participate in engaging activities.
After the morning gathering ended, I talked to a mom who had just moved to Lakeland last summer and was thrilled to find the All Saints "community" for her family.
"We came from a small private school in DC where we knew all the other families. When we relocated here, I was devastated to leave our school community, but All Saints has become our new family and my three girls are so happy here. I love how small and close knit our school is."
My tour continued with visits to classrooms in the Lower School, Discovery Zone for PreK – 1st graders, the huge playground, and outdoor classroom. In each place we stopped to observe students, they were all engaged and energetic, happy to be at school. Our tour was unannounced, so I really got to see the students in their natural setting.
What really stood out to me was the personalized attention offered at every grade level at All Saints. In the lower school, there are TWO classes per grade, with only 12-20 students per class. In talking to the students, they love knowing everyone in their grade… "there are no strangers at All Saints" one told me.
All Saints Academy is also a Leader In Me school – this program is woven throughout daily activities to help students develop the skills and self-confidence they need to be a leader and succeed in school and beyond.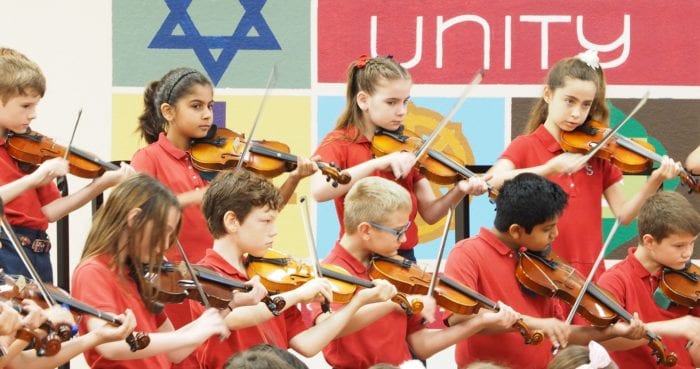 All Saints Academy Middle & Upper School
We headed over to the Middle & Upper School for the second part of my tour, which was student led, with no adults involved (other than me). I was excited to have a chance to ask students some direct questions about their All Saints experience.
I was blown away at the innovation happening in the middle and upper school buildings. One entire building was a Center for Innovation & Collaboration filled with student projects that looked professionally designed. My student tour guides told me they have access to laser cutters, 3-D printers, soldering irons, and more starting in 9th grade with their Innovation Studios Classes.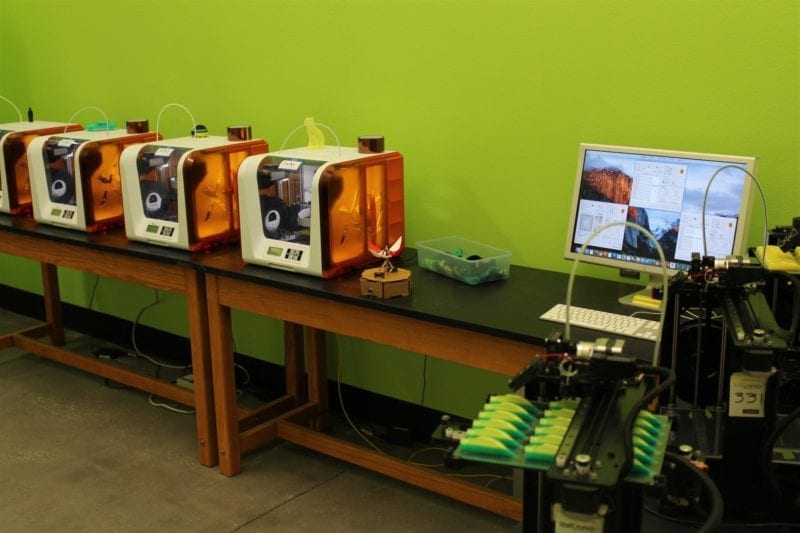 Weekly Chapel at All Saints Academy
All Saints Academy students enjoy weekly Chapel services as a time to worship, reflect, and refresh them for the days ahead. Students actively participate in the service by leading the hymns, prayers, and Biblical readings. Separate services are held for each age group to allow for age-appropriate teachings, and parents are welcome to attend Chapel.
My student tour guides both talked about how much they enjoy the quiet respite of weekly Chapel, and also repeatedly emphasized that it is welcoming of all faith traditions and that they have non-Christian classmates that are always able to participate as much or little as they choose. I love that all students are encouraged to live intentionally, love genuinely, and grow spiritually in their own way.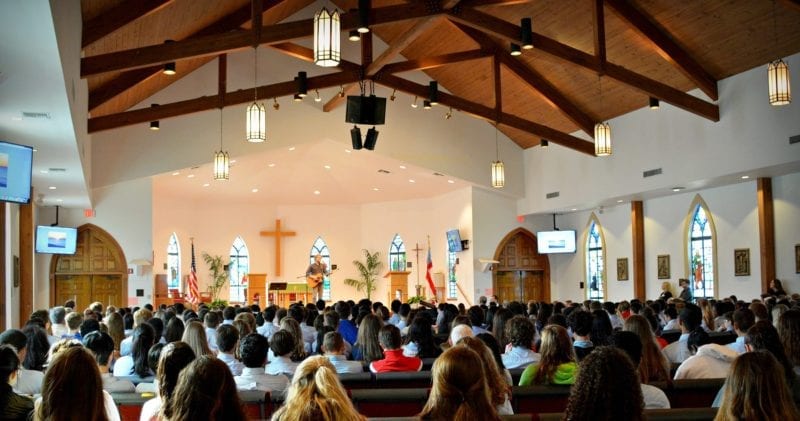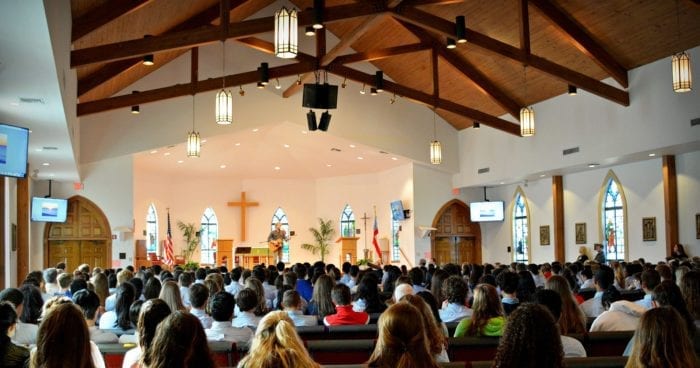 College Prep at All Saints Academy
Another highlight of my tour was the College Advising room. Imagine a room filled with pennants from over 100 different colleges where All Saints students have continued their education! While those were fun to look at, more impressive was hearing about how the school plays an integral role in a high school student's college search to be sure students and families to feel informed, empowered, and actually enjoy the process.
Two full-time College Advisors begin working with students early in their educational careers to help them prepare and make informed decisions. During Junior year, the entire class takes a multi-day college trip to see college campuses around the southeast. Students also have one-on-one advising sessions and work on standardized testing, mock applications, practice essays, and start thinking about financial aid. Seniors complete the college application process in the fall. All Saints celebrates a legacy of 100% college acceptance for each senior class.
All Saints Academy Sports & Extracurriculars
While I didn't see any sports teams practicing during my morning visit, All Saints has built up a powerhouse athletic department with 30 teams in 13 different sports starting in Middle School. Check out the full list of available sports.
Students also have access to numerous extracurricular activities starting in elementary school, including art, chess, dance, robotics, violin, student government, Spanish, and much more. Check out the full list of Student Organizations.
The opportunity to be involved in these organizations right at school gives kids yet another "family" to be part of, and as a parent I'll be honest… I would love not having to drive them multiple places in the afternoon – at All Saints the traditional after-school activities are located AT school!
Scholarships at All Saints Academy
If you're reading this and thinking… "Private school is EXPENSIVE – there is no way we could make that work for our family…" then keep reading to find out how it can be possible.
All Saints offers tuition assistance to many families who have been accepted to the school. Almost 40% of students receive some form of scholarships.
ASA also accepts the Florida Tax Credit Scholarship (Step Up for Students) and the McKay Scholarship. Click the names below to learn more about these two programs. The scholarship amount provided by either of these programs does not cover the full costs of tuition at All Saints, however additional scholarship options may be available directly from the school.
Florida Tax Credit Scholarship (Step Up for Students)
The Florida Tax Credit Scholarship Program is an income-based scholarship designed to ensure that low-income children have more learning options. The scholarships are based on financial need, not how well your child does in school. Families who qualify can receive financial assistance toward private school tuition and fees.

For information on income eligibility, scholarship amounts, and more, visit the Step Up for Students website.

Applications are processed in the order they are received, so don't delay if you're interested in this opportunity!
McKay Scholarship Program
The McKay Scholarship Program provides scholarships for eligible students with disabilities to attend an eligible public or private school of their choice.

Students with disabilities include K-12 students who are documented as having an intellectual disability; a speech or language impairment; a hearing impairment, including deafness; a visual impairment, including blindness; a dual sensory impairment; an orthopedic impairment, an other health impairment, an emotional or behavioral disability; a specific learning disability, including, but not limited to, dyslexia, dyscalculia, or developmental aphasia; a traumatic brain injury; a developmental delay; or autism spectrum disorder.

The student must have an Individual Education Plan (IEP)* or 504 Accommodation Plan, and meet additional criteria that can be found on the McKay website.

*Please note that students with a "gifted only" designation and an Eligibility Plan (EP) do not meet the eligibility criteria for the McKay Scholarship Program.
Please note that separate applications are required for admission to All Saints Academy and each of the scholarship programs. Acceptance to one does not guarantee acceptance for the other.
Book Your Own Tour of All Saints Academy
Don't take my word for it that All Saints Academy is amazing – book a tour and see it for yourself. Or schedule a day for your children to shadow a current All Saints student. Contact the Admissions Office for more information.
I guarantee you'll be impressed!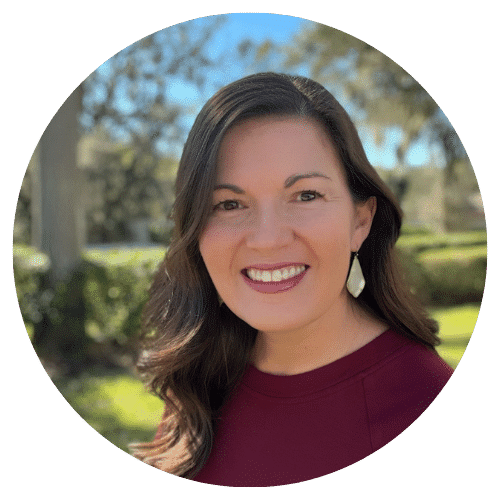 About the Author: April Mucci
April is the owner of LakelandMom.com. She has lived in Lakeland since age 2 and is passionate about our community and connecting families with local resources. She is a mom to 2 boys (12 + 15) and a mini goldendoodle, wife to Matt. She loves reading, saltwater fishing, concerts and live performances, and working on Lakeland Mom!
Education Guide
Check out our Education Guide for Lakeland + Polk County for other education topics including public schools, private schools, homeschooling, tutoring + test prep, school calendars, colleges, and more.