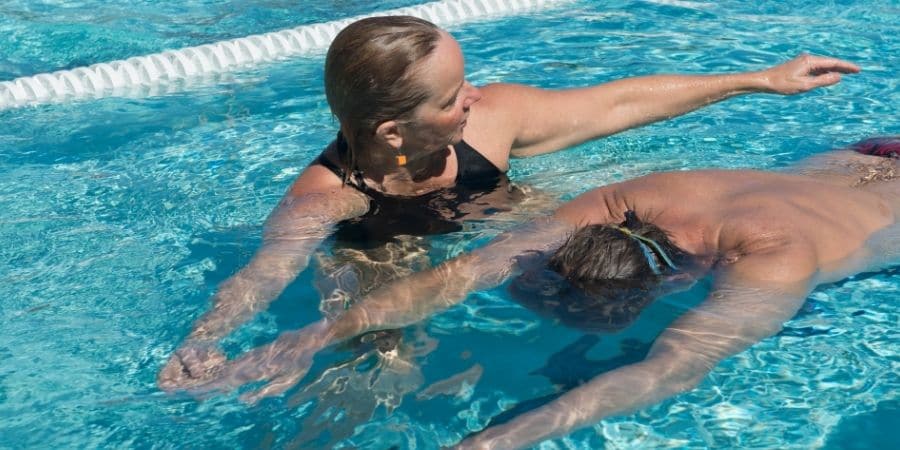 Adult Swim Lessons in Lakeland + Polk County
Looking for adult swim lessons in Lakeland and Polk County? Learning to swim as an adult is nothing to be embarrassed about – it is much more common than you think!
These local swim schools provide small group and private adult swim lessons so you can become more confident in the water.
Visit our main Swim Lessons Guide for lessons in Lakeland, Bartow, Winter Haven, Lake Wales & across Polk County. Includes group swim lessons, private swim lessons, adult swim lessons, and ISR (Infant Swimming Resource) and survival swimming. Lessons are available for ages 6 months and up.
Use the map at the bottom to find Adult Swim Lessons Near You.
City of Lakeland - Swim Lessons
The City of Lakeland offers Swim Lessons in the spring & summer for ages 6 months and up. Lessons are provided in 2-week sessions, Monday – Thursday, each lesson is 30-45 minutes. Lessons cost $50 per 2-week session. Visit the City of Lakeland website for upcoming dates and times.
Swim Lesson Level Descriptions
Parent-Child Aquatics (Ages 6 months – 2.5 years)
The instructor will help participants begin to develop positive attitudes and safe practices around water. Swim diapers required under a bathing suit.
Preschool Aquatics (Ages 3 – 5)
Beginner class designed to be the first class without parents. instructors will evaluate and determine the appropriate level for your child.
Youth Learn to Swim (Levels 1-3 / Ages 6 – 12) 
Beginner to intermediate class with participants learning fundamental aquatic skills such as floating, gliding, and simultaneous arms and leg motions all while doing this independently of an instructor's support.
Youth Learn to Swim Level (Levels 4-5 / Ages 6 – 12)
Advanced class with participants improving their aquatic skills and increasing their endurance using the following swim strokes: front crawl, back crawl, breaststroke.
Adult Beginner Swim Lessons 
Participants will be introduced to basic aquatic skills and swimming strokes, including the front crawl, breaststroke, and elementary backstroke. Participants will also learn the skills and concepts needed to stay safe around water.
For more details visit the website – http://www.lakelandgov.net/swimlessons, contact the Aquatics Operation via phone 863-834-3157 or email Aquatics@Lakelandgov.net for information.
404 Imperial Boulevard, Lakeland, Florida 33803
1725 Martin L King Junior Avenue, Lakeland, Florida 33805
City of Haines City - Swim Lessons
The Lake Eva Aquatics Center offers a variety of swim lesson classes through the American Red Cross Learn to Swim program. Classes held May – September and taught by American Red Cross certified Water Safety Instructors.
Parent & Child Lessons: Ages 6 months – 3 years
Preschool Lessons: Ages 4-5
Learn-to-Swim: Ages 6 – 14
Other Lessons: Adult Classes, SNAP Classes, Private Lessons
555 Ledwith Avenue, Haines City, Florida 33844
Swim Dynamic
Swim Dynamic is celebrating 12 YEARS of swim lessons! Offering "accelerated teach-to-swim" program with five one-on-one sessions, 30 minutes each for five consecutive days. Also offering Adult Swim Lessons and Mommy & Me.
5825 West Brannen Road, Lakeland, Florida 33813