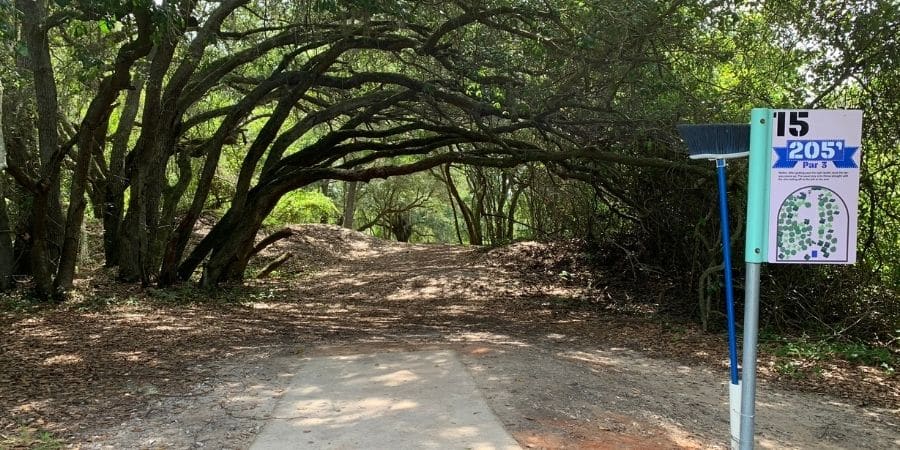 Disc Golf in Lakeland + Polk County
We recently discovered disc golf and LOVED it! Everyone who can throw a frisbee can play disc golf. I know there are official Frisbee Golf rules, but we did our own thing with the only object to get the frisbee to the end target. One important thing we learned the hard way is that everyone needs their own frisbee. There are official disc golf sets you can get on Amazon or at a sports store, or you can play for fun with any frisbees you can find in the garage {TIP – the disc golf discs are smaller and go MUCH farther}
We played at Hidden Oaks Disc Golf Course at Loyce E. Harpe Park.  Follow the road as far back as you can drive to find the course.
Looking for more things to do outside? Check out our Outdoor Activities Guide for Lakeland + Polk County. You'll find a variety of ideas for things to do with kids including hiking trails, swimming pools, parks, playgrounds, and more. 
Use the 3 bars on the top left to filter by location. Use the map below to find Disc Golf Near Me.
"Run Wild" at Holloway Park isn't just a slogan or gimmick – it can be your reality! Visit today and experience exotic wildlife, a bird sanctuary, and a myriad species of native vegetation and trees. All of this is intertwined with an elite series of 3k, 5k, 8k and 10k grass running trails, making Holloway Park the real deal in delivering a primitive and environmentally-conscious running experience.
2402 Holloway Park Drive, Lakeland, Florida 33803