Ladies, are you interested in learning self defense? Have you been searching for "self defense classes near me?" Then this info is for you! The Polk County Sheriff's Office offers opportunities for women to learn how to defend themselves through a FREE Personal Safety and Women's Basic Self Defense Class.
The class consists of lecture (approximately 15 minutes) and hands-on techniques (approximately 45 minutes). Attendees will demonstrate all of the techniques on a body opponent bag (B.O.B.) which will be supplied.
What does the Women's Self Defense Class include?
Personal Safety: Common sense safety tips are presented on how to avoid being the victim of a crime.
Women's Basic Self-Defense: Learn basic safety tips and defense training techniques to enable women to escape less than desirable situations.
Who can participate?
The Women's Basic Self Defense and Personal Safety classes are free of charge and for ladies 13 years and older. Those under 18 will need a parent present to sign a waiver at the start of class.
How long is the program?
Each class is approximately one hour long unless more than 30 women attend. For every additional 10-15 females, 15 minutes are added to the time frame.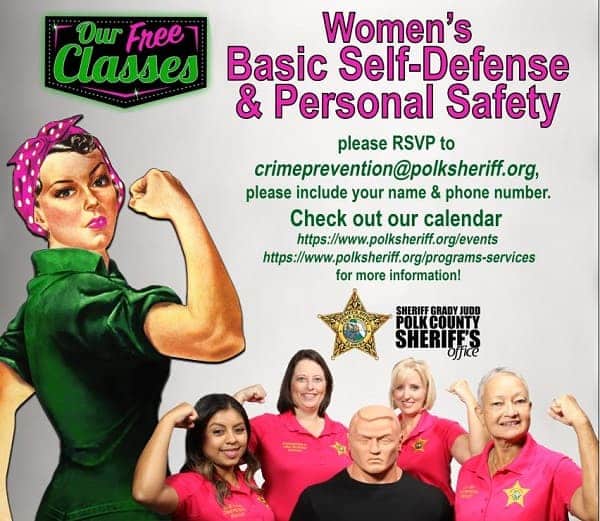 Women's Self Defense Class Dates:
The Polk Sheriff's Office typically offers these free classes on the first Saturday and third Tuesday of every month – check the PCSO calendar for upcoming class dates.
Class location:
PCSO Sheriff's Operations Center, 1891 Jim Keene Blvd, Winter Haven
How to Register for the Women's Self Defense Class:
If you wish to attend, please RSVP to crimeprevention@polksheriff.org, and please include your name and phone number. Same-day registration is typically available due to last-minute cancellations. Check the Polk County Sheriff's Office Calendar for upcoming dates – https://www.polksheriff.org/events
Questions?
Call: 863-298-6677
Email: crimeprevention@polksheriff.org
Visit the Self Defense Class website
Motherhood + Parenting Guide
Check out our Motherhood + Parenting Guide for more articles on motherhood, social groups, 1-on-1 time with kids, and more.