Spacious… Modern… Comfortable… Elegant… AMAZING… are just a few words to describe the brand new Carol Jenkins Barnett Pavilion for Women & Children at Lakeland Regional Health. Last week we participated in a Media Day Tour as well as the Grand Opening Celebration and we are SO EXCITED about what this brand new 8 story hospital facility means for families in our community.
Over five years ago Lakeland Regional Health assessed our existing healthcare system and future needs, and saw an urgent need for a special healthcare destination where women and children could receive compassionate and safe care during life's most important moments. With the opening of the Carol Jenkins Barnett Pavilion for Women & Children, Lakeland Regional Health is now the premier destination for family-centered quality healthcare in our area.
Lakeland Regional Health is a Lakeland Mom Sponsor and we are excited to share more with you about this new facility, as well as keep you updated on future events for women and children hosted by LRH. Below you'll find photo and video highlights from our tour, along with my personal commentary on each of the areas of the new Pavilion.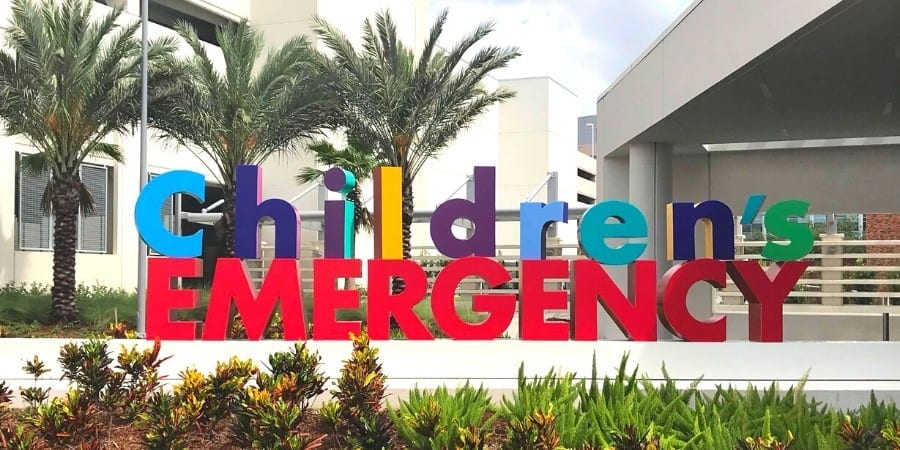 Children's Emergency Department
The new building is home to an Emergency Department just for kids!
It has 33 private rooms, a 50% increase over the current children's emergency department, and will be staffed by emergency room doctors specifically trained in pediatrics. The entrance is on the west side of the pavilion – look for the colorful sign.
The lobby of the Children's Emergency Department is designed to keep kids engaged while they wait, which is so helpful for parents waiting with other children. An interactive game screen on the wall responds to kids' movements, and the beautiful two-story tree has tablets built into the trunk.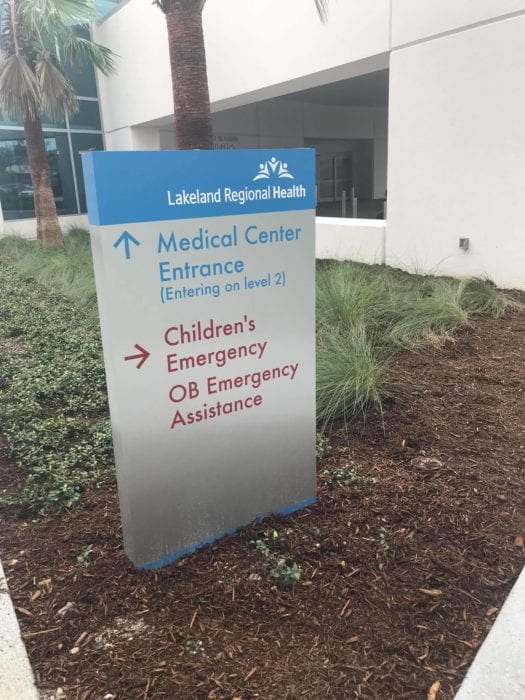 ---
Pediatric Floor
Pediatric Unit was designed with children in mind to provide as much comfort as possible to kids who require overnight care or an extended stay to get healthy. Rooms feature color changing lights in the ceiling, a temperature gauge in the shower/bathtub, and a trundle bed couch allowing both parents to stay overnight. Adjoining rooms are also available for families who have two children admitted at the same time. Plus the rooms on the east side of the building have a beautiful peaceful view over Lake Parker.
The playroom on the pediatric floor is filled with child-friendly music, video games, crafts, board games, books, and more. Portable systems are available for children who aren't able to leave their room, as well as a child-life specialist who will make sure your child is comfortable and happy. A Pediatric ICU (Intensive Care Unit) is also housed on the Pediatric floor.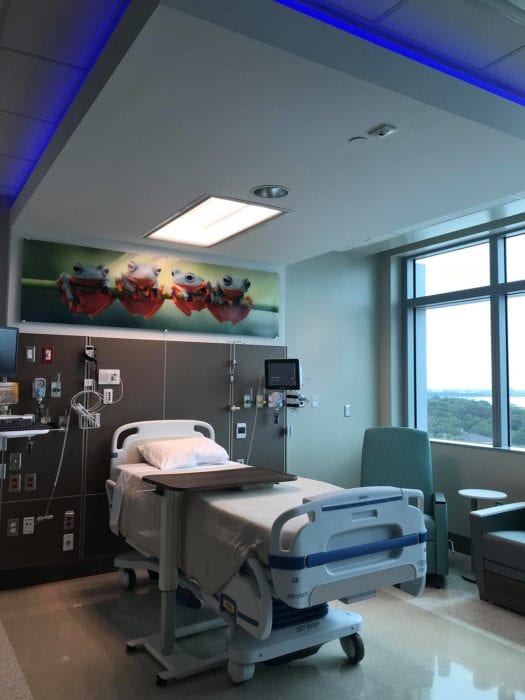 ---
Nemours Children's Health System Collaboration
Lakeland Regional Health also collaborates with Nemours Children's Health System to provide children in our community with consistent access to highly specialized pediatric care right here in Lakeland. These specialists practice in the Pavilion and offer a full range of services including consultations, examinations, testing, procedures and inpatient care for pediatric patients. What a blessing for families in need of pediatric specialists to be seen 10-20 minutes from home instead of making the 1 hour+ drive to Tampa or Orlando, saving parents from taking a day off of work and spending hours out of town for a single doctor's visit.
---
Labor & Delivery
For the expecting mothers – 17 Labor & Delivery suites can be found on the 3rd floor… and they are HUGE!! The photos don't do them justice. These rooms were designed to accommodate women who desire multiple visitors during labor, as well as moms of multiples – there is space for three infant beds, as well as the medical staff needed for delivery.
This floor includes four operating rooms filled with state of the art equipment that can be utilized by the doctors need to ensure safe C-section deliveries and other gynecological procedures.
Approximately 3,000 babies are born each year at Lakeland Regional Health Medical Center!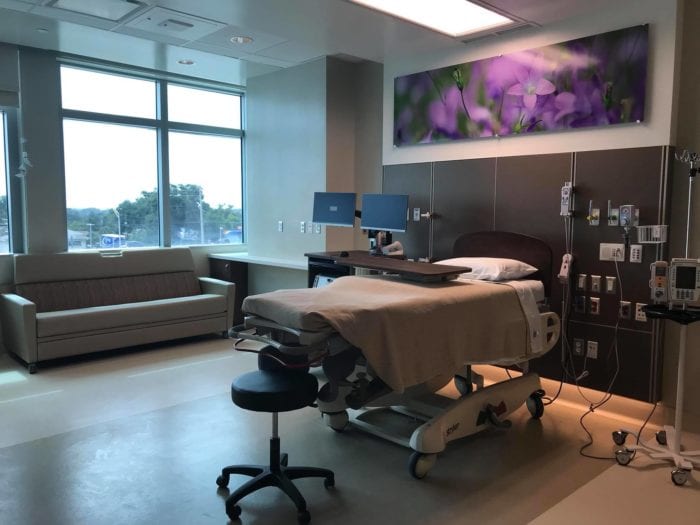 ---
Mother Baby Unit
After your baby arrives, you'll be taken to the Mother Baby Unit for the duration of your stay. The Mother Baby Unit was designed with comfort and convenience in mind. Features such as ample counter space and storage in the bathroom, along with an elegant design make the room feel more like home while in the hospital.
A rocker/recliner is a perfect space for mom to relax outside of the hospital bed, and dad or a significant other can stay overnight on the pull down sofa. Staff told me they brought in multiple furniture options to be sure they found the most comfortable hospital couches possible for the new pavilion!
Certified lactation consultants will be an integral part of your mother baby stay, along with special touches designed to provide a memorable childbirth experience.
These new facilities will ensure that your child's "birth" day is a time where your family and loved ones are able to relax and share in the moment with you.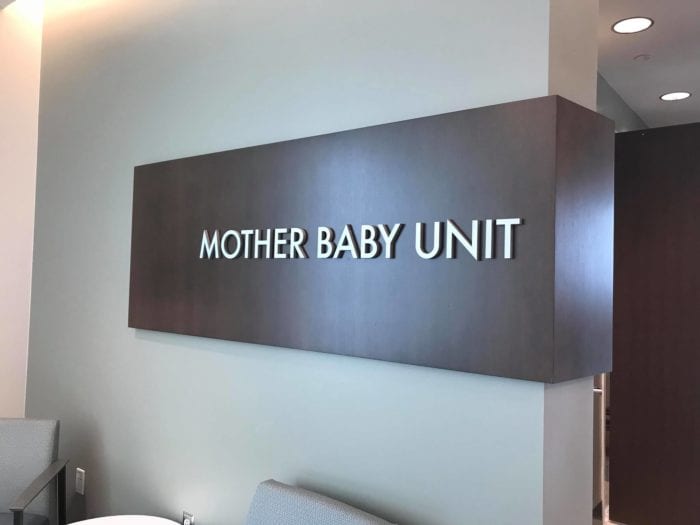 ---
Level III NICU
Lakeland Regional Health will now be home to a Level III Neonatal Intensive Care Unit (NICU) – the only Level III in Polk County. This is Florida's highest NICU designation and will allow the most fragile babies to stay right here close to home instead of being transported to Tampa/Orlando.
The NICU is now an entire floor in the new Pavilion that includes 30 private rooms. New moms and dads will be able to stay overnight with their child, or simply enjoy privacy while visiting their baby. This will be life changing for parents who would otherwise spend weeks or even months visiting their baby during the day and then having to leave them and go home overnight.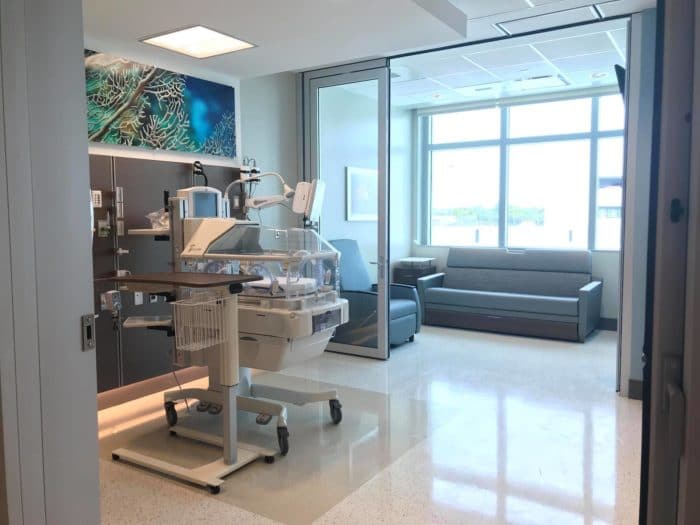 ---
Outpatient OBGYN Care
The new Carol Jenkins Barnett Pavilion for Women & Children is home to a team of compassionate and skilled OBGYN doctors with offices on the first floor of the building, with others practicing at the Grasslands Campus. Services include:
Complete prenatal and birthing care
Breast health/cervical cancer screening
Birth control management
Menopause and alternative hormone management
Incontinence management
Pelvic pain, fibroids, abnormal bleeding
Minimally invasive gynecologic and robotic surgery
Adolescent gynecology
The Center for Fetal Care also provides leading-edge maternal-fetal care before, during, and after birth for moms facing high-risk pregnancies.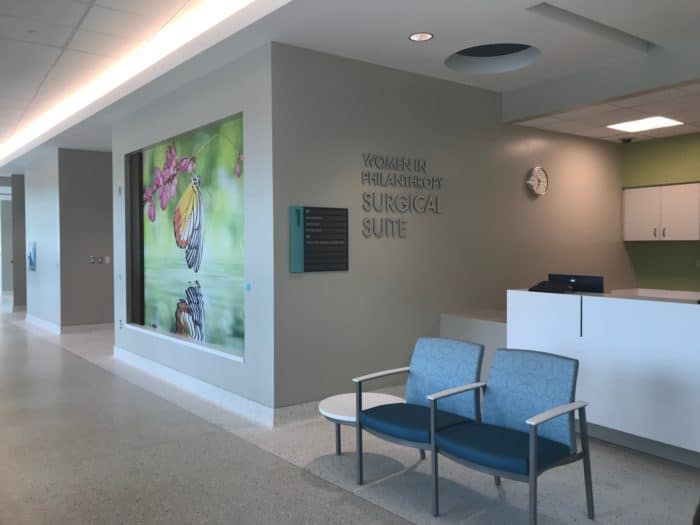 ---
Carol Jenkins Barnett Pavilion for Women & Children
The leadership team at Lakeland Regional Health started planning this new building over 5 years ago and now it is a reality!! Everything about it feels comfortable, spacious and modern, with state-of-the-art technology to benefit both patients and caregivers. Throughout my tour I just kept saying "you've thought of everything!"
The entire building is filled with photos and artwork with a nature theme, which has been proven to help in the healing process. Not pictured are the cafeteria, gift shop, chapel, and large auditorium on the first floor for community events and outreach.
While Lakeland Regional Health has provided comfortable and quality care to our community for over 100 years, the Carol Jenkins Barnett Pavilion for Women & Children will offer a new level of privacy, comfort, and state-of-the-art technology to care for families into the next century!
Additional Photos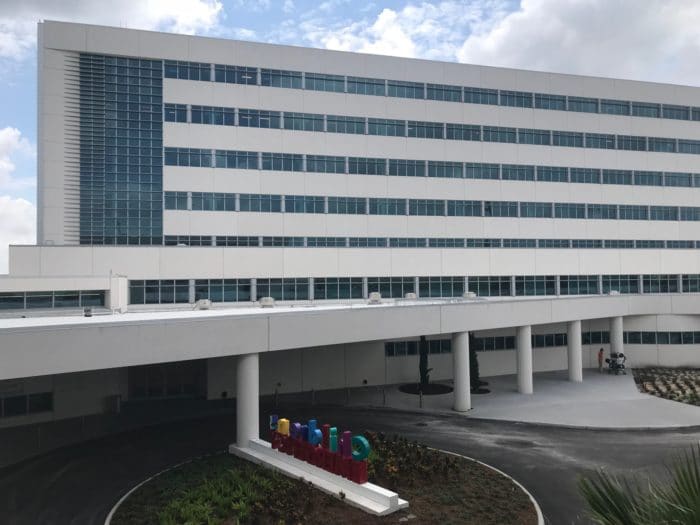 About Lakeland Regional Health
If you grew up in Lakeland like I did, when you hear "Lakeland Regional" you immediately think of the hospital. However, Lakeland Regional Health is SO MUCH MORE than just our hospital facility.
Not-for-profit Lakeland Regional Health reaches beyond its hospital walls to promote wellness, education and discovery in new places and new ways, providing a wide range of inpatient and outpatient healthcare services at its Medical Center, Hollis Cancer Center and ambulatory care locations.
Lakeland Regional Health currently has 14 locations including primary and family care, walk-in care, and over 25 different specialties covered by their physicians group.
Additional Articles About Lakeland Regional Health