Looking for the most up to date information on Florida P-EBT Programs? The Summer PEBT Program provides $391 per eligible student. Funds will be issued in October and November 2022. Learn more about Florida's 2022 Summer P-EBT Program.
In June 2020, many Florida parents were surprised to receive Pandemic EBT (P-EBT) cards in the mail for $313 per student. These funds covered the days that schools were closed in Spring 2020 and school lunches could not be provided to students through the National School Lunch Program.
Florida's P-EBT Program has been extended for the 2020-2021 school year for some Florida students. The 2020-2021 P-EBT Florida Program will cover days during which students were not attending school in-person due to the pandemic – a delayed start date, a required quarantine, or eLearning.
P EBT Cards will be reloaded over the next few months based on eligibility so do not throw your card away!
**This article is based on information available as of the date of publication. The purpose of this article is to let parents know to keep an eye out for these envelopes so you know it isn't junk mail. Some details are still pending and this article will be updated accordingly as information is released, information may change.**
DCF is diligently working alongside DACS and DOE to issue Pandemic EBT (P-EBT) benefits across Florida, since benefits will continue to flow over the next few months, do not call to make inquiries until after May 14, 2021.
Here is a summary of what we know so far about Florida's Pandemic EBT Benefits for 2021.
What is P-EBT?
Pandemic Electronic Benefits Transfer (P-EBT) provides funds to households with children who have temporarily lost access to free or reduced-price school meals due to pandemic-related school closures. Families who are eligible for the free and reduced-price school meals program under the National School Lunch Program (NSLP) and the Community Eligibility Provision MAY be eligible to receive P-EBT.
Eligible school children receive temporary emergency nutrition benefits loaded on EBT cards that are used to purchase food. This "Florida emergency food stamp program" is intended to help families with food insecurity.
Who is eligible for P-EBT Funds?
For 2020-21, fewer students will be eligible than in June 2020. Students must meet two conditions to receive P EBT benefits in Florida:
Be eligible for free or reduced-price meals through the National School Lunch Program, either through an application or attendance at a Community Eligibility Provision school or a school operating under Provisions 2 or 3.
AND

Be enrolled in innovative programs or distance learning due to COVID and not physically present on a school campus to have access to meal service

. This applies to students who were enrolled in eligible distance learning programs for any portion of the 2020-21 school year. It also applies if the school is closed or has been operating with reduced attendance or hours for at least 5 consecutive days in the current school year.*
*Full details on requirement #2 and eligible distance learning programs have not been published. We will update information when we receive clarification.
Students who attended school on campus where lunch was provided will not be eligible for P-EBT cards.
Polk County Public Schools
In Polk County, ALL traditional public schools are part of the Community Eligibility Provision and receive free school meals. This means that if your child was enrolled in Campus eLearning through a Polk County School in 2020-21, in grades K-12, you should receive a card in the mail. Some charter schools do not qualify – only students who receive free or reduced lunch at those schools will receive a card.
Since Polk County Public Schools had a 2 week delayed start in August 2020, all students should receive a minimum of $68 on a P-EBT Card or existing SNAP card.
All Other Florida Schools
This is a statewide program, not just limited to Polk County. In all other counties in Florida, you would need to check the list of schools below for more information. If your child already receives free or reduced lunch, either through the application or their entire school, AND you were enrolled in an eligible virtual learning program, you should be eligible. (We cover Polk County, Florida and do not know specifics for other counties).
Remember, ONLY STUDENTS NOT ATTENDING IN-PERSON LEARNING ON CAMPUS will be eligible.
How do I know if my student or school is eligible?
Click here to check the list of Florida Schools Participating in the National School Lunch Program. Look for the blue button that says "National Schools Lunch Program Schools."
This will open a spreadsheet that you can search. Look in columns E and F. If either says Yes, your entire school is included. If it says No, you will only receive a card if you applied for and received free or reduced lunch during the 2021 school year. If your school is not listed at all, they are not part of the National School Lunch Program.
Are homeschool, private school, or Florida Virtual School (FLVS) students eligible for P-EBT benefits?
Eligibility for P-EBT is based on schools that provide free or reduced-price meals to enrolled students but have been unable to do so during the pandemic.
Private school students may be eligible IF the school participates in the National School Lunch Program. Use the link above to search for your school.
Florida Virtual School (FLVS) students are not eligible. Homeschool students are not eligible.
Do I need to apply to receive a P-EBT card?
No further action is required on your part to receive your P-EBT benefits, funds will be automatically issued to families with eligible children.
If you do not currently receive SNAP benefits, a new P-EBT card will be mailed to the address on file with your child's school district. Funds may come on one card for the entire household, or separate cards for each child.
Keep this card even once you have used the funds – up to 2 more payments may be issued for the 2020-2021 school year.
What if I already receive SNAP benefits?
For existing SNAP customers with a child who is eligible, the P-EBT benefit will likely be added to your current EBT card automatically. For Medicaid and/or TANF recipients with a child receiving free and reduced-price school meals, the P-EBT benefit will be mailed to the address on your Medicaid and/or TANF file. No further action is required on your part to receive your P-EBT benefits.
When will I receive P-EBT Funds in Florida?
The first round of PEBT benefits have been issued. Benefits will be issued for three separate time periods, the estimated dates are below. Benefits will be provided retroactively to ensure that full and accurate data regarding a student's learning status is captured before issuing benefits.
April 2021 (covering August – December 2020) – DCF announced benefits will be issued starting April 29 but could take up to 6 weeks to be issued to all eligible students. Please wait until after June 1, 2021 before requesting a review.
June 2021 (covering January -March 2021)
August 2021 (covering April – June 2021)
Funds will be added to the original card – do not throw it away!
What should I look for in the mail?
Look for a plain white envelope with a South Dakota return address.
Below is a photo of the envelopes that parents have received. Cards were mailed in a plain white envelope, some had windows for the address and return address, and some were plain.
Some have been addressed to the student, and some have been addressed to the parent. Do not throw it away, it is legitimate!!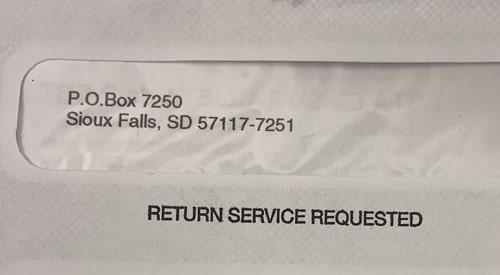 What if I don't receive a P-EBT Card and think my child is eligible?
First, check in the PCPS Parent Portal to be sure your mailing address is correct. If you are in a different school district in Florida, check to be sure the correct address is on file with the district.
Allow the state to fully issue the first round of P-EBT benefits by June 2021 before inquiring about your benefit status. If you have not received your P-EBT benefit by June 1, or your student has been determined not eligible for the P-EBT benefit or you think you received an incorrect amount of P-EBT, you can complete the online P EBT Florida inquiry form to request a review of your student's eligibility. (look for the link near the bottom of the page)
If you have questions about your student's P-EBT benefit, you may call 1-833-311-0321. Check the DCF website for updates.
IMPORTANT!!

Do not call your school or the district. This is NOT a program run by Polk County Public Schools.

Neither your school or the district will be able to issue your benefits.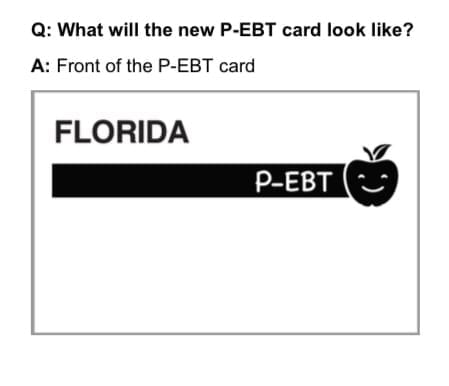 How much will I receive?
Students will be issued $6.82 per day for each day they qualify. This will be multiplied by the number of school days that each student was enrolled in an innovative program in a qualifying school or in an eligible hybrid program. IT does not cover weekends, school breaks, or holidays.
Remember this amount will be issued in three separate payments to cover the full 2020-2021 school year.
We do not currently know the status of funds for VPK students.
How do I use the P-EBT card?
P-EBT cards are used like a credit or debit card to purchase food. Benefits can be used at retailers displaying a Quest or SNAP logo/signage. There is a free app to locate retailers and keep track of the card balance – find the ebtEDGE mobile app at fisglobal.com/ebtedgemobile. You can also call the EBT Customer Service number on the back of your card to check your balance.
What can I purchase with P-EBT benefits?
Households can use P-EBT benefits to buy breads, cereals, fruits, vegetables, meat, fish, poultry, dairy, and plants and seeds to grow food for your household to eat. Households cannot use P-EBT benefits to buy nonfood items such as pet foods, soaps, paper products, household supplies, grooming items, alcoholic beverages, tobacco, vitamins, medicines, food to eat in the store, or hot foods.
When do P-EBT cards expire?
Pursuant to federal guidance, current P-EBT benefit funding will expire when activity on the card is inactive for 365 days (12 months). Beginning in October 2021, benefits will expire after 274 days (9 months). If benefits are added to your current EBT card, the P-EBT benefits will be used first.
Double your money through the Fresh Access Bucks Program
You can double your SNAP/EBT or P-EBT money through the Fresh Access Bucks program offered at farmer's markets, produce stands, CSAs, mobile markets, and community grocery outlets across Florida.
Here in Polk County, visit the Lakeland Downtown Farmers Curb Market to double the SNAP with free FAB bucks for Florida grown fruits and veggies sold by market vendors. Stop by the tent at 117 N. Kentucky Ave. to learn more. The Market is open on Saturdays from 8 AM to 2 PM.
For other counties in Florida, visit the Fresh Access Bucks website to find a participating market near you.
Don't need the money?
The DCF website says: "P-EBT benefit cards should be destroyed if not needed. P-EBT benefits cannot be donated or transferred to anyone else. The benefit is for the eligible student only and can only be used for the student and their household."
(We're going against these instructions, but you could also use it to purchase non-perishable food items to donate to a local non-profit organization feeding children such KidsPack).
More information and helpful links
Related Articles
Education Guide
Check out our Education Guide for Lakeland + Polk County for other education topics including public schools, private schools, homeschooling, tutoring + test prep, school calendars, colleges, and more.