Since 1998, the Florida Legislature has approved a Back to School Sales Tax Weekend (or week) for parents to save money on back-to-school shopping including uniforms, backpacks, and other school supplies.
This year, parents in Florida can again take advantage of the 14 day sales tax weekend AND also save with year-long sales tax breaks on diapers and clothing for children under 5. Having babies and raising kids can be expensive, so this provides some financial relief for new parents and families with toddlers and young children.
These sales tax exemptions are all part of HB 7071 passed by the Florida Legislature in 2022.
Sales Tax Savings for Parents
Tax Free Diapers in Florida
Florida will have a one-year sales tax exemption on the retail sale of children's diapers, including single-use diapers, reusable diapers, and reusable diaper inserts. Diapers in Florida will be tax free from from July 1, 2022, through June 30, 2023.
Tax Free Children's Clothing
Florida will have a one-year sales tax exemption on the retail sale of baby and toddler clothing and shoes, primarily intended for children age 5 or younger. The exemption does not include watches, watchbands, jewelry, umbrellas, or handkerchiefs. Clothing for toddlers will be tax free from July 1, 2022, to June 30, 2023.
For clothing intended for children older than 5 and teenagers, you can save during the 14 day back to school sales tax holiday in Florida.
Tax Free Children's Books in Florida
From Saturday, May 14, 2022 through Sunday, August 14, 2022, many children's books will be tax free in Florida. This includes Fiction or Nonfiction books primarily intended for children ages 12 and younger, including:
• Board books
• Picture books
• Beginning reader books
• Juvenile chapter books
• Middle grade books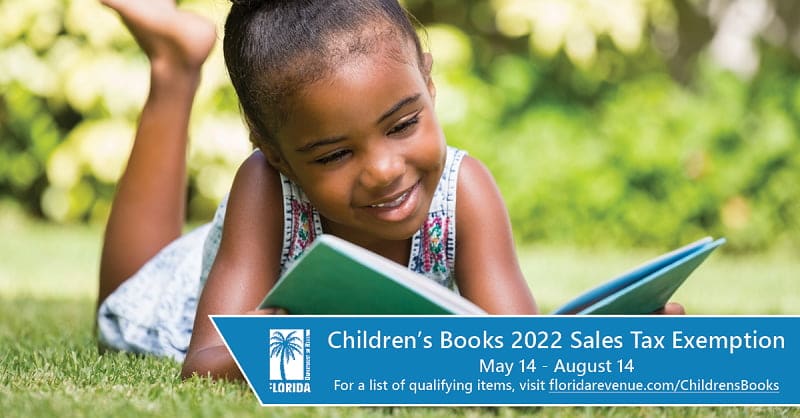 More information and a full list of items for each tax free holiday can be found on the Department of Revenue website.
Florida Tax-Free Weeks
This year you can also save during these 2022 Florida sales tax weeks:
Disaster Preparedness Sales Tax Holiday: May 28 – June 10, 2022 (Hurricane supplies, pet supplies)
Freedom Week Sales Tax Holiday: July 1 – July 7, 2022 (Tickets to live events, outdoor gear)
Back to School Tax Free Week: July 25 – August 7, 2022 (Clothing, school supplies)
NEW IN 2022 – Tool Time Sales Tax Holiday: September 3 – 9, 2022 (Tools commonly used by skilled trade workers)
Learn more about these Florida tax-free weekends
Guide to Lakeland + Polk County
Check out our Guide to Lakeland + Polk County for more parenting resources and local information including Things to Do with Kids, Education, Childcare, Healthcare, Classes + Lessons, Youth Sports, Birthdays, and more.