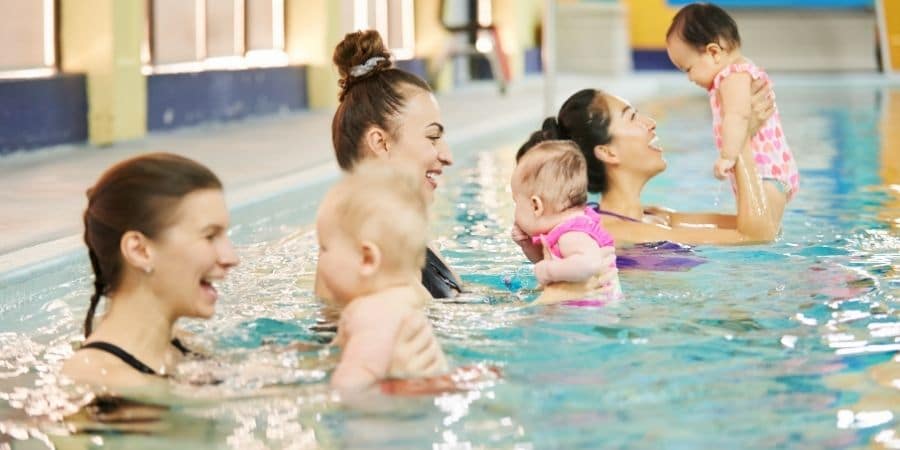 Mommy + Me Baby Swim Lessons
Parent + Child Swim Lessons
These swim lessons are designed for a parent and child to be in the water together for water play and swimming basics. While they are most often called mommy and me, all parents are welcome, including fathers and caregivers. Lessons are typically for ages 6 months old through toddlers.
Always remember that swim lessons are just one part of drowning prevention. Pool fences and safety alarms are also important, with adult supervision being the most important aspect of water safety.
The swim schools and pools listed below offer parent and child swim lessons. Infant and baby survival swim lessons are also available for this age group.
Visit our main Swim Lessons Guide for lessons in Lakeland, Bartow, Winter Haven, Lake Wales & across Polk County. Includes group swim lessons, private swim lessons, adult swim lessons, and ISR (Infant Swimming Resource) and survival swimming. Lessons are available for ages 6 months and up.
HELPFUL TIP: Use the filter button (3 horizontal lines) to narrow down the list by city and/or category. All city filters are a general geographic area, check each listing address for a specific location. Use the map at the bottom to find Mommy + Me Swim Lessons Near You.
Don't see your business listed here? Use the button below to add a Featured or Basic listing.
City of Haines City - Swim Lessons
The Lake Eva Aquatics Center offers a variety of swim lesson classes through the American Red Cross Learn to Swim program. Classes held May – September and taught by American Red Cross certified Water Safety Instructors.
Parent & Child Lessons: Ages 6 months – 3 years
Preschool Lessons: Ages 4-5
Learn-to-Swim: Ages 6 – 14
Other Lessons: Adult Classes, SNAP Classes, Private Lessons
Group Swim Lessons | Private Swim Lessons | Adult Swim Lessons | Mommy + Me Swim Lessons
555 Ledwith Avenue, Haines City, Florida 33844
City of Lakeland - Swim Lessons
The City of Lakeland offers Swim Lessons in the spring & summer for ages 6 months and up. Lessons are provided in 2-week sessions, Monday – Thursday, each lesson is 30-45 minutes. Visit the City of Lakeland website for upcoming dates and times.
Group Swim Lessons | Adult Swim Lessons | Mommy + Me Swim Lessons
404 Imperial Boulevard, Lakeland, Florida 33803
1725 Martin L King Junior Avenue, Lakeland, Florida 33805
Swim Dynamic
Swim Dynamic is celebrating 12 YEARS of swim lessons! Offering an "accelerated teach-to-swim" program with five one-on-one sessions, 30 minutes each for five consecutive days in our heated pools in South Lakeland. Also offering Adult Swim Lessons, Mommy & Me, Special Needs Swim Lessons, and In-Home Lessons in your own pool.
Mommy and Me Classes | Group Swim Lessons | Private Swim Lessons | Adult Swim Lessons | Mommy + Me Swim Lessons | At Home Swim Lessons
5825 West Brannen Road, Lakeland, Florida 33813