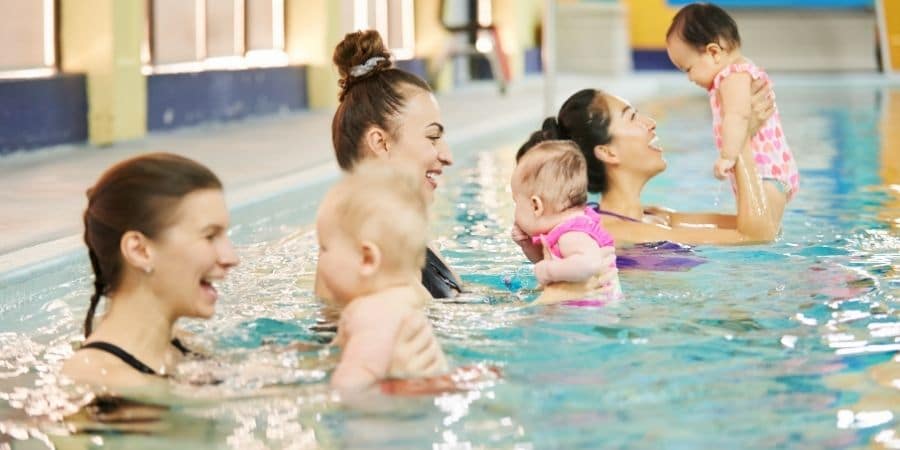 Mommy + Me Baby Swim Lessons
Parent + Child Swim Lessons
These swim lessons are designed for a parent and child to be in the water together for water play and swimming basics. While they are most often called mommy and me, all parents are welcome, including fathers and caregivers. Lessons are typically for ages 6 months old through toddlers.
Always remember that swim lessons are just one part of drowning prevention. Pool fences and safety alarms are also important, with adult supervision being the most important aspect of water safety.
The swim schools and pools listed below offer parent and child swim lessons. Infant and baby survival swim lessons are also available for this age group.
Visit our main Swim Lessons Guide for lessons in Lakeland, Bartow, Winter Haven, Lake Wales & across Polk County. Includes group swim lessons, private swim lessons, adult swim lessons, and ISR (Infant Swimming Resource) and survival swimming. Lessons are available for ages 6 months and up.
Use the 3 bars on the top left to filter by subcategory. Use the map below to find Mommy + Me Swim Lessons Near Me.
Group Swim Lessons and Mommy, Daddy & Me lessons offered during the summer. Open swim hours daily all summer. Check website for pool opening dates and prices, as well as swim lessons schedule.
2250 South Floral Avenue, Bartow, Florida 33830
Group Swim Lessons | Mommy + Me Swim Lessons
The Lake Eva Aquatics Center offers a variety of swim lesson classes through the American Red Cross Learn to Swim program. Classes held May – September and taught by American Red Cross certified Water Safety Instructors.
Parent & Child Lessons: Ages 6 months – 3 years
Preschool Lessons: Ages 4-5
Learn-to-Swim: Ages 6 – 14
Other Lessons: Adult Classes, SNAP Classes, Private Lessons
555 Ledwith Avenue, Haines City, Florida 33844
Adult Swim Lessons | Group Swim Lessons | Mommy + Me Swim Lessons | Private Swim Lessons