Think COVID-19 means you're on your own to figure out labor and delivery and how to take care of a new baby? Think again!
Although in-person classes were put on hold during the pandemic, Lakeland Regional Health continues to help women and families in our community prepare for childbirth, breastfeeding, and caring for a newborn through virtual sessions and Q&A series. Sessions are held live via Zoom and typically last 45 minutes – 1 hour. Advance registration is required on Eventbrite, but many classes are free.
"Lakeland Regional Health wants to support new and expecting moms and dads and grandparents – not just when they are here at our Medical Center but through all of life's moments," said Lori Shea, Lakeland Regional Health Associate Vice President, Women's & Children's Services. "Delivering a baby and parenting can be exciting and overwhelming. We want to provide high-quality educational opportunities to prevent childhood injuries and parenting uncertainty and promote wellness in our community."
Visit the Lakeland Regional Health Eventbrite page to see upcoming dates and register for one of these helpful sessions:
Virtual Breastfeeding Support Group
Learn breastfeeding tips from Lakeland Regional Health's Certified Lactation Consultants and share your experience and questions with other moms.
LIVE Lactation Q&A
These live sessions offer pregnant and/or breast feeding parents an opportunity to meet other families and ask Lakeland Regional Health's Lactation Consultants questions pertaining to your breast feeding journey.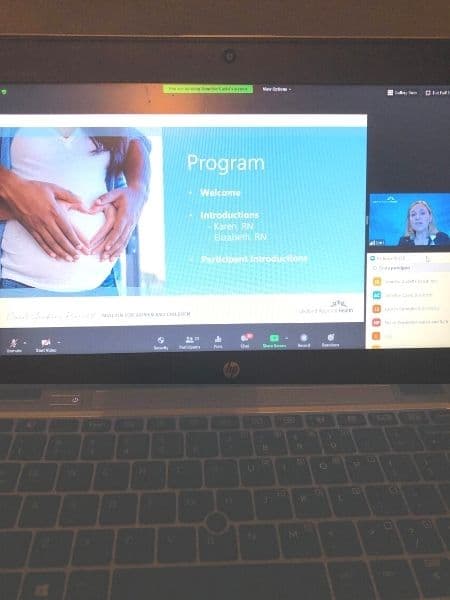 Virtual Breastfeeding Prep Series
Breastfeeding Prep Series is a fun interactive hour via Zoom with 2 International Board-Certified Lactation Consultants. Each session builds on the next to help you get off to a great start breastfeeding!
Part 1- The Milk Way: Science and Technique! Discover the 3 best ways to get off to a great start breastfeeding.
Part 2- Booby Traps: Learn how to navigate typical breastfeeding "booby traps" in the early days and weeks of breastfeeding.
Part 3- Pump It Up: All you ever wanted to know about pumping! Review of last 2 classes and extended Q&A.
What to Expect When Delivering at LRH
Online informational discussion for parents-to-be. Highly skilled Labor & Delivery nurses will provide guidance and helpful information on what to expect when delivering a baby at Lakeland Regional Health. You and/or your partner will also be able to ask questions and interact live with the nurses.
Post-Partum Essentials
This is a quick class for moms-to-be and dads-to-be. You'll learn about breast feeding, newborn care, self care, and more.
Baby Care
Learn newborn care basics from Lakeland Regional Health's experienced and knowledgeable Mother Baby nurses. They will guide you through information about caring for your newborn immediately post-delivery to your journey home. This interactive virtual class will cover essentials like diapering, bathing, infant and sleep safety, newborn care and soothing techniques. You and your partner will be prepared with what to expect from birth through the first month of your baby's life.
Virtual Car Seat Q and A
Certified Child Passenger Safety Technician Jennifer Cipriano will answer your questions about car seats – which one to buy, how to install, when to transfer your toddler to a booster seat and more.
Whether you are a mom-to-be, dad-to-be, or new parent, Lakeland Regional Health is here to support you in every step of your pregnancy and parenting journey.
---
Pregnancy + New Mom Guide
Check out our Pregnancy + New Mom Guide for Lakeland and Polk County to find OB/GYN doctors, midwives, hospitals, high-risk providers, and other resources for pregnancy and childbirth, plus information for brand new moms.