High school Juniors and Seniors are counting down the days until Prom this spring, and InnerAct Alliance and UthMpact are working hard to be sure that celebrating at prom is both affordable and safe for local students.
Project Prom is an annual event designed to educate youth and parents about the risky behaviors that may occur during prom and graduation time. Project Prom provides free dresses, suits, formal wear, and accessories to high school students to help offset the expenses associated with attending prom. Students with a Polk County School ID can sign a pledge to celebrate alcohol and drug-free and receive their dresses and suits for FREE.
If you're looking for free prom dresses near you, be sure to check out Project Prom. This year – 2023 – marks the 11th year of Project Prom in Polk County!
2023 Project Prom Store Student Shopping Days
Anyone from a Polk County high school can shop at the Project Prom Store. All students need is a Polk County School ID and a willingness to sign the Prom Pledge.
The store will be open from 11am – 4pm on these Saturdays in 2023:
Saturday, March 4
Saturday, March 18
Saturday, April 1
Saturday, April 15
Location: The Project Prom Store is located in the Lakeland Square Mall, 3800 U.S. Highway 98 North in Lakeland. (Use the entrance to the right of Dillards)
Store capacity is limited so please be patient and understanding if there is a short wait to enter the shop, and remember this is a free opportunity provided by UthMpact students, staff, and volunteers.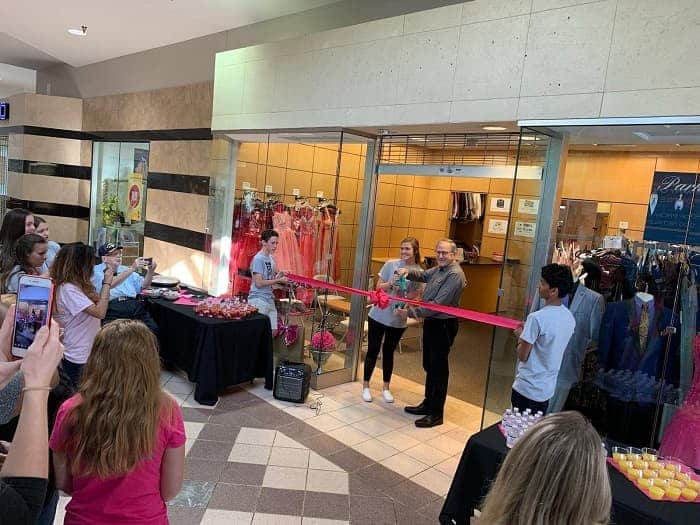 Donate to Project Prom
You can help send local high school students to prom in style! Community members can support the Project Prom effort by donating gently used (or new) formalwear and accessories.
Especially needed:
Women's dresses in sizes XS (0-3) and Plus Sizes (18+)
Men's dress pants (waist 30-36)
Men's dress shirts (all sizes)
Other welcome donations include dresses, gowns, shoes, purses, jewelry, and accessories, as well as menswear suits, dress shirts, ties, belts, and tuxedos. Gift certificates for nail & hair services are also appreciated.
​Formal wear donations may be dropped off at:
The Project Prom Store on Saturday shopping dates (listed above)
The InnerAct Alliance office from 8:30 a.m.-4:30 p.m. on weekdays – 621 South Florida Ave, Lakeland
At select Polk County Public High Schools (call InnerAct Alliance at 863-802-0777 to inquire about school locations)
Volunteers are also needed year-round to help organize the Project Prom event. It's a great opportunity for teens to earn community service hours. Learn more about being part of UthMpact.
Project Prom History
Since 2013, over 5,000 prom ensembles have been provided at no cost to young women and men in Polk County. UthMpact's goal is to promote a fun and safe Prom Night. We'd say they are making quite an iMpact!
For more information, please visit uthmpact.org or projectprompolk.com.
Community Resource Guide
Check out our Community Resources Guide for Lakeland + Polk County to find places to volunteer and donate, community assistance, foster care, and more.