Count down to Christmas this year with 25 Random Acts of Christmas Kindness! If you've been looking for simple ways to slow down and focus on the joys of giving during the holiday season, we're here to help with ideas for kind acts that cost little to no money.
Use the link below for a free printable list – you can use it as a starting point to plan a few random acts of kindness ideas for kids, or use it as a 25 Days of Christmas Kindness Advent Calendar and try to cross off one activity each day.
Do you find this list overwhelming? You don't need to do them all, just pick one and you can make a difference in the day of a friend, family member, or even a stranger. Or just plan on 5 to start with and then pick 5 more when those are complete.
This list is family-friendly, meaning your kids can participate in almost all of the random acts of kindness to help make a difference this Christmas season. Let's teach our kids that small acts of kindness can change the world as we spread cheer in our community!
Don't miss our Ultimate Guide to Christmas Events + Holiday Activities for a full list of things to do this holiday season in Lakeland and Polk County including Christmas Light Displays, Santa Photos, Christmas Tree Lots, Christmas Parades, Holidays Concerts, Live Performances, Holiday Markets, Ice Skating, Toy Donation Needs, and more.
1. Donate to your favorite charity or local non-profit organization (Giving Tuesday is the Tuesday after Thanksgiving)
2. Leave a positive note somewhere for a stranger to find later
3. Buy food or toys to donate to a local non-profit organization (find places collecting Christmas gift donations in the Lakeland area)
4. Leave a good waiter or waitress a generous tip
5. Let someone go ahead of you in the checkout line
6. Show your appreciation with a random card, email, text, or call to friends or family
7. Babysit for a single parent so they can get some Christmas shopping or wrapping done
8. Assemble care packages or bags to give to the homeless with water, snacks, and hygiene products (search Blessing Bags for more information)
9. Clean out closets & donate gently used toys and clothes where they can be reused (see a list of donation locations in the Lakeland area).
10. Send a treat and/or thank you note to the janitors or support staff at your school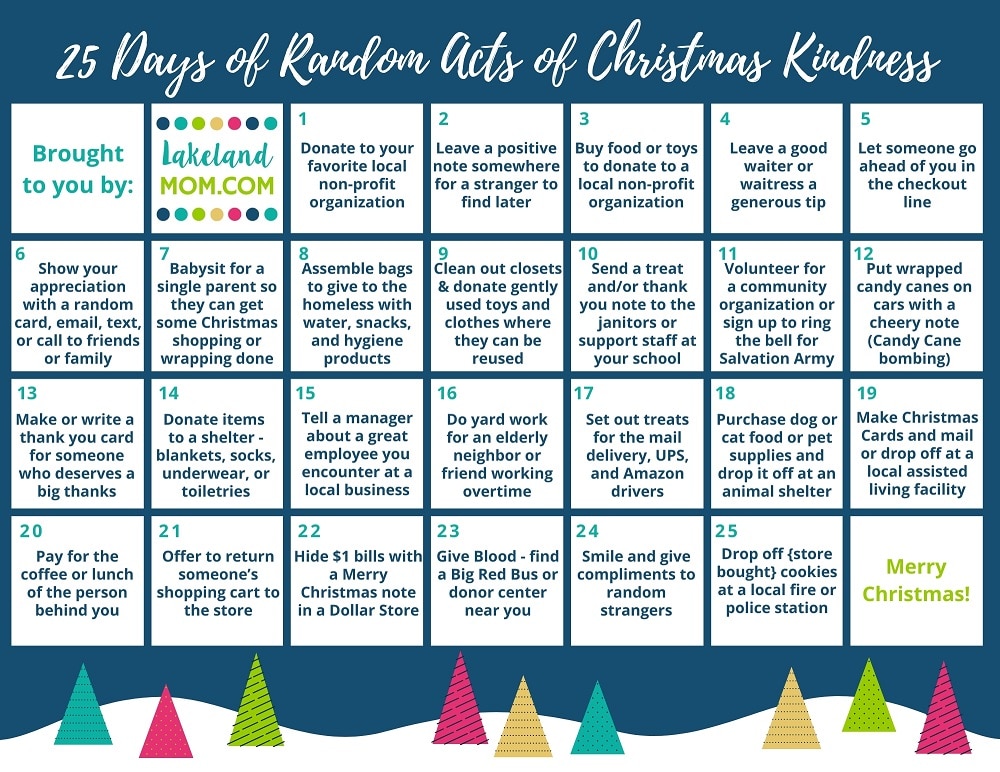 11. Volunteer for a community organization or sign up to ring the bell for Salvation Army
12. Put wrapped candy canes on cars with a cheery note (Candy Cane bombing)
13. Make or write a thank you card for someone who deserves a big thanks
14. Donate items to a homeless shelter – blankets, socks, underwear, or toiletries (Shelters for the homeless in Polk County include Salvation Army, Lighthouse Ministries, Talbot House, and The Mission of Winter Haven)
15. Tell a manager about a great employee you encounter at a local business
16. Do yard work for an elderly neighbor or friend working overtime
17. Set out water and snacks for the mail carrier, UPS, and Amazon drivers
18. Purchase dog or cat food or pet supplies and drop it off at an animal shelter like the SPCA or Polk County Animal Shelter
19. Make Christmas Cards and mail or drop off at a local assisted living facility (see below for places to send Christmas cards to the elderly in the Lakeland area)
20. Pay for the coffee or lunch of the person behind you
21. Offer to return someone's shopping cart to the grocery store
22. Hide $1 bills with an anonymous Merry Christmas note in a Dollar Store
23. Give Blood – find a Big Red Bus or donor center near you
24. Smile and give compliments to random strangers
25. Drop off cookies at a local fire or police station – be sure they are store-bought (Find your nearest fire station or police station in Lakeland)
25 Random Acts of Kindness for Christmas
Print this kindness advent calendar and start spreading kindness today.
Send handmade Christmas Cards to seniors in the Lakeland area
If you're local, these organizations that serve seniors – assisted living facilities, nursing homes, veterans centers, and senior caretakers – would love to receive cards from you! Either send in the mail or drop off (call first to check for drop off options).
Cornerstone Hospice – 2140 E CR 540 A, Lakeland, FL 33813
Beacon Hill Colony – 1112 W. Beacon Rd. Lakeland, FL 33803
VISTE – 1232 E. Magnolia St. Lakeland, FL 33801
MORE COMING SOON!
If you would like to be included on this list, please Contact Us.
Christmas Events + Holiday Activities
Check out our Ultimate Guide to Christmas Events + Holiday Activities to find more things to do including Neighborhood Christmas Light Displays, FREE Christmas Events, Santa Photos, Christmas Parades, and more.