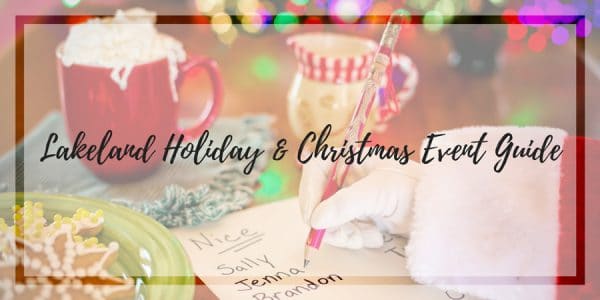 Lakeland's BEST Holiday & Christmas Events Guide
Congratulations! You are looking at the ultimate guide to family-friendly holiday fun in Lakeland and Polk County for 2018. Our communities are bursting with holiday cheer this time of year, and we want to help you and your family make memories as you experience the sights and sounds of the Christmas and holiday season.
Below you'll find all the family friendly holiday happenings and kids activities in Lakeland, Winter Haven, Bartow, Mulberry, Auburndale, Haines City, & across Polk County. Whether you're looking for a Christmas parade, photos with Santa, live performances, Christmas concerts, places to donate or volunteer, day trips in Central Florida, special events, or the best neighborhood Christmas light displays, your search is over – you'll find it all here.
See something we missed? Contact Us or Submit your Event. We'll be adding events and activities daily, so be sure to check back on a regular basis!
Celebrate the Season in Downtown Lakeland
Celebrate the holidays in Downtown Lakeland at the Holiday Walkabouts on December 14 and December 21 from 6pm-9pm. Stores and shops will be open late serving up yummy goodies (like cider and cookies) and special deals. There will be live music on the street corners and carriage rides loading on Pine Street ($1 per person). The traditional holiday lights will be on display in Munn Park and costumed characters patrolling around for spontaneous selfies.
On December 14, visitors can take pictures with Santa at Just Dance Academy on 124 S. Kentucky Ave. and participate in a Gingerbread Contest at My Office & More on 122 E. Main St. for a chance to win prizes.
On December 21, visitors can take pictures with Santa at Focus Realty on 218 E. Pine Street. You can also participate in a "Whoville Hair" and "Ugly Sweater Selfie" contest.
Make plans this year to visit Downtown Lakeland to shop local, eat local, enjoy the Munn Park lights, and create lasting Holiday memories with your family!
Christmas & Holiday Posts
Single Day Holiday & Christmas Events in Lakeland & Polk County