The annual Lakeland Christmas Parade has been a Lakeland tradition for 40 years. Thousands of people flock to Downtown Lakeland on the first Thursday of December each year to watch more than 100 floats and marching bands kick off Christmas in Lakeland. I remember watching the parade around Lake Mirror as a child back in the 80's and 90's and love sharing the tradition with my own family.
If you've never been to the Lakeland Christmas parade, or you're wondering how to make it a little less stressful, here are some tips from our own experience and from our local readers. Plus a few frequently asked questions about the Christmas Parade in Lakeland FL.
**IMPORTANT ROUTE CHANGE – the 2023 Lakeland Christmas Parade Route has been changed due to road construction. 2023 Christmas Parade Map is below.**
Most cities in Polk County host a Christmas parade – we have a full list of 2023 Christmas Parades in Polk County if you're looking for other parades to attend (there are 12 to choose from!)
Don't miss our Ultimate Guide to Christmas Events + Holiday Activities for a full list of things to do this holiday season in Lakeland and Polk County including Christmas Light Displays, Santa Photos, Christmas Tree Lots, Christmas Parades, Holidays Concerts, Live Performances, Holiday Markets, Ice Skating, Toy Donation Needs, and more.
When is the Lakeland Christmas Parade in 2023?
Thursday, December 7, 2023. The Lakeland Christmas parade is the first Thursday in December and kicks off the holiday season in Lakeland.
Where is the Lakeland Christmas Parade?
The parade begins at the RP Funding Center, and makes its way through Downtown Lakeland. In 2023 the parade will follow a NEW ROUTE due to road construction. Instead of going around Lake Mirror, this year the parade will go around Lake Morton.
2023 Lakeland Christmas Parade Route: Leaving the RP Funding Center, the parade will travel down Lemon Street towards downtown, turning left on Tennessee Avenue, then right on Main Street. At Massachusetts Avenue, the parade will turn right, heading south to Lake Morton Drive. The parade will turn left, travelling around Lake Morton before heading up Tennessee Avenue. At Orange Street, the parade will turn left and continue to the RP Funding Center, where the parade will conclude. Roads that are impacted by the parade route will close at 5 p.m. except for the portion of Lime Street between Florida Avenue and Lake Beulah Drive that will close at 3 p.m.
See the map below for the 2023 Lakeland Christmas Parade route.
What is the best place to sit for the Lakeland Christmas Parade?
Many Lakelanders have their personal favorite spots and there isn't one location that is best. Some people love to be near the lights in Munn park, others want a good view of the fireworks display over Lake Mirror, or maybe even want to be near the start of the parade to get done early. Here are a few things to consider when you decide where to sit:
The parade begins at the RP Funding Center at 7pm, so if you are trying to be one of the first ones "done" choose a spot along Lemon Street. Just remember you can't cross the parade route when leaving (walking or in your car), so check the parade map below to plan your departure.
If you're trying to avoid the crowds, spots near the beginning and end of the parade route around the RP Funding Center seem to be less crowded. Plan to be packed in on the sidewalks through Downtown Lakeland and around the lake.
No candy or any other items are given out during the Lakeland Christmas parade due to safety precautions, so the only reason to try and be in the front row is for the best view.
If you know anyone in the parade, text them where you are sitting so they can look for you! It is fun for people on floats to wave at friendly faces in the crowd. You'll also want to ask their float number so you know when they are getting close.
**2023 Lake Morton Seating – This year's parade route includes Lake Morton. There will be NO street parking along Lake Morton Drive the day of the parade. Umbrellas or pop-up tents are not allowed along the grass around Lake Morton.**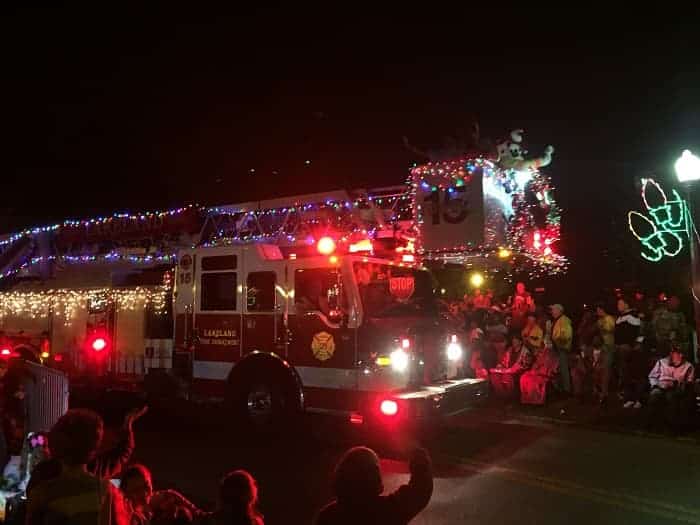 Parking for the Lakeland Christmas Parade
Public Parking is available in Downtown Lakeland on open, non-parade-route streets, in public lots and parking garages. You can use the Interactive Downtown Lakeland Parking Map to see parking options. (If you can find another spot, I would strongly recommend avoiding the parking garages – they will be completely full when the parade ends and likely take a very long time to clear out). Another tip is to look at a map and look for public parking lots (or businesses that might allow parking) that are 3-4 blocks or a reasonable walking distance away from the parade route.
ADA/Accessible Parking – Accessible parking, parade viewing, and restrooms are available in the area of the Rose St. parking lot (across from the Lakeland Fire Department on Lake Mirror) for vehicles with a disabled parking permit. See the Map on the City of Lakeland website for the location.
What's the story with the Lakeland Christmas Parade Chairs??
Since the parade is so popular, people like to reserve their seats well in advance. That started with people putting chairs out the morning of the parade, and seems to get earlier and earlier each year. We've seen chairs out as early as Monday for the Thursday night parade. Beginning in 2019, the City of Lakeland said no setting chairs out before the day of the parade.
The City of Lakeland asks that no chairs be placed on the parade route until the day of the Lakeland Christmas Parade. The City will remove/relocate chairs, blankets, tape, and other materials used to save viewing spaces that are blocking sidewalks, in the way of crosswalks and hindering the use of disabled parking spaces. 
When you set your chairs up, even on the day of the parade, be sure you do not block any bus stops, crosswalks, or block walkways. Chairs can pose a hazard for those in wheelchairs and walkers.
Is there food at the Lakeland Christmas Parade?
Many of the restaurants in Downtown Lakeland will be open for takeout. Some years there are also food vendors in various locations along the parade route before it starts. We usually prefer to pack dinner and take it with us, or pick up pizzas to keep things simple. Just be sure you pick up your garbage and take it with you or find a garbage can. Don't be a Scrooge and leave a mess for someone else to clean up.
Fireworks at the Lakeland Christmas Parade
The Lakeland Christmas Parade begins with a fireworks show over Lake Mirror. It lasts approximately 5-7 minutes.
How long is the Lakeland Christmas Parade?
The Lakeland Christmas Parade kicks off at 7 PM from the RP Funding Center. The entire parade typically lasts around 1.5 hours. It will also depend on where you are sitting – for example, one year we sat near Barnett Park and it was 8:45pm when the final float (Santa!) came by. The full parade distance is approximately 3 miles.
How can you be in the Lakeland Christmas Parade?
The Junior League of Greater Lakeland coordinates the parade each year. Applications are typically open from mid-summer through September. Check the JLGL Website for the application. The bands, schools, local businesses, and community groups that are approved to be in the parade are responsible for inviting their own parade participants.
Editor's Note – If you are ever invited to participate in the parade, do it! It is a memorable experience and a completely different perspective seeing the crowds along the parade route. I've been in it a few times – first on the JLGL Float when I was in Kindergarten (back in the 80's!) then I drove a car for the State Senator I worked for, and I've also been on floats for South McKeel and Bonnet Springs Park, and even walked the parade route next to a float. It is a full evening commitment but it is fun!!
If you are in the parade or riding on a parade float, you will have to arrive at the RP Funding Center pretty early – be sure to bring something for your kids to do and pack dinner, there is nowhere to get food nearby. Also, if you are walking in the parade, all the kiddos (and maybe even some adults) sitting on the curbs and in the front row will want to give you a high five. I'd decide in advance if you want to touch all.those.hands (I'm talking hundreds here) and come up with a plan.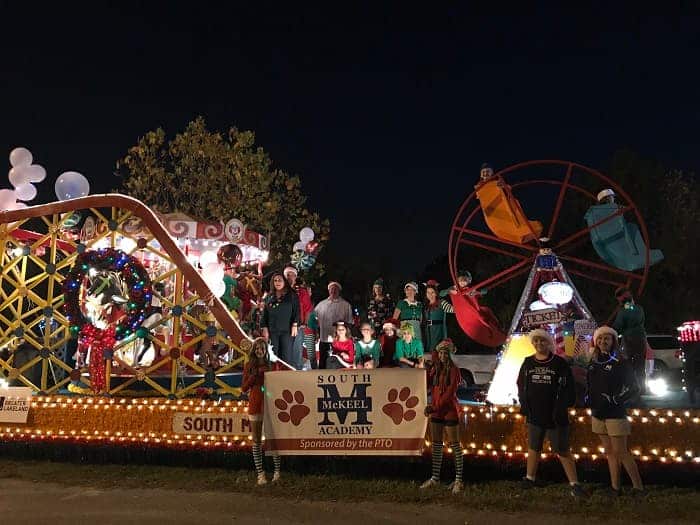 Is the Lakeland Christmas Parade on TV?
Yes – you can watch the Lakeland Christmas Parade on TV or a device from the comfort of your own couch with a cup of hot chocolate and a warm blanket! Options for watching the parade include:
Live on the City of Lakeland Facebook Page
Spectrum Channel 643 (Lakeland Government Network)
FiOS Channel 43
Comcast Channel 5 (PGTV)
Lakeland Christmas Parade Route Map
This map shows the route for the 2023 Christmas Parade in Lakeland – check the City of Lakeland parade website for a larger map and additional details on restrooms and ADA seating and parking.
IMPORTANT!! There is a change in the Lakeland Christmas Parade Route for 2023. See the Lakeland Christmas Parade Map below for the new route through Downtown Lakeland.
Lakeland Christmas Parade Tips
If you've never been to the Christmas Parade in Lakeland, FL, the most important thing to know is that it is CROWDED!! Don't be scared away, just prepare yourself (physically AND mentally), and know how to make the most of this Lakeland Christmas tradition.
People set their chairs out early. See note above. We're talking 5am on parade day or even late the night before. Front row spots are almost always claimed by 7am. I usually head down around 8:30am after I drop kids off at school and we have no problem finding a 2nd row spot, and then stand up if we can't see. If you set chairs out be sure they aren't special to you just in case they go missing (we don't think this happens, BUT just in case…) If you don't mind standing up during the parade, you can also just go early before the parade and find a space to set up your chairs.
Pick your general parade area in advance so you know where to look for parking – remember that it takes 45-60 minutes for the first float to get to the end of the parade route. Also think about where you have to go when the parade is over. The parade makes a big U, streets will remain closed until the parade finishes.
Take supplies with you – dinner, drinks, blankets, jackets, etc. – there are options for finding food, but it is usually easier to just take subs or a pizza with us. Plus it gives us something to do for the hour+ wait before the parade starts (see next point). It also can get chilly once the sun goes down, and as we all know – cold kids are usually whiny kids, and no one wants whiny kids during a parade.
Plan to get there early. The fireworks start at 7pm, we are usually at our spot by 6pm (if not earlier) to be sure we still have a spot. Chairs sometimes get "shifted" as people add their chairs during the day. If you roll in at 6:45 you will likely have trouble finding parking and getting through the crowd.
Bathrooms are available – check the map or City of Lakeland page for portapotty locations BEFORE someone needs to go so you're not searching for a bathroom with a child who has.to.go.right.now.
Traffic is awful before and after the parade. THOUSANDS of people in Downtown Lakeland makes for a lot of traffic. Just accept it and know you'll eventually get home!
It's a CHRISTMAS parade… channel your best jolly elf self and take your Christmas spirit with you! Remember to be courteous, the parade is a much more enjoyable experience when people are friendly.
Editor's note – I love the tradition of the Lakeland Christmas parade but I always try to be up front and honest with you – going to the Lakeland Christmas Parade can be an overwhelming experience that requires a lot of patience simply because there are so many people. If you have small children or don't like crowds, it is ok to skip the Lakeland parade! Name what matters to your kids and your family and plan your Christmas activities around those priorities. There are 11 other parades in Polk County and none of them are on a school night. The Bartow Christmas Parade and Havendale Christmas Parade are also popular but not as crowded. Use the link below to find a Christmas parade near you.
Christmas Events + Holiday Activities
Check out our Ultimate Guide to Christmas Events + Holiday Activities to find more things to do including Neighborhood Christmas Light Displays, FREE Christmas Events, Santa Photos, Christmas Parades, and more.