As much as we love them, Starbucks and Dunkin' Donuts aren't the only games in town when it comes to that ever-important mom-fuel… coffee!
We love to shop small and support local businesses, and Lakeland is full of amazing coffee options that are guaranteed to give you a delicious jumpstart and keep you going, all while knowing you're supporting our local economy and building our community.
If coffee isn't your main "fuel" source and you prefer teas, smoothies, matcha, or other types of liquid happiness, you won't be disappointed when you try out one of these fantastic places. And of course, no coffee experience would be complete without awesome food to go along with it, so we've also included places where you and your kiddos can fill up on something you'll love. Click on the name of any coffee shop near you to visit their website.
Happy caffeinating!
Coffee Shops Near You: Lakeland FL
Founded by Lakeland brothers Chris and Michael McArthur, Black & Brew's fresh selections include espressos, frappes, cold brews, and much more. (Plus, you'll love their extensive, fresh menu of soups, salads, and sandwiches.)
Unique coffee pick: Heath Bar Mocha
For the kids: Macarons or fresh fruit cup
Three Locations: 205 East Main Street, Lakeland, FL (on Munn Park)
100 Lake Morton Drive, Lakeland, FL (in the main branch of the Lakeland Public Library)
4209 S. Florida Avenue, Lakeland, FL 33813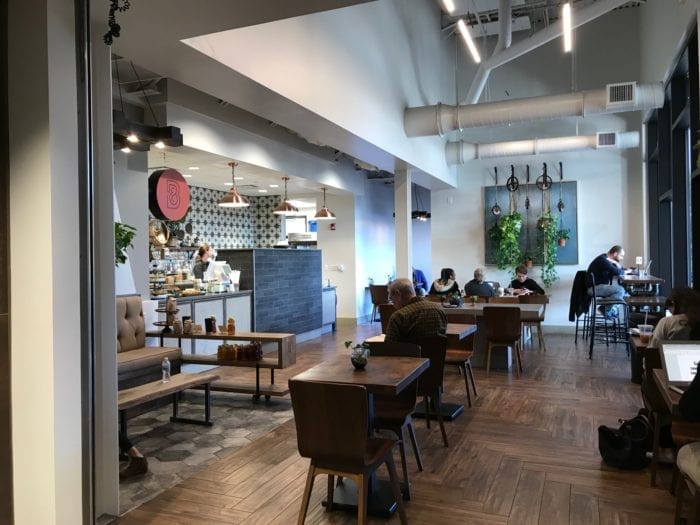 ---
This local gem, named after the original owners' son Charlie (whose adorable face and very curly red hair is featured in their logo in caricature form), is a great spot to grab some made-to-order espresso, tea, or smoothies. Of course, you and your kids will want to grab their homemade, delicious mini donuts to top off your experience! Also a great place for a one-on-one kid date.
Unique coffee pick: Red Eye
For the kids: S'mores donut (or any donut, really!)
Location: 1023 East County Road 540A, Lakeland, FL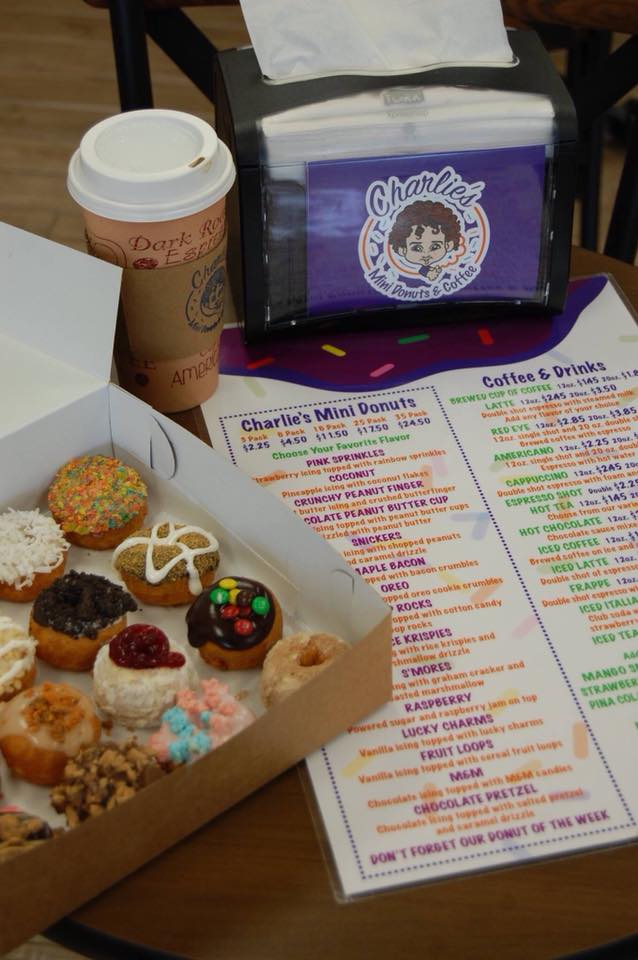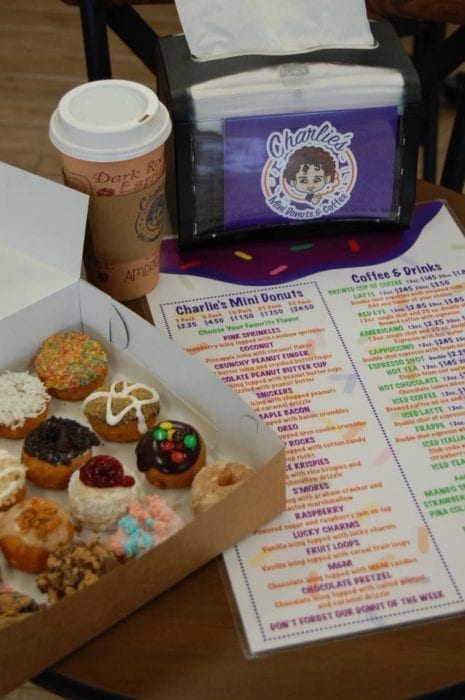 ---
Internationally, responsibly sourced and roasted right here in Lakeland, Concord Coffee shop brings us a menu of unparalleled craft coffee options. Founded and run by three Lakeland couples, you'll love the calm and inviting atmosphere of Concord, where you can slow down and really savor your experience.
Unique coffee pick: Ethiopia Ardi on Chemex
For the kids: Small Bite plates (different varieties daily)
Location: 1037 Florida Ave. S, #135, Lakeland, FL (Dixieland)
---
In addition to being a popular spot for homemade breakfasts, lunches, and snacks, Divicious (which is a combination of the words "divine and delicious") offers a full menu of unforgettable coffees. This Lakeland favorite is owned and run by energetic Lakelander Yohansi Santana and her loving family.
Unique pick: Red velvet "frozencino"
Author's personal favorite: Cafe con leche "Miami style" (sweetened)
For the kids: Homemade muffin of the day
Location: 128 E Main St., Lakeland, FL (on Munn Park)
---
"Drica" is the nickname of Adriana, the sweet and caring entrepreneur behind one of Lakeland's most recognizable mobile establishments. Drica not only remembers her customers (and their kids!), she ensures that your experience is second to none with small-batch roasted, exceptionally fresh coffee. Add in her menu of delicious pastries, empanadas, and Brazilian cheese bread (seriously, try it!) and you just may find yourself planning your route around town so that you can be sure to cross her path. Sadly, Drica is retiring from the coffee business and will serve her last cup on January 8, 2022.
Unique coffee picks: Copana or Truly Latte
For the kids: Vanilla milk (author's daughters' favorite!)
Locations: As a mobile cafe (food truck), Drica's makes a variety of stops around town and at special events. View Route
---
Although First Watch is a chain restaurant, they locally source most of their fresh ingredients, which supports our local farmers. Plus, through their Project Sunrise program, they source their coffee only from female-run, Colombian coffee growing businesses, the Mujeres en Café. Go ladies, go.
Unique picks: Cold brew coffee or Morning Meditation (juice)
For the kids: Hot chocolate
Bonus: If allergies are a worry for your family, the kitchen will do an allergy check for your meals. Ask your server for details.
Locations: North — 4316 US Hwy 98 N #200, Lakeland, FL (next to Orange Bowl)
South — 4620 S Florida Ave Suite 130, Lakeland, FL (next to Panda Express)
---
Step into this 1925 bungalow-turned-coffee-shop, and you'll feel right at home. Whether you're meeting fellow mom friends with your kids or enjoying a few rare moments of solitude, the friendly people and diverse menu offerings Hillcrest Coffee will keep you coming back again and again. Board games and books fill the shelves for you to borrow while you're there, a rotating display of art from local artists adorn the walls, and the front porch is great place to enjoy the Florida weather. Hillcrest brews coffee from local roasters Patriot Coffee and Ethos Coffee, as well as Tampa-based Buddy Brew.
Unique coffee pick: Aeropress brewing method
For the kids: Pastries of the day
Bonus: Follow their Facebook page to stay in the know about live music events.
Location: 119 Hillcrest St., Lakeland, FL (Dixieland)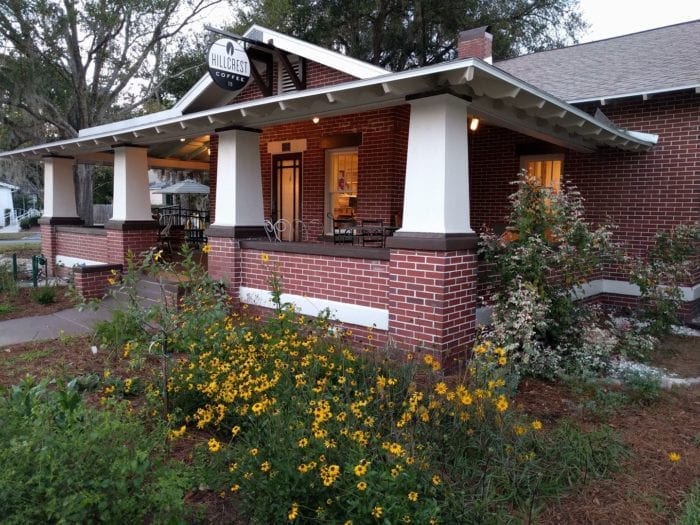 ---
When you think coffee in Lakeland, chances are, you think Mitchell's. Having been around since 1998 (long before the "coffee boom" of recent years), Mitchell's not only gets coffee right, this dynamic family keeps your stomach full with their fantastic homemade foods and desserts.
Unique coffee pick: Nitro Brew coffee (and don't miss their famous chicken gumbo!)
For the kids: "Just for kids" brown bag lunch (only $5)
Bonus: Local art & family-friendly events are always on the schedule
Location: 235 North Kentucky Ave., Lakeland, FL (Downtown)
---
While coffee appears on the menu, the big draw at Tea Largo is, you guessed it…tea. You'll find a healthy assortment of teas, matcha, smoothies, and more. And, if you're looking to eat clean, you'll love their organic acai bowls or pitaya bowls for a healthy lunch.
Unique pick: Iced Bhakti Chai with Boba or any bubble tea (multiple varieties available!)
For the kids: Mermaid bowl (fruit & yogurt) or fruit smoothie
Bonus: Tea Largo is connected to Picassoz Art Cafe, where you and your kids can enjoy some pottery painting, candle making and other arts & crafts.
Location: 4634 Cleveland Heights Blvd., Lakeland, FL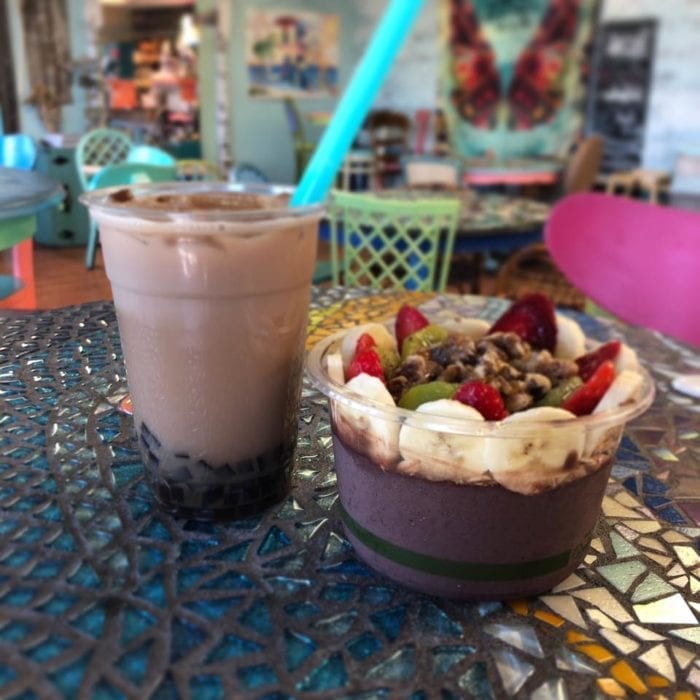 ---
Lakeland Coffee Brews for Home
Whether it's for convenience, preference, or economy, if you're serving up coffee at home, you can still shop small right here in town with these local coffee roasters near you.
Patriot Coffee was founded by U.S. Marine veteran and Lakelander Chris McArthur. Patriot offers small-batch roasted coffee in several varieties.
Where to buy: Online via subscription, or in-store at Black & Brew, Born & Bread Bakehouse, Grove Roots Brewing Co. (Winter Haven), Hillcrest Coffee, Scout & Tag, The Corner Store (Plant City), or at your neighborhood Publix
Don't miss: The Hero's Salute program, which ships coffee to military units based on nominations from friends and family.
Ethos Coffee is run by locals Jolian & Lisbeth, who both have advanced degrees in food chemistry. Ethos Coffee is sourced with the goal of making a lasting difference in the world.
Where to buy: Online (via subscription), at Hillcrest Coffee, or at the Lakeland Downtown Farmers Curb Market
Don't Miss: ½ Caff Low Acid blend (ideal for those with more sensitive stomachs)
The Concord team's meticulously roasted brews for home are available to purchase in-house or online.
Grounded in Community
The idea of coffee and community go hand in hand — enjoying a cup is as much about getting a much-needed boost as it is finding an opportunity to connect with other people, share stories, and try new things.
Maybe there's a fellow mom that you always seem to end up next to while you're waiting for your pour-over. Perhaps a new friendship began with someone who was sitting at the next table. Or maybe you realize that the friendly barista who always remembers your name (and your preferred order!) is related to an old friend from school. No matter which local places you decide to frequent, there's one experience you can count on to remain constant, and that's the feeling of home that our Lakeland coffee shops give us by the cupful.
Note: Every effort was made to reflect current menu offerings of each establishment, however, menu items are subject to change.
Food + Restaurant Guide
Check out our Food + Restaurant Guide for more places to eat in Lakeland + Polk County including ice cream shops, coffee shops, donut shops, food banks, outdoor dining, Kids Eat Free deals, and more.
About the Author: Stephanie Curl, Contributing Writer
Stephanie is a writer and editor and has worked in the marketing field for her entire career. She has lived in Lakeland since 2005 and loves the family-friendly activities and sense of community that Lakeland offers. Stephanie is married to her high school sweetheart, Edward, and they have two young daughters. She loves classic literature and anything related to Harry Potter…and she's always up for another cup of coffee!