A new preschool and childcare center is opening in Lakeland this fall! The Nest Schools offers a quality early childhood education program where your children will thrive. The new location in South Lakeland is part of a larger network of early childhood schools with a robust play-based curriculum, safety-focused campuses, and highly trained teachers.
We've heard from many local parents struggling to find open spaces at a daycare or preschool and are excited to share this new childcare option with you. This article is sponsored by The Nest Schools. All opinions are our own.
Wondering why you should take a tour of The Nest Schools and add it to your list of potential places for child care and preschool? Here are 7 important characteristics of a great preschool and childcare center that you'll find at The Nest Schools:
A Play Based Curriculum
Each element of the Nest Play curriculum shares one goal: to help children love to learn. Teachers encourage children to wonder, question, work with their peers, and experiment with different possibilities. The Nest Play curriculum is based around developing the whole child: socially, emotionally, intellectually, and physically.
Weekly enrichment programs include:
Art of Living – Teaches children the value of caring for themselves and others through an age-appropriate curriculum including life skills like caring for pets, writing thank you notes, helping others, household chores, and much more.
Fit Buddies – Youth fitness and wellness program including kid-friendly activities such as yoga, deep breathing, stretching, sports, and exercises designed to keep them active and engaged.
Paints and Pianos – Exposes children to the value and beauty of fine arts and classical music through engagement with various types of music, instruments, and art experiences.
There is a curriculum for ALL age levels – infants, young toddlers, older toddlers, young preschoolers, older preschoolers, and even after-school students. Visit The Nest Schools website to learn more about the programs at each age level and see a sample curriculum.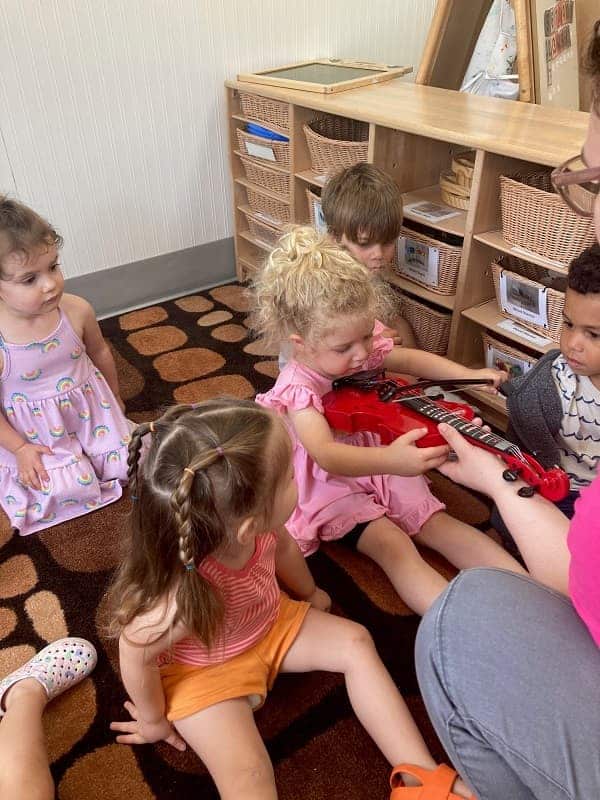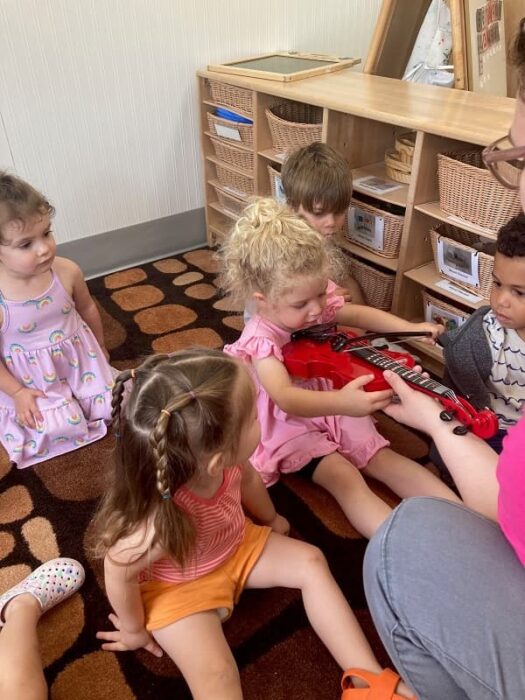 They Train and Value Their Teachers
Teachers at The Nest Schools have a genuine love for young children and a passion for bringing out what is special and unique about each child. The Nest University is an unparalleled training and professional development program for staff of all levels. They attract highly qualified teachers with industry-leading benefits.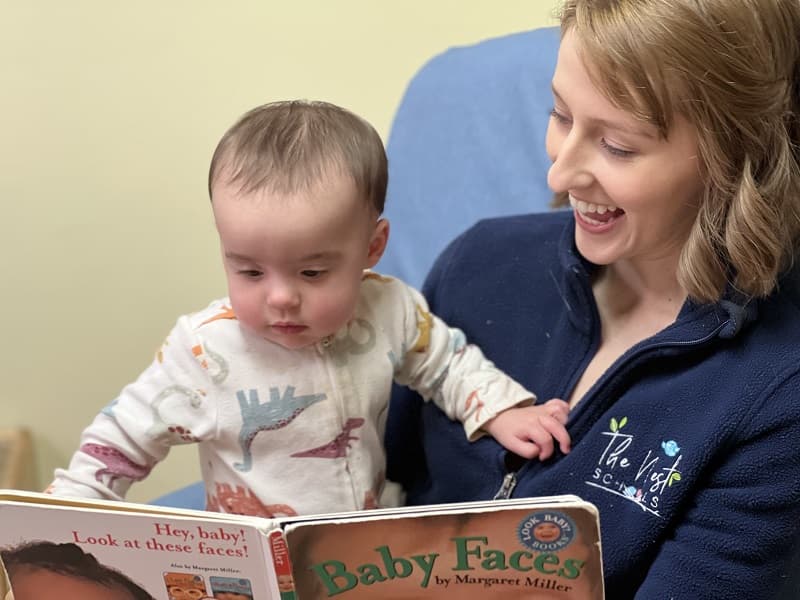 Daily Parent Communication
Communication with mom, dad, and/or caregiver is a priority at The Nest Schools. Daily drop-off and pick-up interactions, school e-newsletters, individual conferences, a daily reporting app, and interactive displays outside of every classroom are designed to maximize parent engagement and keep you up to date on your child's day.
Space to Play Outdoors
The outdoor shaded playground allows children to explore and engage with nature through exciting play themes, plenty of plants and natural elements, and physical challenges.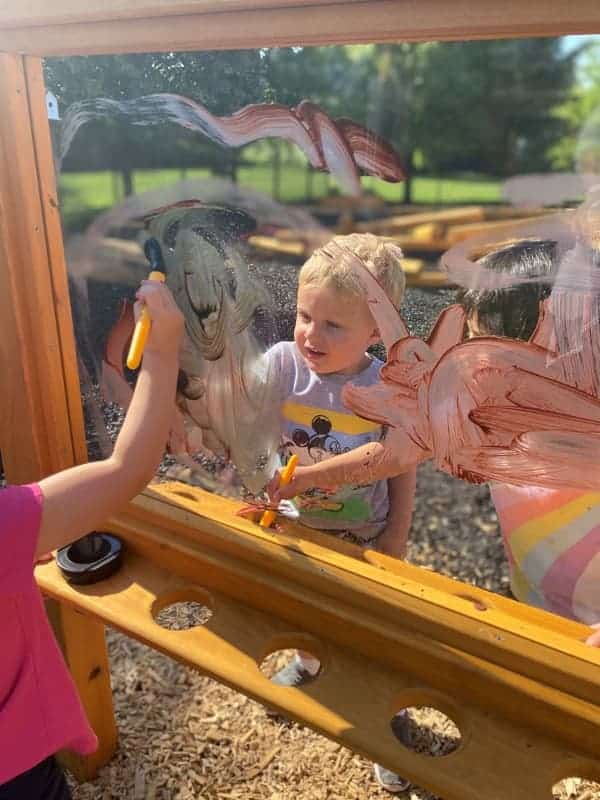 Health and Safety is a Priority
The Nest Schools prioritizes health, safety, and nutrition for all students. Features include observance cameras throughout the campus, keyless entry pads, non-toxic art supplies, Aerus® air purifiers inside the building, and more. Teachers are background checked, First Aid/CPR certified, and trained on proper medical emergency procedures.
A Large Age Range to Cover Your Family's Needs
The Nest Schools provides programs for a wide age range, allowing your children to be in one location and make life easier for moms and dads. During phase one of their opening, infants, toddlers, and preschoolers up to age 5 can enroll. Their school campus has two additional buildings that will undergo renovations soon, allowing future enrollment for Florida VPK and after school care.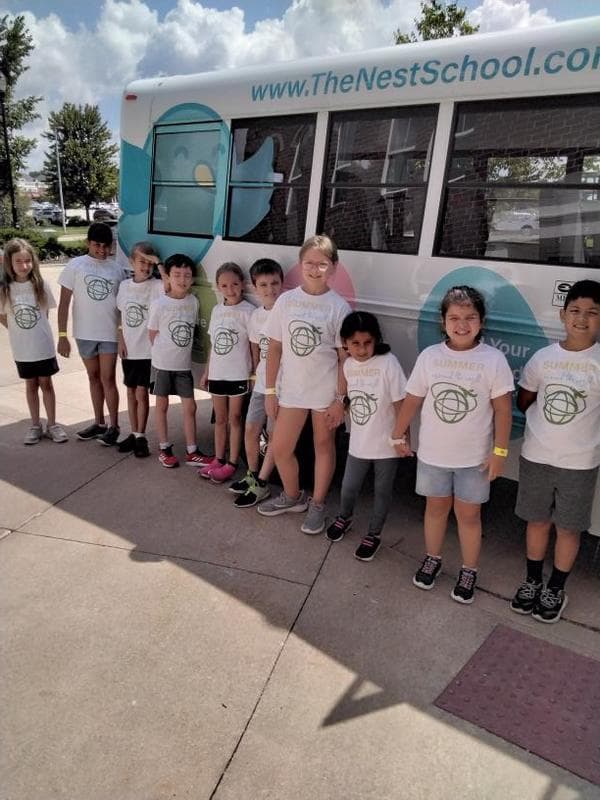 They Offer Tours
You don't have to take our word for it – you can schedule a tour of The Nest Schools in Lakeland! Visit the campus today to see this new childcare center and learn more about the features listed above that are part of The Nest Difference.
The Nest Schools Lakeland
745 Lake Miriam Drive, Lakeland, FL 33813
863-238-2998 | Website
Childcare Guide
Check out our Childcare Guide for Lakeland + Polk County for other childcare topics including preschools, daycare, VPK, after school care, school holiday camps, and more.