Are you looking for a church home?
A church that feels like home?
A church where your kids won't want to leave to go home?
You are invited to visit Access Church in their new home at the Grand Opening on Sunday, March 28 and Easter Weekend on Saturday, April 3 and Sunday, April 4, 2021. Whether you're looking for a new church family or just want to be part of something special, these two weekends will be joyful celebrations you don't want to miss!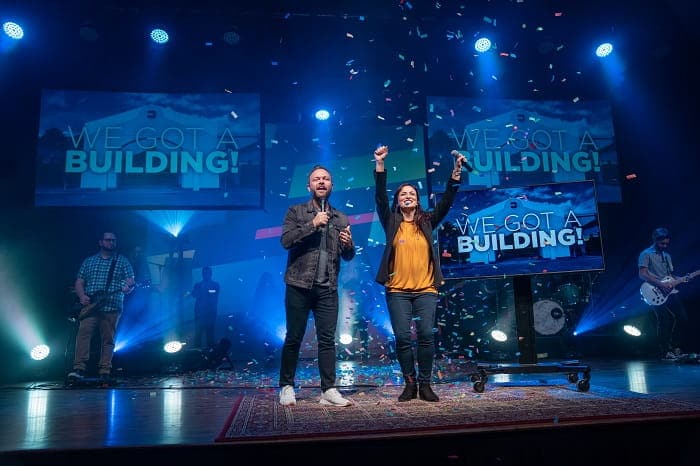 This article is sponsored by Access Church in Lakeland and we are excited to share their story with you.
Access Church isn't new to Lakeland – they've been serving our community for over 14 years, meeting at George Jenkins High school for the past 10 years. Having a building to call home has been a persistent prayer that God finally answered in 2020.
I talked with Lead Pastor Jason Burns about the new space and what it means for their church family:
"Having a building in Lakeland to call our own has been a prayer for many years. We want a space where we can worship together, a space where kids can play and learn about Jesus, a space where we can build community each and every day.

We want to reach as many people as we can in the Lakeland area, and we can't wait to share this space with visitors and hopefully welcome them into our church family. You won't find a more welcoming group of people! "
Access Church spent the past year renovating a space at the Palm Center complex on Highland Drive and S. Florida Ave., next to Staples and Denny's in Lakeland, FL. The construction is finally done, and Access Church is ready to welcome YOU to their new church home.
Of course a church is much more than a building, as the families who attend Access Church told me. I asked some local moms to tell me what they love about Access. Read some of their own words:
"Access Church feels like home when walking through the doors! When searching for a home church, it was important for my family to find an involved kids program and that missing piece we needed as adults. We found everything we were searching for and more at Access!" – Rachel Bower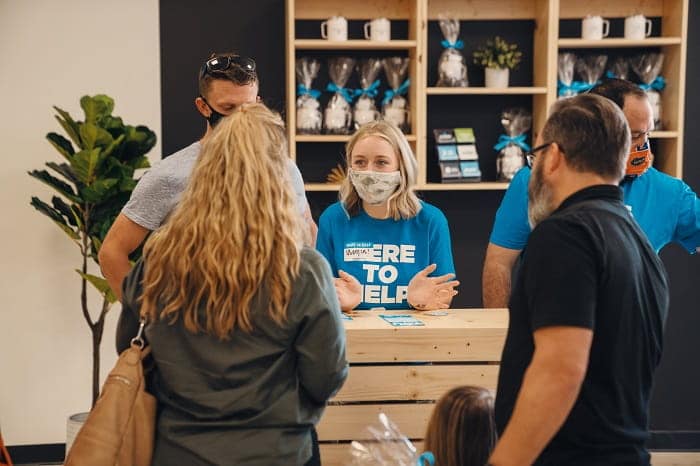 "My husband and I like to joke that it took us exactly 7 minutes to decide Access was home. By the time we got to our seats that first Sunday we had met so many kind faces from the parking lot to Access Kids check-in that we didn't feel like it was our first time. I love that Sunday is my kid's favorite day of the week. They look forward to seeing their friends and small group leaders every weekend because they know they are seen, known, and loved at Access. I value so much the way the ministry partners with me as the parent by equipping and encouraging me with resources throughout the week.

Access church exists to help people take their next steps, and they live it out in everything they do. No matter who you are or what your story, there is a place for you and a group of people ready to help you in the journey. Pastors Jason and Lis are truly the most generous, authentic, and kind people I know. Access Church is a direct reflection of the hearts of our leaders and I am so thankful for the way they are leveraging their influence to reach our community with the gospel." – Rachel Mahannah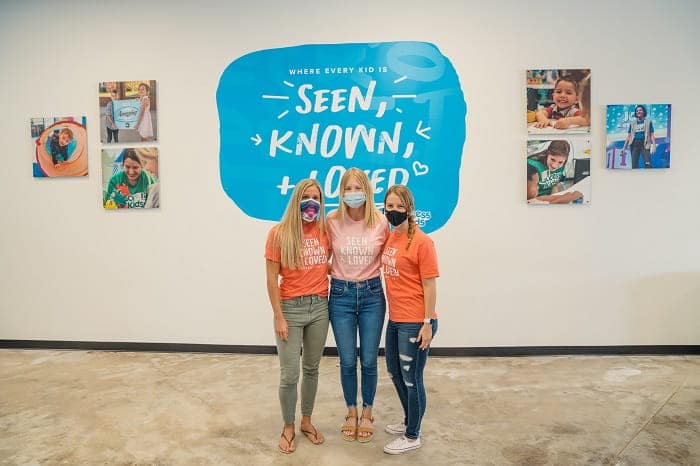 "My husband and I have been attending Access for 10+ years. It has really felt like home to us. Jason married us and both of our babies were dedicated there. It has been so great to be part of a community that we love and trust. Our kids attend Access kids and my daughter (4) comes home telling us all about how much God loves her!

From the moment you walk in, Access just has something different. You feel like family. We've been a mobile church for more than a decade, packing everything up after every Sunday service. I'm sure you can imagine how excited we are to start this next chapter in our new BUILDING! We would absolutely love for more families to join us." – Christina Stephens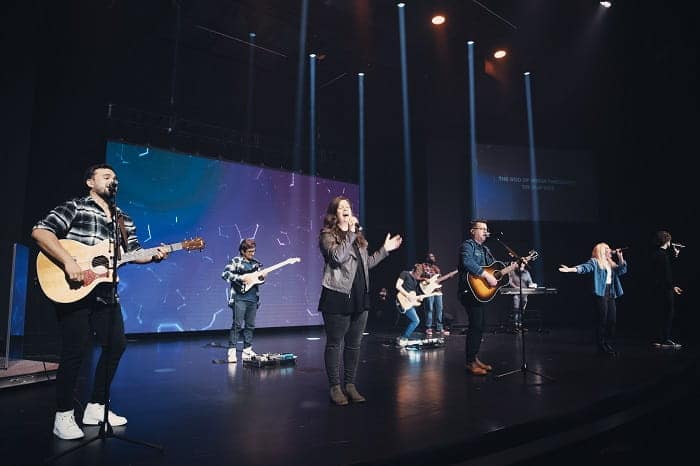 "Access Church has been a huge blessing to me and my family over the past few years.  When you visit Access, you can expect a friendly welcome, amazing music, and wonderful pastors that preach relevant messages that make you excited to come back to worship each week. Also, Access Kids is a safe and Christ-centered environment where my children learn about God while having fun.  Access makes us feel like we are home." – Lauren Webber
Speaking of Kids – they are known for their amazing kids and youth ministries…
Access Kids and Access Youth
Access Kids is offered during every church service for newborns through 5th grade. Your kids will enjoy games, fun music, stories, and small group time – so much fun they won't want to leave! Access Kids Pastor Ida Mundell is passionate about making sure every child who attends is seen, known, and loved.
Access Youth is for grades 6-12, they meet on Wednesday nights, allowing these preteens and teens to attend Sunday worship with their family.
Access Groups are another important part of Access Church and a way to connect with a smaller community outside of church services. There are groups for women, men, families, parents, moms, youth, and more.
So… are you thinking you'd like to check out Access Church??
We know walking into a new church or any place where you don't know anyone can be intimidating. We get it!
I asked Pastor Jason Burns what visitors can expect, and here are a few helpful tips:
Expect a warm welcome! There is a Host Team whose main goal is to make sure all guests feel comfortable. From the parking lot to the end of the service, you'll be greeted by friendly faces and plenty of help.
Read the What to Expect page on the Access Church website. It is full of great information including what to wear, where to park, and what to expect during an Access service.
You can pre-register your family. This will save you time registering for Access Kids, AND the Host Team will know you are coming so they can look for you and make you feel at home. This registration link is for anyone visiting – with or without kids.
Prefer to blend in? That's ok too! You're more than welcome to go with the flow and check things out on your own.
Access Church is located at 4303 Florida Ave S, Lakeland, FL 33813 (map it).
When we tell you Access Church would love to have you, we mean it. In my conversation with Jason Burns his enthusiasm and love for our Lakeland community was contagious. If you're interested in visiting but still have questions, they'd love to connect with you. You can start the conversation via Facebook Messenger, email, or call 863-688-8100.
Join Access Church for their Grand Opening and Easter Services and you might just find the church home you've been looking for.
Access Church Grand Opening
March 28, 2021
Services at 8:30, 10:00, and 11:30 AM
It's the day we've been waiting for! You are invited to join us for our first official service in our new building as we celebrate our incredible God.
We'll have full Access Kids services available for infant-5th grade, plus amazing worship and fun surprises for you! No need to RSVP – simply show up and enjoy church with us. Masks are requested, and we have a mask-required service option available at 8:30 AM.
Easter at Access Church
Saturday, April 3, 2021 at 6:30 PM
Sunday, April 4 at 8:30, 10:00, and 11:30 AM
Join us this Easter weekend to experience and proclaim the hope, peace, and victory of Jesus. Easter is one of our favorite times of the year, and we're going to celebrate bigger than we ever have before!
You and your family are invited to join us at any of our four Easter services on April 3 & 4. We have a fun day planned for our church including free professional family photography, photos with the Easter bunny, and tons of Easter fun in Access Kids! Masks are requested, and we have a mask-required service option available at 8:30 AM.
We're thrilled to be able to celebrate Easter with you in our new building. We know it's going to be an amazing weekend, and we can't wait to see you there!
Guide to Lakeland + Polk County
Check out our Guide to Lakeland + Polk County for more parenting resources and local information including Things to Do with Kids, Education, Childcare, Healthcare, Classes + Lessons, Youth Sports, Birthdays, and more.