If you need a little help with some Christmas magic this holiday season, there are local holiday assistance programs that provide toys, gifts, and food to families in need.
All of these programs providing Christmas help require you to apply early, often in October and November, so they can be sure enough toys are available to meet the need. If you plan to sign up for Christmas help, be sure you get an application in before the deadline.
Looking for places you can donate Christmas presents to help children in our community have a magical Christmas? We have a separate list of places for Christmas Donations and Volunteer Opportunities – it includes details on how to donate to all of these organizations plus others who are already serving a specific audience.
Check with the organizations listed below or visit a local food bank for assistance with Christmas dinner.
If you're searching for Christmas help near you, apply with one of the local charity organizations listed below. You can also contact the United Way's 2-1-1 Service for holiday assistance. Dial 2-1-1, text your zip code to 898-211, or visit the 2-1-1 Website to chat.
Christmas Assistance Programs in Lakeland + Polk County
Polk County Christmas Assistance – Toys for Tots Polk County
The U. S. Marine Corps Reserve Toys for Tots Program is managed by dedicated United States Marines and local volunteers. Polk County Toys for Tots served over 14,000 children last year! They provide supplemental Christmas toys to children from newborn through age 13, with the goal of providing one large and one small gift for each child. Our local Toys for Tots chapter serves families in Lakeland, FL, Winter Haven, FL, and across Polk County.
How to apply for Toys for Tots: Applications from Individual families will be accepted from October 1, 2022 through 5 PM on November 15, 2022. All applications must be submitted online.
The current qualifications to participate in the Polk County Toys for Tots program are:
Parent / Guardian and child must be a CURRENT Polk County Resident.
Child(ren) must be between 0 to 12 years of age.
Parent / Guardian must be able to prove they are currently receiving Medicaid, food assistance (SNAP or WIC), or cash assistance (TANF). If the parent / guardian has recently become unemployed, proof must be provided.
Note: Children receiving toys from any other local community, faith-based organization, church or school program should not request toys through the Toys for Tots program. Please help make sure all children in the community with needs receive toys for Christmas.
Applications can be submitted on the Toys for Tots website. All communication will be via email with pick up in mid-December at various locations across Polk County. (Your pickup location will be based upon the zip code you submit when entering your application). To apply or learn more visit polkcounty-fl.toysfortots.org.

Lakeland Christmas Assistance – Cops for Kids
Cops for Kids is coordinated by the Lakeland Police Department. Free Christmas toys are provided to children age 12 & under. Applications will be accepted applications for the 2022 Cops for Kids Toy Donation program on:
Wednesday, October 26: Coleman Bush Building, 1104 Martin Luther King JR Avenue
Thursday, October 27: Simpson Park Complex, 1725 Martin Luther King JR Avenue
Wednesday, November 2: Lakeland Police Department Community Room, 219 North Massachusetts Avenue
Thursday, November 3: Lakeland Police Department Community Room, 219 North Massachusetts Avenue
Monday, November 7: Lakeland Police Department Community Room, 219 North Massachusetts Avenue
Parents or guardians needing assistance must register in person between the hours of 9:00 a.m. and 4:00 p.m. or 6:00 p.m. and 8:00 p.m. Registration does not guarantee acceptance.
Requirements: Applicant must be a Lakeland resident, must not have received assistance from the program for the past two years (2020 or 2021).
Families registering must bring the following:
Current Lakeland Electric Utility Bill (Must Have a Lakeland Address)
Photo ID
Original Birth Certificate for Each Child (Children 12 and under are eligible)
Drop boxes for this local toy drive can be found in our community, visit our Christmas Giving article for details. Contact the Lakeland Police Department on Facebook or at (863) 834-6900 for more information.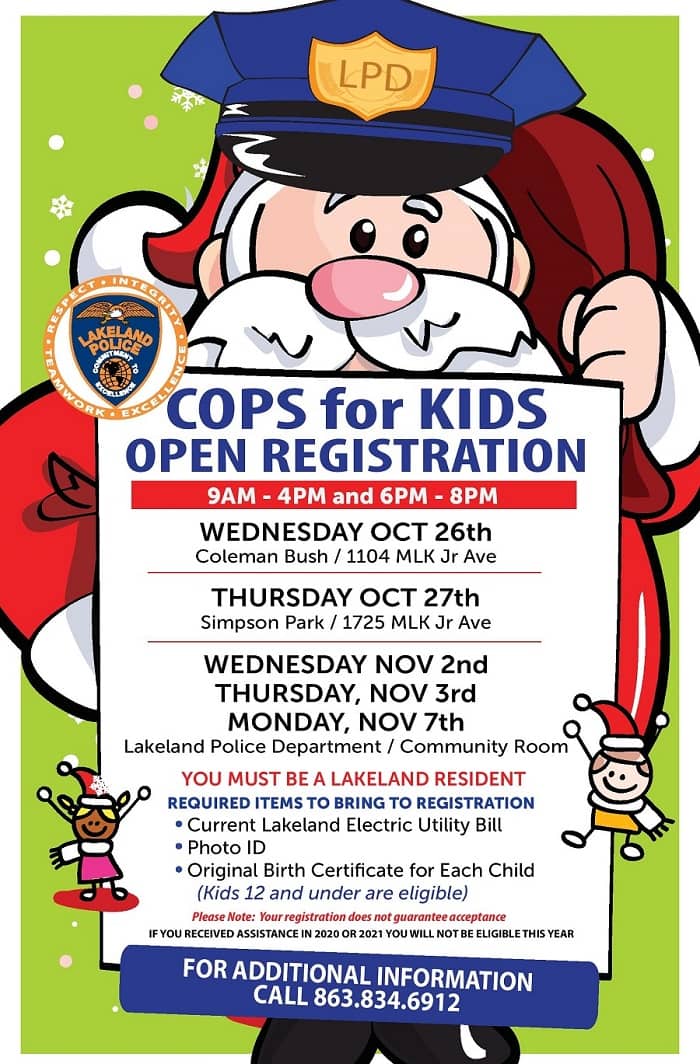 Salvation Army Angel Tree – Lakeland FL / West Polk
You can help #RescueChristmas with the Salvation Army. The Angel Tree Program helps provide local children with gifts during the Christmas holidays. Coordinated by our local Salvation Army, families should call the Salvation Army of Lakeland at 863.853.2214 to find out how to apply for holiday assistance this year. Please call from M-F between 8am – 12pm.
The Salvation Army of West Polk serves Bartow, Bradley, Fort Meade, Highland City, Kathleen, Lakeland, Mulberry and Polk City. Learn more.
Riley's Reindeers
The mission of Riley's Reindeers is to share holiday cheer with families in need so that no child goes without a gift on Christmas. Originally started by a U.S. Navy veteran, their work is inclusive of all families; support is provided regardless of financial status, family structure, identity, and residency.
TOY PICK UP: A toy pick up is being held on December 17, 2022 from 10am – 12pm at Aldine Combee Park, 1140 Fish Hatchery Road, Lakeland, FL 33801. No sign up is necessary, toys are first come first served.
Salvation Army Angel Tree – Winter Haven / East Polk
Applications for the Angel Tree program in Winter Haven are taken in person. To learn more visit the Salvation Army Winter Haven website. Donations are needed to help children in Winter Haven have a magical Christmas. Visit our Christmas Donations + Volunteer Guide to find out how you can help the Salvation Army in Winter Haven this year.
The Salvation Army of East Polk serves Winter Haven, Haines City, Davenport, Lake Wales, and portions of Bartow, Auburndale, and Polk City.
Mulberry Christmas Help – Mulberry Community Service Center
The Mulberry Community Service Center is a non-profit organization working to create financially stable households. They provide food and clothing distribution, bill payment assistance, and financial education resources to residents of Mulberry, Nichols, Pine Lake, Willow Oaks, Fuller Heights, Imperial Lakes, Bradley and southeast Lakeland (ZIP Code 33813). If you live in one of these areas, contact the Mulberry Community Service Center at 863-425-1523 to learn how to apply for assistance.
Bartow Holiday Assistance – Bartow Church Service Center
The Bartow Church Service Center provides emergency services year-round for those in Bartow and the Bartow school district. They attempt to meet the emergency needs of individuals on a temporary basis with food, clothing, meals, household items, gas, utilities, rent, transportation vouchers, housing, financial education services and much more. They also distribute food at Thanksgiving and toys at Christmas. If you live in the Bartow area, contact the Bartow Church Service Center at (863) 533-5822 to learn how to apply for assistance.
Frostproof Holiday Assistance – Frostproof Care Center
The Frostproof Care Center is in its twenty-sixth year of service to disadvantaged people in the rural southeastern corner of Polk County, Florida, including Frostproof and Babson Park. The Care Center helps individuals and families by meeting immediate and urgent physical needs caused by sudden trauma, disaster or economic instability and providing transitional services, education and mentoring to help them "get back on their feet." They also distribute food at Thanksgiving and toys at Christmas. If you live in the Frostproof area, contact the Frostproof Care Center at 863-635-5555 to learn how to apply for assistance.
Lake Wales Christmas Assistance – Lake Wales Care Center
If you live in Lake Wales or a nearby community, the Lake Wales Care Center provides year-round assistance as well as holiday help to hundreds of families during the holiday season through the annual food drive and holiday meals, Christmas gifts that are provided to children, and more.
If you are a resident of the Lake Wales area and would like to receive holiday assistance this year, please contact the Lake Wales Care Center's Main Office at 863-676-6678 to schedule an appointment with a case manager. Learn more on the LWCC Website.
Assistance is also provided by local churches and other community organizations. If you know of an organization providing Christmas help to our community – free toys, Christmas dinners, Christmas trees, or other items – or if you are part of a local organization that would like to be added to this list, please contact us.
Don't miss our Ultimate Guide to Christmas Events + Holiday Activities for a full list of things to do this holiday season in Lakeland and Polk County including Christmas Light Displays, Santa Photos, Christmas Tree Lots, Christmas Parades, Holidays Concerts, Live Performances, Holiday Markets, Ice Skating, Toy Donation Needs, and more.
Community Resource Guide
Check out our Community Resources Guide for Lakeland + Polk County to find places to volunteer and donate, community assistance, foster care, and more.