CMX Cinemas (formerly Cobb Theatres) offers Summer Movie Fun for all ages during the summer months. Cobb Free Summer Movies have always been popular with local families and we are excited to see CMX is continuing to offer low-priced kid-friendly movies.
We will update this information with 2022 Summer Movies at CMX / Cobb as soon as details are released.
CMX Theaters has announced a CMX Summer Kids Festival for Summer 2021. Movies run from June 29 – August 5, 2021.
---
CMX Summer Kids Movies Details
CMX Summer Kids Festival runs from June 29 – August 5, 2021
Movies are every Tuesday, Wednesday, and Thursday (some locations vary, including CMX Lakeland, FL)

Tickets are $1.50 per person and must be purchased at the box office

Check directly with your local theatre for additional details and an official schedule
Schedule for CMX Summer Movies
June 29 – 30, July 1: Sing
July 6 – 8: Secret Life of Pets
July 13 – 15: Minions
July 20 – 22: Spider Man – Spiderverse
July 27 – 29: The Emoji Movie
August 3 – 5: Smurfs the Lost Village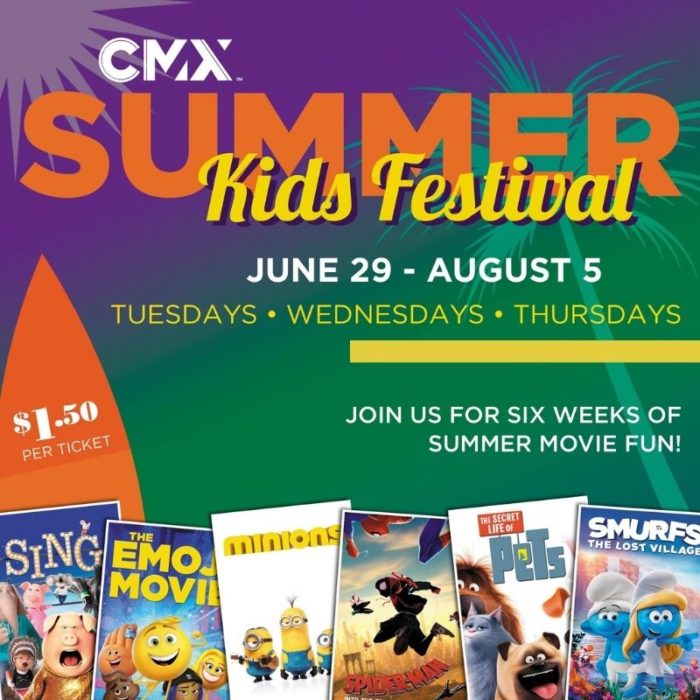 CMX Cinemas Lakeland Summer Movies
Cobb FREE Summer Movies have been popular with local families for many years. The Cobb Movie Theatres in Lakeland and Winter Haven are now part of the CMX Movie Chain. Same location, new name. CMX Lakeside 18 is located at 1650 Town Center Dr, Lakeland, FL 33803. Visit website.
Details for CMX Summer Movies in Lakeland, FL:
Summer Movies will be showing each week beginning July 6, 2021
The times will vary by week, you'll need to check the website for upcoming showtimes. It seems as though times are only announced 1 week in advance. To check showtimes visit the website and click on the upcoming Tuesday, Wednesday, or Thursday.
Tickets can be purchased at the box office for $1.50 per person
We have limited information so far on CMX Lakeland's summer movie schedule. Check directly with the theatre for additional details and upcoming movie times.
CMX Summer Movies Participating Locations
Based on the CMX Facebook Page, these are the other movie theatres offering CMX Summer Movies for Kids:
CMX Cinemas Dolphin 19 (Miami, FL)
Miami Lakes 17 (Miami, FL)
Downtown at the Gardens 16 (Palm Beach, FL)
Wellington (Wellington, FL)
Merritt Square 16 & IMAX (Merritt Island, FL)
Plaza Cafe 12 (Orlando, FL)
Daytona Luxury 12 (Daytona, FL)
Fallschase – Tue/Wed only (Tallahassee, FL)
Hollywood 16 & IMAX – Tue/Wed only (Hollywood, AL)
Odyssey – Tue/Wed only (Burnsville, MN)
CMX Old Orchard Market (Skokie, IL)
CMX Market Closter Plaza (Closter, NJ)
If you're one of our regular readers in Lakeland and Polk County, Florida, unfortunately, CMX Grand 10 in Winter Haven is not participating in 2021. (CMX Grand 10 is located at 920 Springlake Square NW, Winter Haven, FL 33881. Visit website.) See below for details on Summer Movies in Lakeland at Cinemark and Summer Movies in Winter Haven at Regal.
Lakeland + Winter Haven Summer Kids Movies
Both Cinemark and Regal are having Summer Movies for Kids in 2021 – head on over to those articles to get the scoop and see upcoming movie dates and times. Our Summer Movie article also includes a list of movies at local libraries and other free movie events.
We have 5 local movie theaters that offer FREE or $1.50 summer movies for kids – CMX/Cobb & Cinemark in Lakeland, CMX/Cobb in Winter Haven, Regal in Lake Wales, and Premiere Cinemas in Plant City. Find out what summer movies are playing in 2022.
Cinemark Summer Movie Clubhouse is back in 2022 with 8 weeks of kid-approved movies! Enjoy summer movie fun at Cinemark Theatres every Wednesday at 9:30am from June 15 – August 3, 2022. Only $1.50 per ticket.
Regal Summer Movie Express – $1 Kids Movies. Summer movie fun every Tuesday and Wednesday at 10am in Lake Wales / Winter Haven. Find out what movies are playing in Summer 2021!
---
All of the FREE and $1 Summer Movies at Cinemark, Regal Theatres, and Premiere Cinemas are also listed on our calendar and in our Summer Fun Guide.
Summer Fun Guide
Be sure to check out our Ultimate Guide to Summer Fun for Summer Camps, Things to Do Around Lakeland, Things to Do at Home, Open Playgrounds, Places to Play Outdoors, FREE Bowling, Swim Lessons, 4th of July Events, Reading programs, Online Camps, and much more!