Kids love to play in water and there is nothing better than a dip in the pool to beat the Florida heat! We've got plenty of local swimming pools and splash pads here in Lakeland and across Polk County that are open to the public. If you're looking for local pools near you, check out the options below to find a place to get wet and cool off this summer. Some pools are open seasonally and others are open year-round!
We often hear from often looking for free swimming and free public pools. Most of the pools in our area require a small admission fee, and season passes are typically available for multiple visits. If you're looking for free swimming near you, try a local splash pad instead – splash pads are free!
Pools in our area have reopened following protocols from the Centers for Disease Control and Prevention. Visit their websites or Facebook pages to learn more about social distancing and other safety procedures.
Interested in Swim Lessons? Check out our Swim Lessons Guide.
All pools listed below are outdoor public pools that close during inclement weather and do not offer refunds, call prior to visiting if the weather is questionable. Holiday hours vary, call before visiting on Memorial Day, 4th of July, Labor Day, and any other holidays.
Pools also close for swim meets and special events so ALWAYS call before you head out to a local pool to be sure they are open!
Swimming Pools in Lakeland
City of Lakeland - Gandy Pool
404 Imperial Blvd, Lakeland, Florida 33803
Gandy Pool features a 10 lane, 25-yard short course heated pool with one-meter diving board and a 3-4 foot deep recreation pool. A handicap ramp at 0-depth and a hydraulic handicap lift chair is provided.
Open year round, hours vary by season, visit the website for more information.
Cost: $4 per person/visit OR 20 visit pass for $40. Semi-Annual or Annual Activity Pass also available.
City of Lakeland - Simpson Park Pool
1725 Martin Luther King Ave., Lakeland, Florida 33805
Simpson Pool is open seasonally in the Summer (late Spring through early Fall). Simpson Pool features a 10 lane, 50 meter long course pool and separate diving well with two one-meter diving boards. A hydraulic handicap lift chair is also available.
Located at Simpson Park Community Center, where you'll find a gym, tennis courts, playground, and a variety of classes for kids and adults.
Cost: $4 per person/visit OR 20 visit pass for $40. Semi-Annual or Annual Activity Pass also available. 17 & under – inquire about dollar days.
2021 UPDATE: Simpson Park Pool opens on Sunday, May 30, 2021.
Florida Southern College Wellness Center Pool
111 Lake Hollingsworth Drive, Lakeland, Florida 33801
Florida Southern Wellness Center is home to a 25 yard, 8 lane competition pool with an additional, shallow recreation area. The pool is open to the public during the summer. Visit the website for hours and more information.
Swim Lessons are available from May – July – click here for details.
2021 UPDATE: The Florida Southern College Pool is currently only open to students.
Swimming Pools in Haines City – Lake Eva Water Park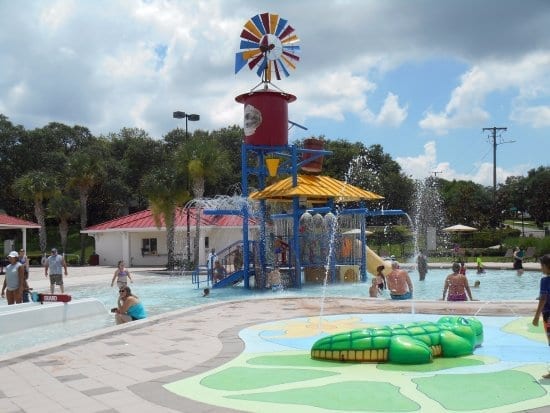 Haines City - Lake Eva Water Park and Splash Pad
555 Ledwith Avenue, Haines City, Florida 33844
The Lake Eva Water Park and Splash Pad is home to a pool and kids play area with a zero-depth entry lagoon pool, water slide, splash pad and water activities. Open daily during the summer, weekends only in Spring and Fall.
2021 UPDATE: The Lake Eva Waterpark and Pool is scheduled to open for the season on April 24, 2021. Check with the City of Haines City for the most up-to-date information.
Weekends Only (spring): April 24 – May 31
Daily (summer): June 4 – August 6
Weekends Only (Fall): August 7 – October 17
Dates subject to change
Daily Individual Admission: $5 per person. The daily admission fee applies to all guests, ages 1 and older, entering the facility during open swim.
Hours of operation: 12:00pm-6:00pm
Know before you go: The pool often reaches Maximum Capacity on summer days, arrive early to avoid waiting to enter the pool. There is also a large playground next to the pool at Lake Eva Park. Visit the pool website to see a full list of rules.
Swimming Pools in Winter Haven
City of Winter Haven - Rowdy Gaines Pool
210 Cypress Gardens Blvd, Winter Haven, Florida 33880
The Rowdy Gaines Olympic Pool is an Olympic size competitive pool used for competitive swimming, swim instruction and recreational use. Heated and open to the public year-round for lap swim and open swim.
Cost per person/visit: WH Residents – $2 / Non-residents – $3. Multi-Visit Pass Available.
2021 UPDATE: Spring/Summer Hours for the Rowdy Gaines Pool include Recreational Swim from 1:00 p.m. – 5:00 p.m. (Mon. – Sun.). Check the website for lap swim hours.
Winter Haven Recreational & Cultural Center Pool
800-802 Avenue T Northeast, Winter Haven, Florida 33881
The Recreational & Cultural Center pool is an "L" shaped pool measuring 25 yards x 25 meters. Open to the public and used for swim instruction and recreational use from mid-May through August. Check website for operating hours & cost.
2021 UPDATE: Winter Haven Recreational & Cultural Center and Pool is typically open mid-May through August. An opening date has not been announced. Check the City of Winter Haven website for updates closer to Summer 2021.
Swimming Pools in Polk County
City of Bartow - Sam Griner Pool
2250 S Floral Ave, Bartow, Florida 33830
Pool open during the summer months for open swim.
2021 UPDATE: The Sam Griner Pool is currently undergoing extensive repairs and will not be opening in Summer 2021. Check the Bartow Leisure Services Facebook page for updates.
Mulberry Community Pool
307 Northeast 10th Avenue, Mulberry, Florida 33860
The Mulberry Community Pool is open seasonally during the summer months. Admission is free for City of Mulberry residents, or $5 per visit for non-residents. City of Mulberry residents can pick up a free pool pass by taking a Mulberry water bill to the pool. If you don't have a water bill you can also take a driver's license or ID. Check out the Mulberry Community Pool on Facebook for all the updated info.
(Student passes are no longer free – new in 2021, free passes are for city residents only)
2021 UPDATE: The Mulberry Community Pool opens Friday, June 4, 2021. Visit the Mulberry Pool FB Page for updates.
Splash Pad in Lakeland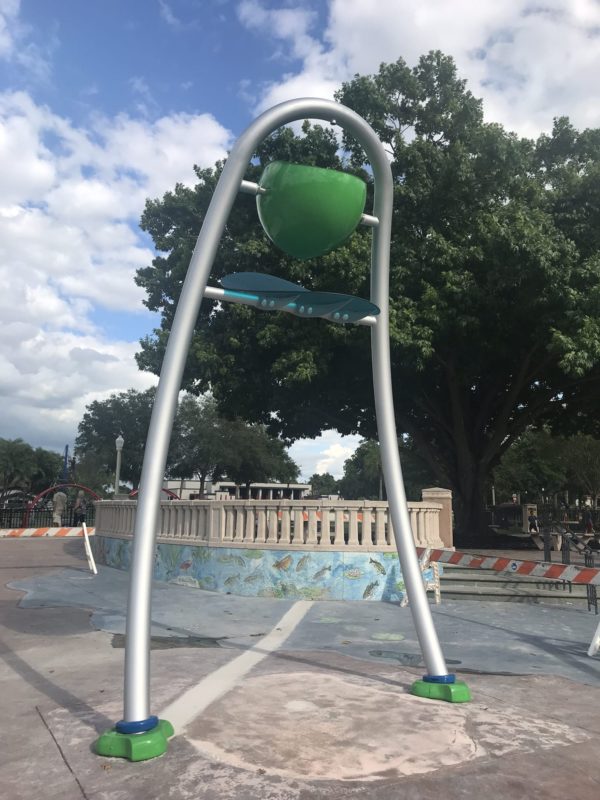 Splash Pad at Barnett Family Park
730 East Orange Street, Lakeland, Florida 33801
Located at the top of the Lake Mirror Amphitheater, Barnett Family Park includes a splash pad water feature, playground (including the Sunflower Preschool Playground), labyrinth, covered picnic area, restrooms, and a multipurpose field.
The Splash pad is open daily from 10am – 5pm, closed Wednesdays for maintenance.
– No food, drink or glass allowed on the splash pad
– Water re-circulated and treated. Children should avoid drinking the water.
– Water shoes requested
– Persons with Diarrhea should not use the splash pad
– No pets on the splash pad
From time to time the water feature may need to be shut off due to maintenance issues. If the water is ever off during open hours please call Gandy Pool at 863.834.3157 for more information. Water may be turned off due to high winds or low temperatures.
Splash Pad in Winter Haven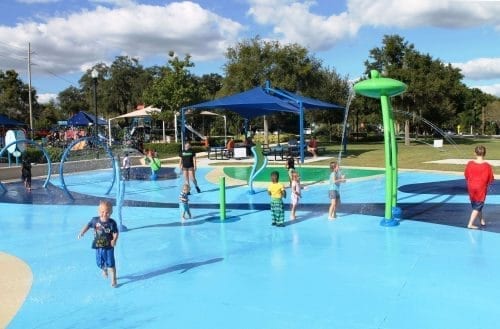 Splash Pad - Winter Haven Chain of Lakes Trailhead Park
301-399 Avenue G Northwest, Winter Haven, Florida 33881
The Splash Pad at Trailhead Park is a new amenity for families to enjoy together. The Splash Pad is open year round from 10am – 7pm. There are two first-come first-serve shaded picnic tables areas and an on-site bathroom. There is also a playground at the park. Splash Pad is FREE.
Splash Pads in Tampa
Kiwanis Sprayground
The 3,000 sqft play area features colorful, action-packed features that spray, gush, dump and pour water from a variety of whimsical devices.
1937 Ed Eckert Drive, Dunedin FL 34698
Website
Water Play at Zephyr Park
This 7,000-square-foot sprayground includes spray jets and soaker cannons.
5039 4th St, Zephyrhills, FL 33542
Website
Water Works Park
Includes an enormous bucket drop that regularly tips and drenches everyone nearby. Playground available as well.
1710 N Highland Ave, Tampa, FL 33602
Website
Curtis Hixon Waterfront Park
Located next to the Glazer Children's Museum in Downtown Tampa, water shoots out of the ground in a large water play area.
600 N Ashley Dr, Tampa, FL 33602
Website
Ballast Point Park
Ballast Point Park features a 600 foot pier, a shaded splash park, playground, picnic areas, a gazebo, a boat dock and an impressive view of downtown Tampa.
5300 Interbay Blvd, Tampa, FL 33611
Website
Julian B Lane Riverfront Park
The play cove offers a fenced children's play area with equipment for children ages 2 years old to 12 years old.
1001 N Boulevard, Tampa, FL 33607
Website
The Florida Aquarium, Zoo Tampa at Lowry Park, and Busch Gardens all have water play areas included with admission.
Local Swimming Pools that offer Memberships
Lakeland Family YMCA on Cleveland Heights Blvd.
Fontaine Gills Family YMCA in North Lakeland
YMCA Lake Wales
Eaglebrooke – Lakeland
Grasslands – Lakeland
LEGOLAND Florida in Winter Haven is also home to a water park that is open seasonally!
Map – Swimming Pools Near Me
Pools Near Me – Splash Pads Near Me
Check out our full Outdoor Fun Guide for more outdoor things to do in Lakeland, Polk County, and Central Florida.