Have you been to the Lake Eva Water Park in Haines City? It is a great place to cool off during the summer! Lake Eva Water Park has a splash pad, water slide, activity pool and water play area your kids will love, all for only $5 per person.
Toddlers and younger kids will enjoy the splash pad and water spray park, while older kids will have fun on the large slide and in the zero-depth entry lagoon pool with a water dump bucket. There is also a regular pool with an open swim area and swim lanes. The Lake Eva Water Park has something for all ages!
(Note – we visited one day right before the water park opened, which is why there are no people in our pictures! We promise it is a popular place, usually full of families and kids playing.)
Video of Lake Eva Park
To see everything you can do at Lake Eva Water Park, check out our highlight video:
More Photos from Lake Eva Water Park + Aquatic Center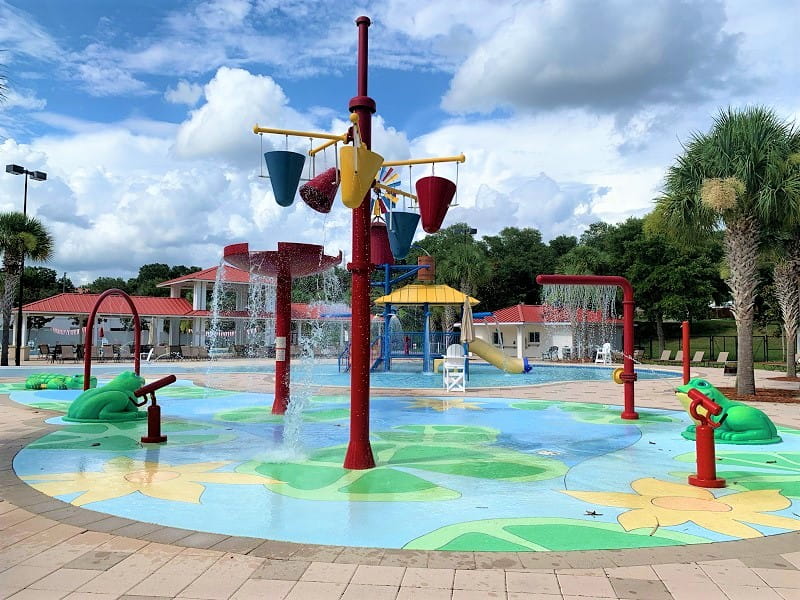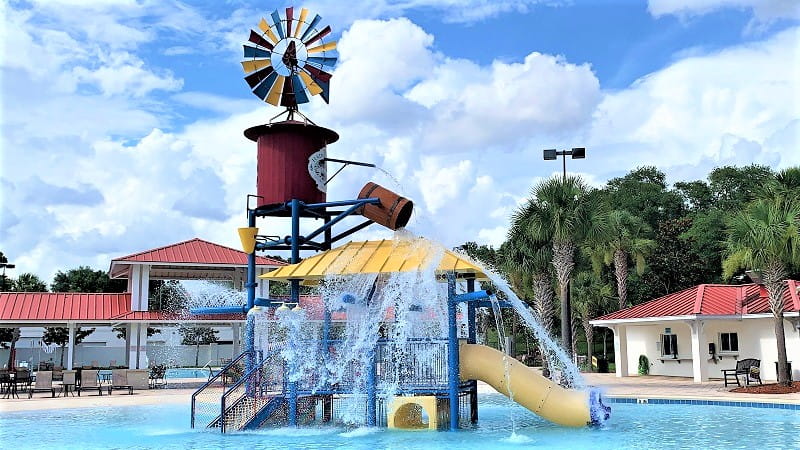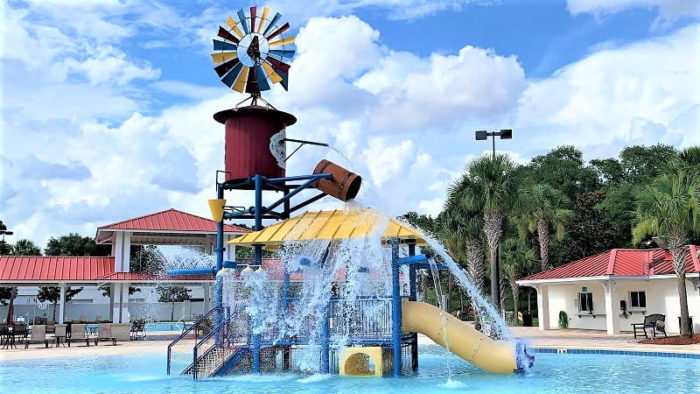 Lake Eva Water Park Hours + Opening Dates
The Lake Eva Aquatic Center is open seasonally from April through October. The 2021 hours and dates for the Lake Eva Water Park:
April 24 – May 31, 2021 – Weekends only from 12pm – 6pm (Satuday + Sunday – also open Memorial Day Monday)
June 4 – August 6, 2021 – Open Daily from 12pm – 6pm
August 7 – September 26, 2021* – Weekends only from 12pm – 6pm (Satuday + Sunday)
*Lake Eva was originally scheduled to be open through October 17, 2021 but the City of Haines City announced the pool would be closing a few weeks early.
Please note that dates are subject to change. Check with Haines City Parks and Recreation for any updates.
The slide will keep your kids busy! Minimum height is 42″ and maximum weight is 300 lbs.
Lake Eva Water Park Prices
Admission is $5 per person. The daily admission fee applies to all guests, ages 3 and older, entering the facility during open swim. Ages 2 and under are free.
Season passes are also available for $40 per person or $100 per immediate family (verification required). Season passes will not be sold for the 2021 season.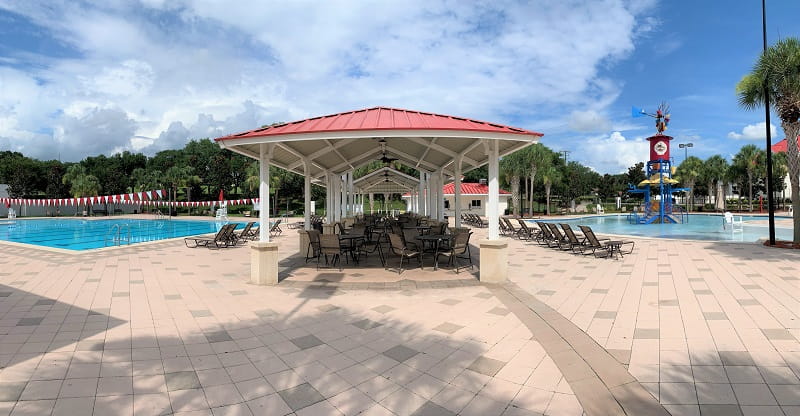 Lake Eva Water Park Weather Policy
If lightning is detected within 10 miles or there is inclement weather, the pool will close until 30 minutes after the last strike of lightning. Depending on the severity of the weather, you might be able to stay at the facility under shelter while you wait, but everyone must be out of the water.
If there is an extended weather closure, you can keep your receipt and come back later in the day when the pool has reopened.
The pool is equipped with an Earth Networks Outdoor Alerting System – if you hear one long 15-second horn blast, this indicates lightning has been detected and you must clear the pool. Three short blasts will indicate it is safe to resume swimming. Be aware of the possibility of these horn blasts if you have a child who is sensitive to loud noises.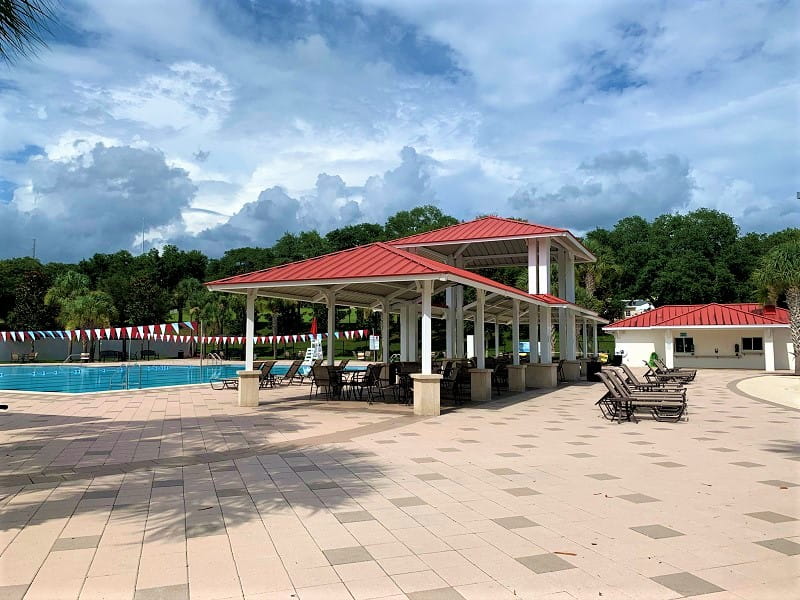 Lake Eva Water Park Parties + Private Rentals
Looking for places to have a pool party in Polk County? You can rent the entire Lake Eva Water Park for a private party or event!
Rentals are available from May 1 – October 17 on Saturdays and Sundays from 9:30am – 11:30am or 6:30pm – 8:30pm. Rental fees are $150 for residents, $250 for non-residents, plus a lifeguard fee of $60-140 depending on which pools you plan to use. Call Haines City Parks & Recreation at (863) 421-3700 for more information on rentals.
Food at Lake Eva Aquatic Park
No outside food or drinks are allowed to be brought into the Lake Eva Aquatic Center. There is a concession stand and grill that serves hamburgers, hot dogs, nachos, chips, candy, ice cream, snacks and beverages at very reasonable prices.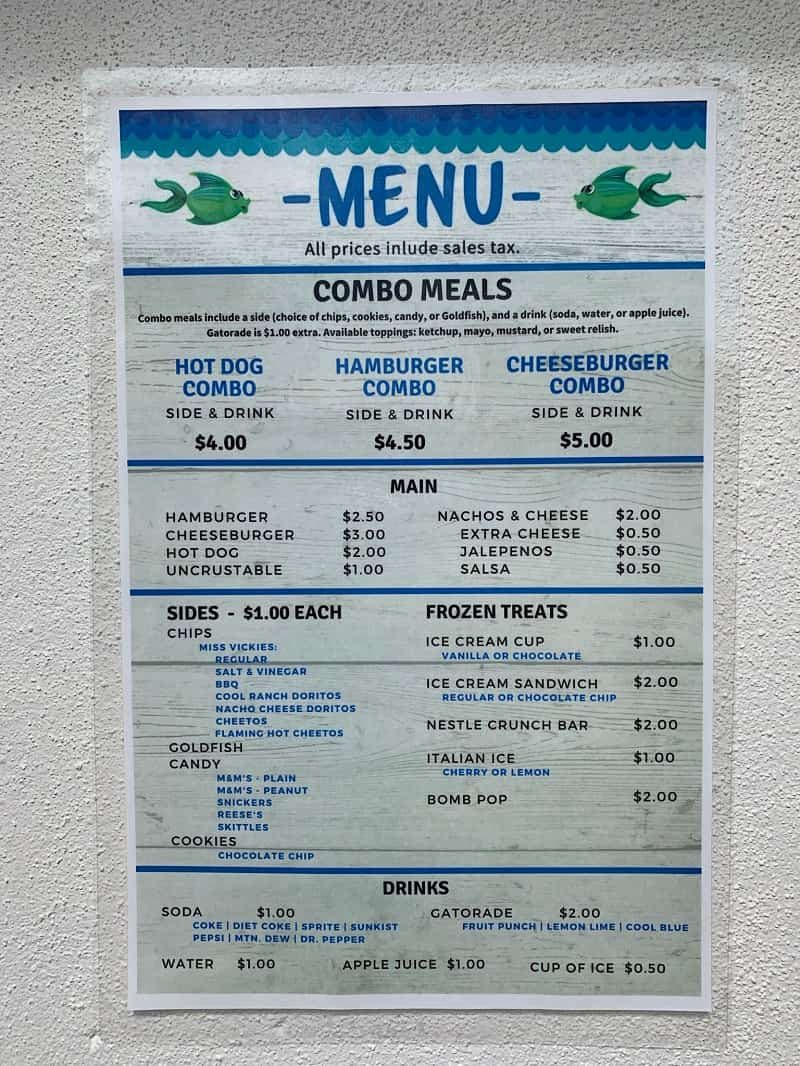 Other Important Pool Rules
Children under 13 must be accompanied by a responsible adult
Swim Diapers are required for children who are not potty trained
Proper swim attire is required – cut offs are not allowed
No rafts, floats or floatation devices are allowed. US Coast Guard approved life vests are available to rent for free in the office, be sure to take your ID to exchange for the rental.

The small kiddie slide in the activity pool has a 70 lb weight limit

The main slide (large blue slide with stairs) has a minimum height requirement of 42″ tall and a maximum weight of 300 lbs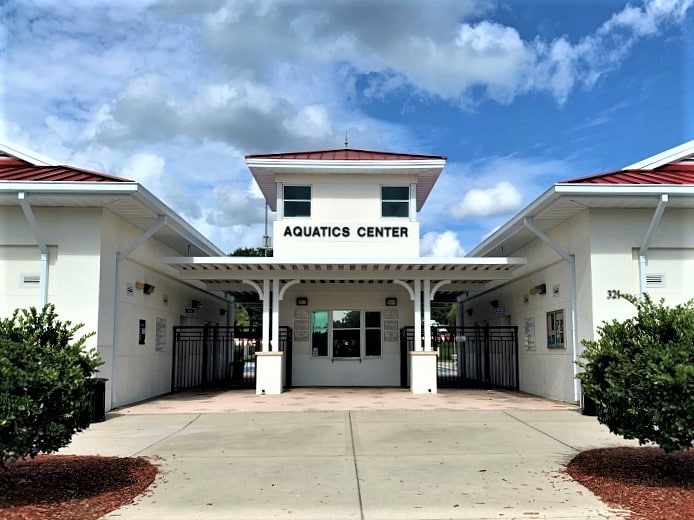 Know Before You Go
The pool often reaches maximum capacity (280) on summer days, arrive early to avoid waiting to enter the pool.
Lifeguards are on duty around all pool areas.
If there is inclement weather in the forecast (which is usually the case during summer months in Central Florida) be sure you have a plan if the pool closes down.
There are bathrooms and showers at Lake Eva Park, inside the Aquatic Center. You can take a change of clothes so you are dry for the ride home or to visit the playground or other things to do in Haines City.
You can always call the pool front desk during operating hours at 863-421-3715 if you have questions or to check the weather status at the pool.
Lake Eva Community Park Playground
The Lake Eva Aquatic Center is part of a larger park – Lake Eva in Haines City, Florida. Just across the parking lot from the Water Park is a huge playground! It includes a train, swings, slides, a huge field, picnic pavilions, and more. Be sure you bring shoes (and maybe a change of clothing) so you can visit the playground as well. There are basketball courts, tennis courts, and a walking path nearby at Lake Eva Park in Haines City FL.
Contact the Lake Eva Aquatic Center
The Lake Eva Water Park address is 321 S. 6th Street, Haines City, FL 33844.
Contact the Lake Eva Pool with any questions at 863-421-3715. Outside of pool hours, you can also call Parks and Recreation with questions at 863-421-3700.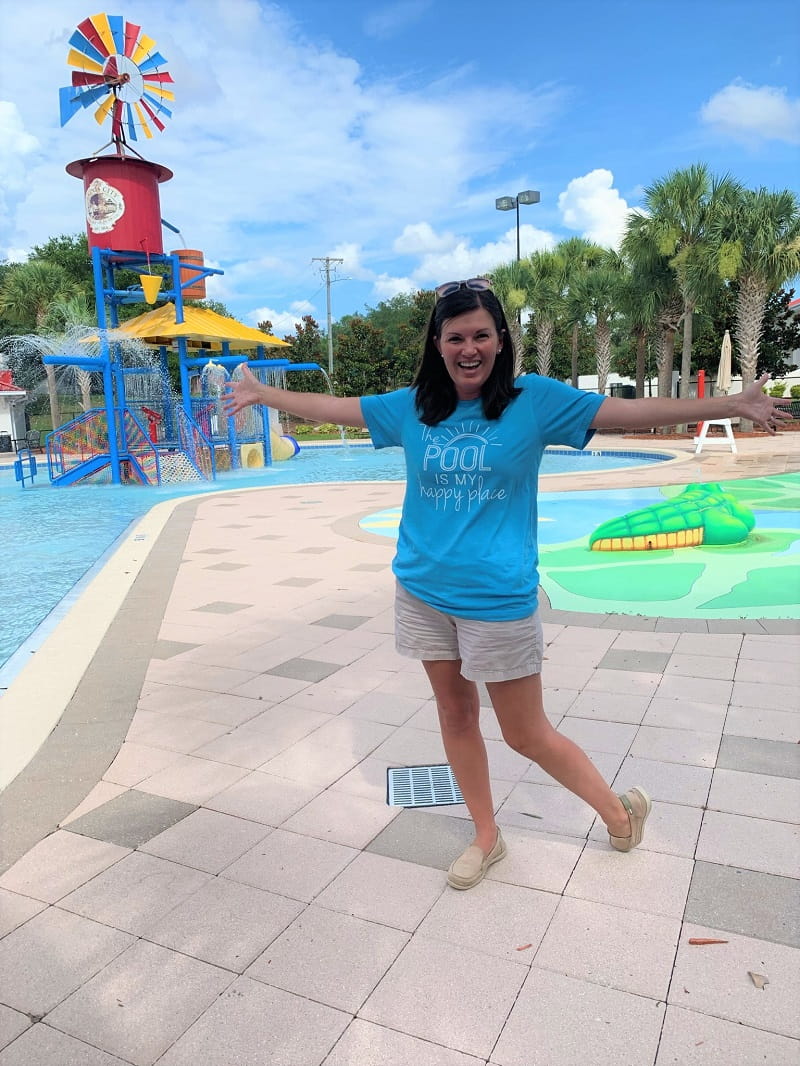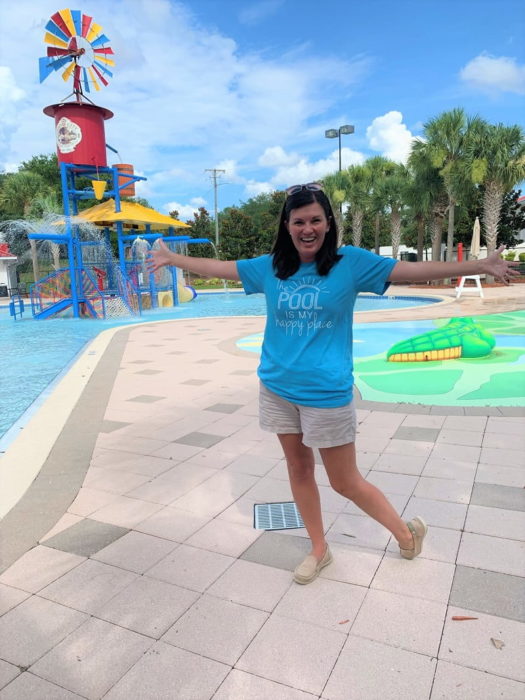 Summer Fun Guide
Be sure to check out our Ultimate Guide to Summer Fun for Summer Camps, Things to Do Around Lakeland, Things to Do at Home, Open Playgrounds, Places to Play Outdoors, FREE Bowling, Swim Lessons, 4th of July Events, Reading programs, Online Camps, and much more!