2021sat03jul6:00 pm9:15 pmRed, White and Kaboom - Lakeland's 4th of July Celebration6:00 pm - 9:15 pm Lake Mirror Promenade Event Organized By: City of Lakeland Event Category:Family Fun – Community EventsHoliday / Season:4th of July,Summer FunPrice:Free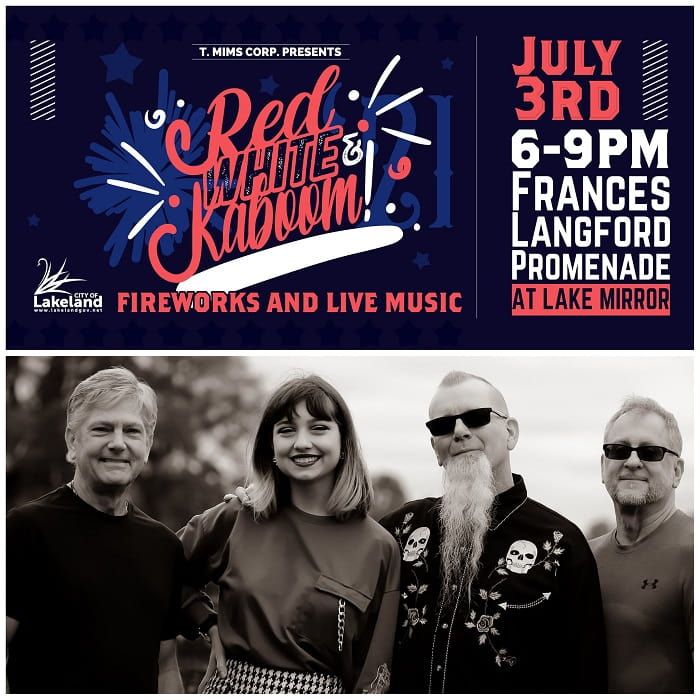 Event Details

Lakeland's Red, White & Kaboom Independence Celebration will take place at Lake Mirror along the Frances Langford Promenade on Saturday, July 3, 2021 from 6:00 p.m. – 9:15 p.m. with the 60 West Band entertaining the crowd before a dazzling fireworks display launches at 9:00 p.m.

During Red, White & Kaboom there will be a variety of food trucks around Lake Mirror so bring a blanket, bring your appetite and enjoy the festivities in celebrating our great nation. 
Admission to Lakeland's Red White and Kaboom
The event is free to the public. Organizers ask that everyone who is attending to please bring at least one non-perishable food item.  There will be volunteers collecting canned food items that will be donated to Volunteers in Service to the Elderly (VISTE).  
Parking for Red White and Kaboom Lakeland
The Iowa Street Parking Garage, Heritage Plaza Garage, and the Main Street Parking Garage will be open for the public. All on-street parking, city lots, and city garages in Downtown Lakeland are free/unlimited all day on weekends.
There will be a special ADA lot set up for individuals with disabilities. The lot at Catapult Lakeland (502 E Main Street) can be accessed from Massachusetts Avenue and Cedar Street. There will be a barricade at the location, guarded by a police officer. Vehicles must have a placard in their window or license plate designation to be considered eligible for parking in the designated ADA lot. This lot is a first-come, first-served lot, and access will be closed once full. 
More info for Red White Kaboom 2021
Those attending can bring their own cooler but no glass bottles. Alcohol is permitted at the event.
Tents, pop-ups and beach umbrellas are not permitted during the event. Personal rain umbrellas are permitted for inclement weather, but no umbrellas or any other items are allowed to be staked into the ground.
What time are fireworks in Lakeland?
The event will conclude with a dramatic display of fireworks over the lake at 9pm on Saturday, July 3, 2021.
See more FAQ's at https://www.lakelandgov.net/RWK.
Time

(Saturday) 6:00 pm - 9:15 pm
Location

Lake Mirror Promenade

121 S Lake Ave, Lakeland, FL 33801