A few weeks ago, I received an email I expected to receive since having kids…
"Mrs. Mucci – I think Austin is having trouble seeing the board at school."
Both my husband and I have been nearsighted since we were young, so we knew this was likely hereditary and there was a chance this would be passed to our children.
Sure enough, when my 9-year-old son got home that day he said "Mom, sometimes I have to get up out of my seat to see what is on the board at school. And I'm sitting in the front row…"
Time for an appointment at the eye doctor!
I asked for recommendations from friends who have kids that wear glasses, and multiple people recommended MyEyeDr. I soon discovered that not only do they have multiple doctors and offices in Polk County, but their doctors have plenty of experience giving children's eye exams. We immediately made an appointment with Dr. Parrish, an eye doctor who practices at the Lakeland eye office. MyEyeDr. provides comprehensive eye care for adults and children ages 5 and up.
It can be intimidating not knowing what to expect at the eye doctor, but it is SO helpful to be able to walk a child through a new experience beforehand. I documented our visit for other moms or dads taking their child for their first eye exam OR any adults who haven't seen an eye doctor in many years.
Eye exams are quick and easy!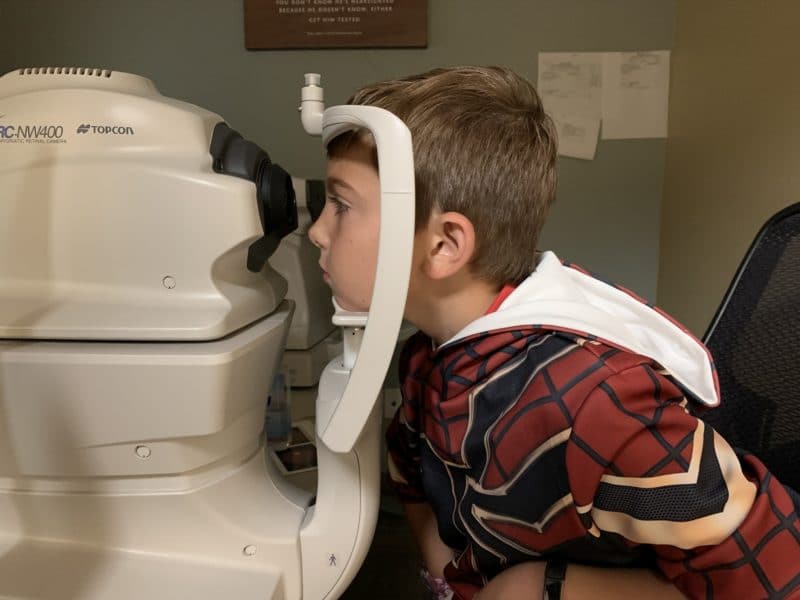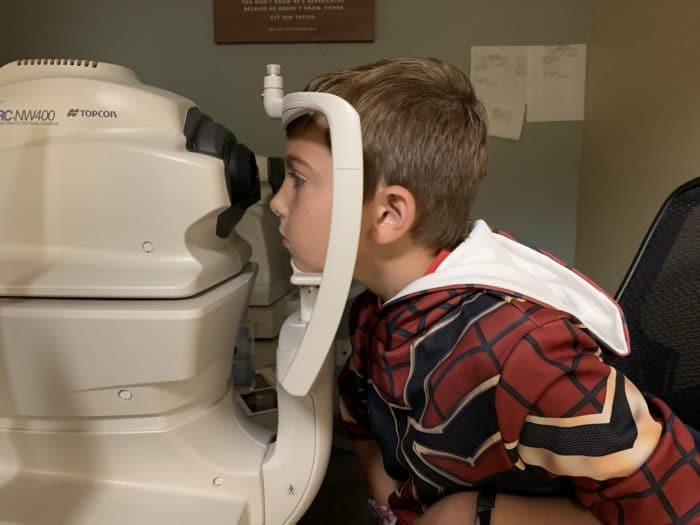 This post is sponsored by MyEyeDr. All opinions are my own.
What to Expect During an Eye Exam
Our visit started with a technician who took us to have a retinal image test and autorefractor test. During both of these tests, you use a chin rest to stabilize your head (see photo above).
The retinal imaging test blows a puff of air into your eye. I won't lie – this is a weird sensation but does not hurt and lasts less than 1 second. Our technician had my son put his hand up first to feel the puff of air, which I highly recommend to help them realize it is painless. Retinal imaging is an important test to receive. It offers detailed views of the retina and helps detect certain diseases such as Glaucoma, high blood pressure, macular degeneration, and many more.
The autorefractor test is simple – you look at an image through a small hole (typically a hot air balloon or barn) and just hold still while the image comes in and out of focus. Autorefractor testing can help give accurate measurements used to determine vision correction needs.
Next, we were taken to a private exam room where the technician continued to perform other vision tests, such as reading a letter chart on the wall to measure distance vision and a handheld letter chart to test up-close vision. I quickly realized we would be picking out glasses when he couldn't even see the largest letter on the wall!
Then it was time for his eyes to be dilated with eye drops. The technician said "this will feel like saltwater" but only for a few seconds.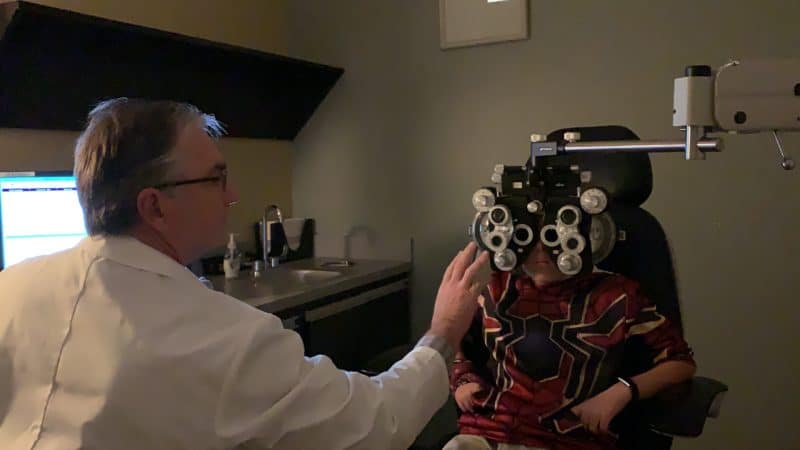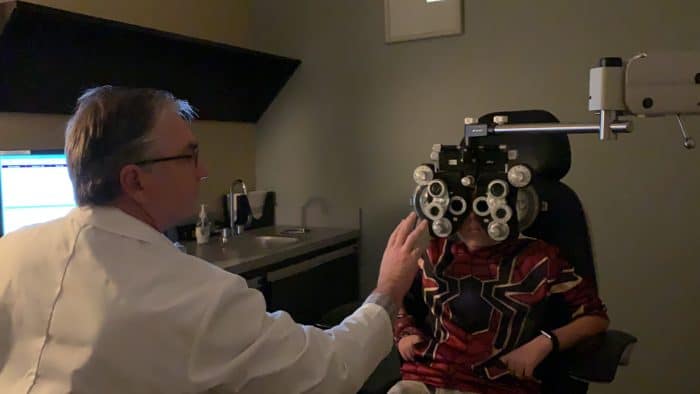 The optometrist, Dr. Parrish, came in next to continue the exam. He did a variety of easy tests to check Austin's overall eye health, and also had him look through a series of lenses to determine the strength of the prescription needed to get him back to 20/20 vision.
He was very thorough in talking with Austin about why he needs glasses and how much it will help him to be able to see clearly again.
The entire exam lasted approximately 30 minutes – it was quick and easy, and very informative for both my son and me.
Then it was time to pick out glasses!
MyEyeDr. has HUNDREDS of frames available, including a dedicated section for kids. If you find a style you like, they will even check to see if other colors are available. We had an eyewear specialist who helped us look through the options and even brought us more frames from the back once we narrowed things down to a certain style.
Our visit to MyEyeDr. was for my son having trouble seeing the board at school, but they see patients with any and all types of eye problems, starting with kids age 5 through adult. They can diagnose and treat nearsightedness, farsightedness, glaucoma, cataracts, eye pain, pink eye, eye strain, dry eye, lazy eye and much more.
My tips for a visit to the eye doctor:
Have the staff check your insurance benefits. Most plans have some kind of allowance for glasses and often times it is hard to decipher what is available to you. MyEyeDr. staff will help you maximize your benefits. My Eye Doctor accepts FSA and HSA dollars for all prescription eyewear purchases (including prescription sunglasses, progressives and contacts) and eye exams. Many health plans operate under a "use it or lose it" policy, so be sure to book your appointment before the end of the year so you can take full advantage of your benefits!
Schedule the appointment later in the day if possible. Dilation can make your vision blurry and also makes eyes sensitive to light, especially sunlight. Our appointment was at 8:30am and we tried to go back to school around 11:30am, but my son was uncomfortable being out in the sunlight, and ended up staying home the remainder of the day. Same for adults, if you are dilated you won't be able to work on a computer or read for a few hours after being dilated.
If your child is visiting the eye doctor for the first time, talk through the process of the exam beforehand, especially if you think they are going to need glasses. Some kids might be excited to wear glasses, but for others (like my son), the thought of wearing glasses all the time is upsetting. It was much more enjoyable to pick out glasses when he knew in advance that was the main reason for our visit to MyEyeDr.
What we loved about MyEyeDr.
They are family-friendly and can help you book an appointment with a local optometrist specially trained in pediatric eye exams and children's eye care if you are scheduling for a child.
They have multiple locations to choose from, with multiple optometrists working in each office, so we were able to get an appointment on short notice.
You can book appointments online and see exactly what times are available without having to go back and forth over the phone.
Walk-in visits are available (although an appointment is recommended to avoid a wait).
MyEyeDr. accepts FSA and HSA dollars for all prescription eyewear purchases including eyeglasses, contact lenses, You may also use your FSA or HSA on eye exams.
MyEyeDr. welcomes all brands of vision insurance, and they also offer a variety of package discounts for direct pay.
A huge selection of eyeglass frames! If you're going to be wearing them every single day, it is great to have a large selection to be sure you can find a pair you love. Now through December 31, frames are buy one get one 50% off on select brands.
They have a large staff of eye care professionals so your needs are taken care of quickly, whether you need an eye appointment, new glasses, or contacts.
They offer a contact lens reward program and subscription plan that includes replacement of lost or torn lenses, AND the ability to exchange unused contact lenses if your Rx changes.
They have many years of experience with kids eye exams, but will also refer you to a pediatric eye doctor if necessary.
MyEyeDr. has over 500 optometry offices throughout the country, making eye care convenient and affordable.
If you are looking for a kid's eye doctor in Lakeland Florida, or an optometrist for yourself, I highly recommend checking out a MyEyeDr. location near you.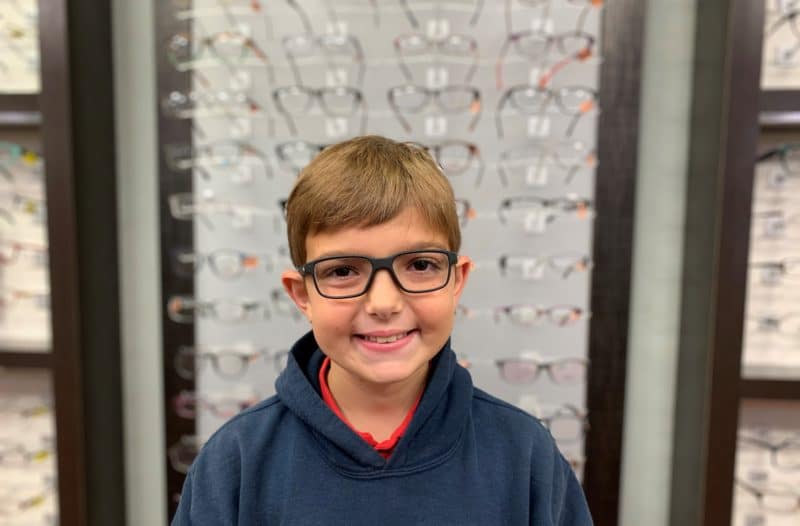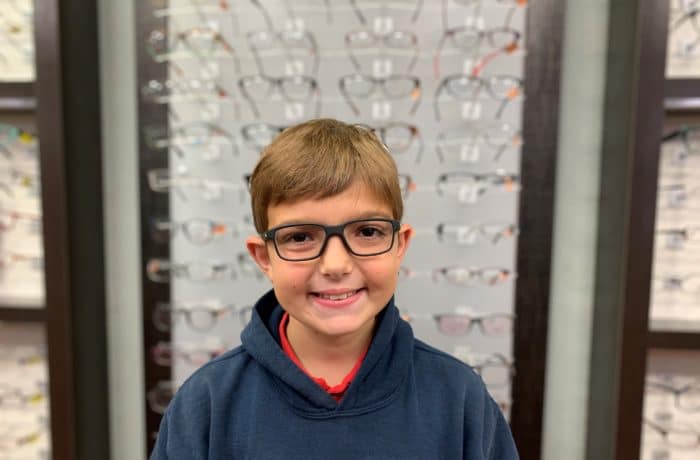 How cute is this kid in his new glasses!
When should your child visit the eye doctor?
I'll be honest, a little bit of parent guilt snuck up on me when I realized how strong of a prescription my son needed, and how blurry things have become for him without us realizing it.
However, as the doctor pointed out, it happens gradually so a child doesn't always know there is a problem. Early detection is important to prevent further eye strain and eye disease later in life.
Make an appointment with a local optometrist at MyEyeDr. if your child has any of these symptoms:
They are performing below expected levels in school
Read slowly
Blink excessively
Complain of headaches
Have difficulty copying from a chalkboard or textbook
Feel tired after reading
Complain of itchy, burning or watery eyes
Move their head back and forth instead of just their eyes while reading
Have problems with coordination in sports
Although vision issues are often hereditary, reading and using hand-held electronic devices non-stop for hours may also contribute to developing vision problems.
Learn more about symptoms to watch for at https://www.myeyedr.com/eye-care/eye-exams/children-vision and book a vision screening with a local, skilled optometrist.
How to book an appointment at MyEyeDr.
We really liked Dr. Parrish in the Lakeland office, but also received recommendations on multiple other eye doctors at MyEyeDr. They have 3 offices in Lakeland FL, as well as Bartow, Winter Haven, Haines City, Plant City, Lake Wales, and over 500 locations across the United States.
Visit their website to find the locations closest to you. You can call to schedule an eye exam or book directly from their website.
About the Author: April Mucci
April is the owner of LakelandMom.com. She has lived in Lakeland since age 2 and is passionate about our community and connecting families with local resources. She is a mom to 2 boys (12 + 14) and a mini goldendoodle, wife to Matt. She loves reading, saltwater fishing, concerts and live performances, and working on Lakeland Mom!
Health + Wellness Guide
Check out our Health and Wellness Guide for Lakeland + Polk County to find dentists, orthodontists, doctors, hospitals, mental health, and learn more about health care options in our community.