On Friday, February 8, 2019 Lakeland will host Night to Shine – a prom night event for people with special needs, ages 14 through adults. Night to Shine is an unforgettable prom night experience, centered on God's love, sponsored by the Tim Tebow Foundation, hosted in over 530 locations across all 50 United States and in 16 countries around the world!
Lakeland's event will be hosted at First Presbyterian Church, and fellow sponsors include North Lakeland Presbyterian, Presbyterian Chapel in the Grove, and Lake Gibson Church of the Nazarene.
Learn how you can be involved as a guest, a volunteer, or supporter.
About Night To Shine
Every guest of Night to Shine enters this complimentary event on a red carpet complete with a warm welcome from a friendly crowd and paparazzi. Once inside, guests receive the royal treatment, including hair and makeup stations, shoe shining areas, limousine rides, corsages and boutonnieres, a catered dinner, karaoke, prom favors for each honored guest, a Respite Room for parents and caretakers, and, of course, a dance floor… all leading up to the moment when each guest is crowned king or queen of the prom.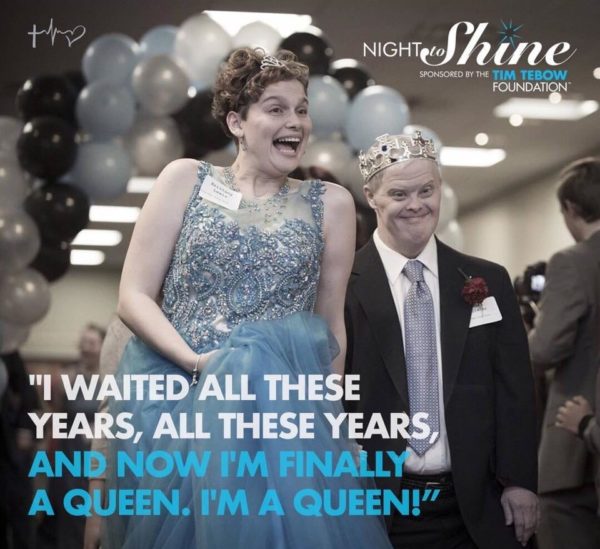 How YOU Can Participate
Volunteer
This event is completely FREE to participants, and it takes hundreds of volunteers to make this night a success! Your time and/or talents can be put to good use in the weeks prior to the event or the day of. Volunteer opportunities range from serving as a "buddy" to a guest at the event, parking, serving food, preparing decorations, and more.
To learn more and register as a volunteer for this event, visit the First Presbyterian Church Website. A $10 fee is charged to help offset costs. Must be 14 or older to volunteer the night of the event, and 17 or older to be a Buddy to a VIP.
Donate
Sponsorships and donations are welcome to help make this community outreach possible. If you would like to sponsor one of our VIPs for $50, please visit the First Presbyterian Church giving page and select Night to Shine 2019 in the drop-down menu.
Your $50 donation will entitle a guest to an evening fully dressed, crowned for their formal photograph, a red carpet experience, a limo ride, Karaoke Room, refreshments and dancing their hearts out for the night of their life.
This is also a night to give parents respite, and Night to Shine is looking for restaurants, bowling alleys, movie theaters, coffee shops, etc. who might be willing to offer discounts, gift cards, or coupons, for the parents of the guests to give them the option for a discounted night out!
To sponsor, donate, or provide discounts for parents, contact Joyce Barclay or call (863) 686-7187.
Attend as a Guest
Guests must be ages 14 & up. If you or someone you know would like to be a guest at Night to Shine, please complete the guest registration form. NOTE: The maximum capacity of 200 Guests has been reached. You can still sign up for the waiting list to attend as a guest.
Follow on Facebook
Be sure to follow Night to Shine on Facebook to get more information on this event!
Special Needs Ministries at First Presbyterian Church
First Presbyterian Church is also home to a variety of special needs ministries. Back in 2013, Kim Spurlock (who I am proud to call a best friend) saw a need for a place for her son to go during church services and be cared for by trained professionals and volunteers. She helped start the Mini Miracles Sunday School Class, Mini Miracles Summer Camp, and has been an integral part of the Night to Shine event each year. Special Needs opportunities at FPC include:
Mini Miracles Sunday School
Offered weekly during the 10:30 worship hour. Welcomes children ages 4-12 who struggle with developmental delays, autism spectrum disorders, ADD/ADHD, or any other special need. This class allows children with exceptionalities to play freely and have safe social interactions in a secure environment with specially trained adults. Pagers are provided so parents can attend worship without worrying about emergencies.
Mini Miracles Summer Camps
Summer camp for kids ages 5-12 with varying exceptionalities. Outdoor play, daily sensory play, IEP work during the summer, and so much more.
Buddy Break
Trained volunteers work with students with special needs to allow caregivers a break for a few hours one Saturday each month. Students are ages four to 16 with volunteers on a one-to-one ratio.
If you have a child with special needs OR a desire to volunteer, learn more about these programs at First Presbyterian Church – a place where your children can feel safe and secure. All programs are run by highly trained individuals and compassionate volunteers.
Shine On
Shine On was launched in March of 2017 to meet the need for Bible study, worship, and fellowship in an inclusive setting. Shine On meets on Wednesdays from 6:15 – 7:30 p.m. from September – May, for ages 16 and older. The first 3 men began inviting friends and the group has grown to 27. It's all Friendship Evangelism. Shine On Fridays: one Friday night each month, the women's Lacrosse team of Florida Southern College comes to FPC for two hours of gym time, karaoke, games, and pizza. It's a respite for parents and chance to enjoy new friends!
For additional information on these Special Needs Ministries contact 863.686.7187.
Community Resource Guide
Check out our Community Resources Guide for Lakeland + Polk County to find places to volunteer and donate, community assistance, foster care, and more.