Tired of being indoors? Ready to get an up-close look at a giraffe or a zebra? Looking for a short road trip sure to make your family smile?
We're on the lookout for family-friendly fun you can enjoy while social distancing this spring and summer. Our latest find is a drive-thru safari adventure located just over an hour from Lakeland and Winter Haven!
At Wild Florida's Drive-Thru Safari Park, you and your family can see more than 100 exotic and native animals roaming freely, and you do it all right from your own vehicle. This safari adventure has gotten great reviews from our readers.
You can expect to see white-tailed deer, bison, cracker cows, zebras, watusi, and oryx, to name a few.
Editor's Note – Safari Wilderness is located right here in North Lakeland, for a limited time they are also offering drive-thru safari tours from your vehicle. Click here to learn more!
This Drive-Thru Safari located south of Orlando is part of Wild Florida, which includes an alligator park and airboat tours. Admission to the Gator Park is included in the price of the Drive-thru Safari Park.
Location: 3301 Lake Cypress Rd, Kenansville, FL 34739 (MAP IT)
Hours: 9:00 am – 6 pm | Last admission is at 5 pm
Drive-Thru Safari Cost:
Florida Residents – $20 per Adult (13+) / $15 per Child (3-12). Valid Florida ID required at check-in.
Non-Florida Residents – $29 per Adult (13+) / $20 per Child (3-12).
Free for ages 2 and under.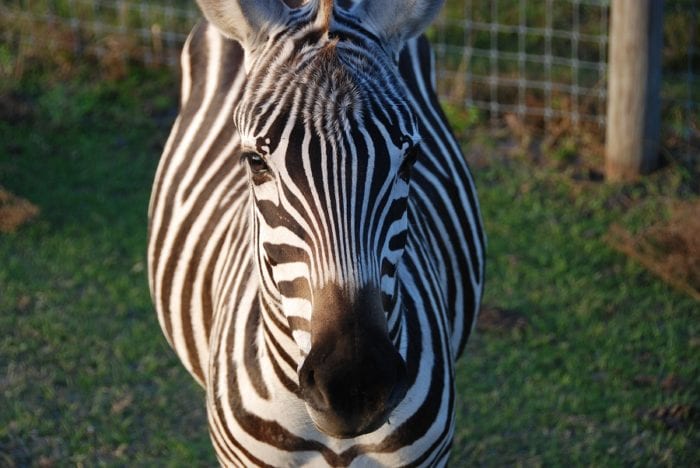 Advance Tickets: Although tickets are available at the gate, advance purchase is strongly recommended to guarantee your date of choice. You can purchase your Wild Florida Drive-thru Safari Park tickets on the website, over the phone by calling 407-957-3135, or by email at reservations@wildfl.com.
Time: Plan for about 1 hour to drive through the safari. You can drive through more than once on your visit for no extra charge (last entrance is at 5pm). From start to finish, you do NOT have to get out of your car.
Drive-thru Safari Park Tour Tips
Make sure to use the restroom before you start driving through the safari park as there are no restrooms inside and it takes about an hour to complete the drive. (There are restrooms available at the park, just not during the safari)
In the summer months, wildlife is harder to see during the hottest hours of the day as many might be keeping cool in the shade.
If Wild Florida has to close the Drive-thru Safari Park due to inclement weather, their team will attempt to contact you by the phone number or email you provided when purchasing your tickets.
Visit the Wild Florida website for additional FAQ's