Lakeland Gives Back… as we head towards ThanksGIVING and Christmas, we are highlighting local organizations making a difference in our community that need volunteers and/or donations at the holidays and year round. We hope you'll learn more about these groups and decide to be part of LAKELAND GIVES BACK! Imagine the impact we can make locally if each of Lakeland Mom's 7,700+ Facebook fans and 12,000+ monthly website visitors donate just a few extra items or a few hours of their time this holiday season. 
About Volunteers in Service to the Elderly (VISTE)
Volunteers in Service to the Elderly (VISTE) is a community-based, non-profit organization serving Lakeland, Bartow, Mulberry and Ft. Meade. Established in 1983, the primary goal of VISTE is to enable frail elderly persons to continue living independently and safely in their own home. People are living longer and are often financially unprepared to do so.
This year VISTE will serve over 4,200 clients!  Transportation, monthly commodity boxes, hot meals, and installation of wheelchair ramps are just a few of the programs carried out by VISTE volunteers that help preserve their clients' dignity.
VISTE is a volunteer-driven organization that is successful because of the schools, churches, civic groups, local corporations, and individuals that volunteer their time and provide necessary supplies. Though a small VISTE staff oversees the program, dedicated volunteers perform the majority of the work. There's always something happening at VISTE, and their elderly clients need you! Whether you're looking for a one-time volunteer opportunity, are interested in donating items, or want to be involved on a regular basis, VISTE has a way for you to be involved.
VOLUNTEER – Annual Thanksgiving Meal Delivery on Wed. November 22
BAKE & DONATE – Thanksgiving Bread / Dessert before Fri. November 17
DONATE – Personal Care Items & Non-Perishable Food Items
VOLUNTEER – Ongoing Volunteer Opportunities for Families
VOLUNTEER – Annual Thanksgiving Meal Delivery
Join VISTE for the 21st Annual Thanksgiving Meal Delivery event! This year, volunteers will be needed to deliver 1,700 meals to our local seniors – a record number! Many of these clients may otherwise spend the holiday alone, or would not prepare a meal for themselves.
When: Wednesday, November 22nd beginning at 3pm
Where: The RP Funding Center, 701 W. Lime St., Lakeland, FL 33805 – go to Entrance #2 on the NW side of the building.
Who: Anyone with a vehicle who can spend the afternoon delivering meals to a few clients and spend time visiting with them. Children are welcomed and encouraged.
Details: We will give you some meals and addresses to the client's homes and you're on your way! No registration is needed. Anyone interested in volunteering to deliver Thanksgiving meals should simply arrive at The RP Funding Center at 3pm on Wed. Nov 22.
Questions: Facebook event page or contact VISTE at 863.284.0828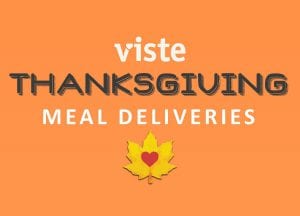 BAKE & DONATE – Thanksgiving Bread / Dessert
VISTE is in need of homemade breads – pumpkin, apple, spice, etc. – to give to clients along with their Thanksgiving meal. Having a nice homemade goody will brighten their day!
What to do: First, click here to sign up so VISTE can plan accordingly.
Then get to baking! Please make individual servings – muffins or mini loaves work well, or you can make a regular size loaf and slice it into thick slices when it cools. For each individual portion, wrap it in plastic wrap. (Optional: Tie a pretty ribbon on it!) Fill a gallon freezer bag with as many servings as fit without squishing the breads. Label the bag with the flavor and date. Freeze the entire bag. Then bring the bag to VISTE (1232 E. Magnolia Street, Lakeland 33801) anytime Monday-Friday, 8am-4pm, before Friday, November 17. We are hoping to get enough so that each of our 1,700 meals can include this homemade treat.
DONATE – Personal Care Items & Non-Perishable Food Items
In addition to providing hot meals two days a week, VISTE also provides over 1500 clients with a supplemental box of groceries each month and needs non-perishable food donations to keep the boxes filled through the holidays as well as year-round!
Canned Tuna
Canned Chicken
Peanut Butter
Cereal
Beans
Rice
Pasta
Oatmeal
Instant potatoes
Stuffing
Canned goods
Beans
Soups
VISTE also distributes over 800 boxes of personal care items each June and December to clients who struggle to afford these on their own. They have a year-round need for donations of the personal care items listed below:
Cotton Balls
Toothbrush & Toothpaste
Body Powder
Deodorant
Hydrogen Peroxide
Alcohol
Q-Tips
Band-aids
First Aid Cream
Skin Care Lotion
Comb & Brush Set
Shaving Cream & Razors
Mouth Wash
Toilet Bowl Cleaner
Tub & Tile Cleaners
Kitchen Cleaner
Dish Detergent
Shampoo & Conditioner
Bar Soap
Toilet Paper (4-pack)
Paper Towels (single wrapped rolls)
All donations can be dropped off at VISTE's office Monday-Friday, 8am-4pm, located at 1232 E Magnolia St, Lakeland, FL 33801 (GET DIRECTIONS).
VOLUNTEER – Ongoing Volunteer Opportunities for Families
Decorate birthday bags
VISTE delivers gifts (and cakes) to clients who are turning 90 or older.  VISTE would love to have kids decorate the gift bags, which can be picked up at VISTE's office, located at 1232 E Magnolia St, Lakeland, FL 33801 (GET DIRECTIONS) and dropped off when finished. These can be decorated any way you like!
Bake birthday cakes
Along with those birthday gifts, VISTE sends out cakes!  They need volunteers to bake 8-9" round layer cakes.  Each layer needs to be frozen in a gallon freezer bag, labeled with the flavor and date, and dropped off at VISTE.  A team of volunteers will decorate and deliver the cakes!
Deliver groceries once a month
The Boxed Grocery program provides a monthly supplement to over 1,500 households each month.  Grocery boxes containing food, dry good, and other basics are delivered to clients who are unable to pick up their own food.  We look for volunteers to deliver a box of groceries to clients. This happens one day a month (your choice) between 8am and noon, Monday-Saturday. This is typically during the third full week of the month.
Deliver Hot Meals to clients in need
This happens on Tuesday and Thursday mornings each week, year round.
To learn more about VISTE:
See ALL of our Lakeland Gives Back posts at the link below. Interested in having your non-profit featured in one of our Lakeland Gives Back posts? Contact us for details.