Looking for a unique activity to do in Florida? Go kayaking in a clear kayak!

Photo credit above: Get Up and Go Kayaking
This one of a kind guided kayak tour will allow you to enjoy the natural wonders around you AND underneath you. Clear kayak experiences are available in multiple locations across Central Florida, making it a perfect day trip from the Lakeland area. You can explore Florida's springs, rivers, or the coastline in a clear kayak.
When I was a kid, I remember going on a glass bottom boat tour and using a canoe with a clear panel in the bottom where we could see under the canoe. I'm sure those still exist, but today you can get a serious upgrade with an eco tour where the entire boat is clear. Sounds pretty cool right??
A clear kayak rental will be an unforgettable adventure. Plus, instead of exploring on your own and wondering if you're missing the good stuff, you get a tour guide who knows the river, springs, or coastline to be sure you get the best experience possible. Many of the trips also offer the opportunity to swim or take a dip in the water and cool off.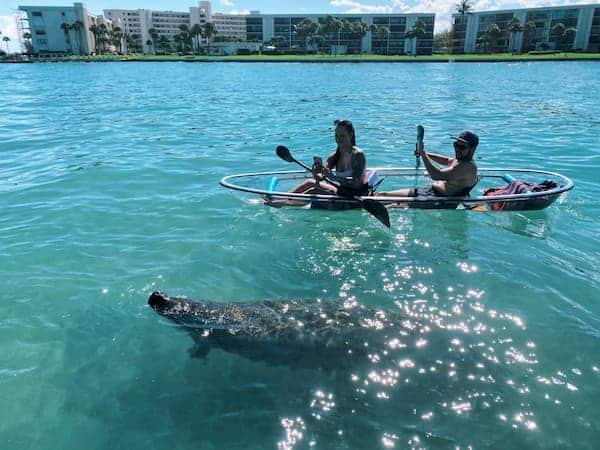 Photo credit: Get Up and Go Kayaking
Here are two local kayak companies offering guided tours in a clear kayak:
With 15+ locations in Florida, Get Up and Go Kayaking can take you on a unique and unforgettable adventure. Prices start at $50/person. Crystal kayaks have a weight limit of 425 pounds per boat (two guests) and no more than 250 pounds per seat (individual). Visit their website to learn more. Locations include:
St. Petersburg/Tampa Bay: Shell Key Preserve – Be on the lookout for manatee, dolphin, pelicans, starfish, conch, and other local marine life on this paddle.
Tarpon Springs – Encounter manatees in a completely clear kayak at Tarpon Springs. Offered December – March.
Rainbow Springs – Paddle through the crystal clear waters of Rainbow Springs and experience over 14 different type of birds, fish, turtles, otters, alligators, and other wildlife..
Winter Park – Explore the canals of the Winter Park Chain of Lakes (Orlando). Note that this is a lake and the waters are not clear.
Rock Springs – Kayak through the crystal clear water of Rock Springs and Kelly Park near Orlando.
Crystal River – Paddle through the active waterways of Crystal River. Tour options include Three Sisters Spring from April – November, Manatee Tour from November – March, and glow in the dark tours year round.
Bioluminescent Kayaking Night Tour – Offered from the end of May- beginning of October in the Merritt Island National Wildlife Refuge. Experience the night time glow of bioluminescent in the water. Bioluminescent tours are only offered at night.
Jupiter – Paddle through the blueish green waters of Jupiter, FL on the east coast of Florida.
Fort Pierce / Vero Beach – Kayak through the scenic mangrove tunnels of Fort Pierce or explore Round Island in Vero Beach – known as one of the best spots to see manatee in all of the Treasure Coast. Also offering sunrise, sunset, and glow-in-the-dark tour options.
Get Up & Go Policy on Children: "We do not recommend bringing children under the age of 5. However, it will be your determination of their abilities. Children under the age of 11 must be accompanied on a 2 person kayak and will not be recommended to manage a single kayak. Life jackets must always be worn by children age 7 or younger."
Visit the Get Up and Go Kayaking website to learn more and book your next adventure!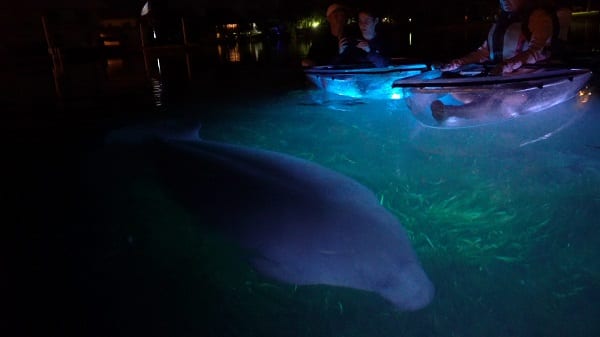 Photo credit: Get Up and Go Kayaking
See Through Adventures offers guided clear kayak tours to Fort DeSoto and Shell Key Island near St. Peterburg. See Manatees, Dolphins, Rays & other marine life on our kayak tour from your totally transparent kayak/canoe hybrid. The lack of shadow cast by the canoe means that you get a lot closer to the wildlife you want to see without scaring it. From their website: "Our guests see manatees 99% of the time and dolphins almost as often. We're so confident that you'll see at least one manatee, that we'll give you 50% off your next tour if you don't."
See Through Adventures Policy on Children: Our See Through Canoe tours are suitable for all ages and we encourage bringing your children to promote education and exploration. Our See Through Canoe s are perfect for you and your child and we will supply you with life vests.
Rates: Start at $59/person for a 1.5 hour tour, longer tours are also available. Visit the See Through Adventures website to learn more.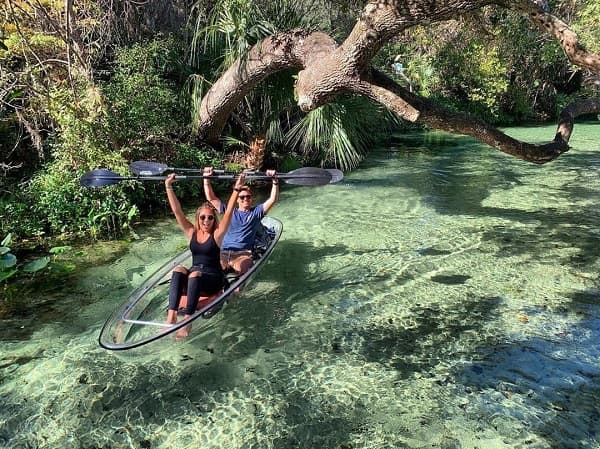 Photo credit: Get Up and Go Kayaking
What to bring on a clear kayak trip:
A sense of adventure
Water
Dry bag for phone, car remote, etc.
Bathing suit or outdoor clothing
Towel & Change of Clothes for the ride home
Sunscreen & Lip Balm
Insect repellant
Hat
Sunglasses
Water shoes or shoes you don't mind getting wet
Paddling gloves (check with guide company to see if they are available)
Snacks or lunch
Cash gratuity
Never Kayaked before?
No problem! Kayaking is easy to learn, and all of these tours provide instructions and practice before you launch. These are sit on top clear kayaks – they are very stable, and if you do happen to tip over, you simply fall into the water.
Outdoor Activities Guide
Check out our full Outdoor Fun Guide for more outdoor things to do in Lakeland, Polk County, and Central Florida.