Blast off on a trip to Kennedy Space Center! One of Florida's most iconic visitor destinations, Kennedy Space Center's Visitor Complex is filled with fascinating exhibits and experiences, hands-on activities, and actual spacecraft.
NASA's Kennedy Space Center is approximately 1 hour east of Orlando and an easy drive from most of Central Florida. It is only 1 hour and 45 minutes from Lakeland, making it a perfect destination for a day trip OR part of your next Florida vacation.
There are three different "eras" of space exploration at the Kennedy Space Center Visitor Complex. Learn about the journey to space and the race to the moon at the Apollo/Saturn V Center, see a Space Shuttle and learn about 30 years of shuttle missions in the Atlantis Center, and the future of space travel can be found at NASA Now + Next including a brand new exhibit opening in June 2022 – Gateway: The Deep Space Launch Complex.
Kennedy Space Center Video
Take a quick peek at some of the things you will see at Kennedy Space Center:
Things to Do at Kennedy Space Center
As we mentioned, the Kennedy Space Center Visitor Complex groups attractions and exhibits by chronological era. We highly recommend exploring these areas in order, starting with Apollo/Saturn V, then the space shuttle, then the future of space travel, which is how we've listed them below. All of these activities are free with admission.
Kennedy Space Center Bus Tour Tips
Make the bus tour your first destination when you arrive at Kennedy Space Center. The bus tour isn't extensive, it is a quick 10-15 minute ride out to the Apollo / Saturn V Center, but it is through restricted areas where you cannot drive on your own. The most interesting thing you'll see from the bus is the Vehicle Assembly Building (VAB) where Saturn rockets, the Space Shuttle, and the new Artemis Rocket are assembled before being transported out to the launch pad.
TIP – Sit on the right side of the bus tour. This will give you the best views of the VAB and a chance to spot alligators in the roadside canals.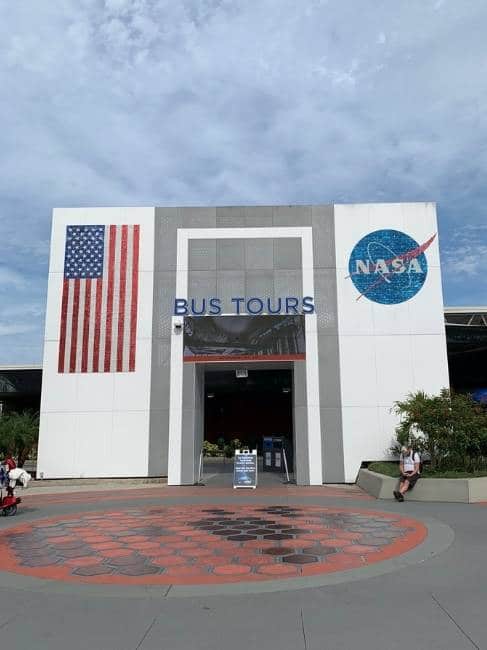 Apollo / Saturn V Center
You'll depart the bus at the Apollo/Saturn V Center where you can stand beneath the largest rocket ever flown and be amazed! This is where you'll learn about the history of the United States' journey to space and landing on the moon.
You'll start in the Apollo 8 Firing Room where you will see the actual consoles used in the 1960's, and experience a simulation of the Apollo 8 launch – the first crewed NASA mission to orbit the Moon in 1968.
TIP – If anyone in your group is sensitive to loud noises, you may want to skip this experience or use headphones – the simulated launch includes loud rocket noises. It is not a scary experience, just loud.
From there, spend time exploring the exhibits inside the building including a peek inside a rocket capsule, a lunar module, a moon rock, and much more. Be sure to walk out back at the Apollo/Saturn Center where you can see the active launchpads for NASA and SpaceX.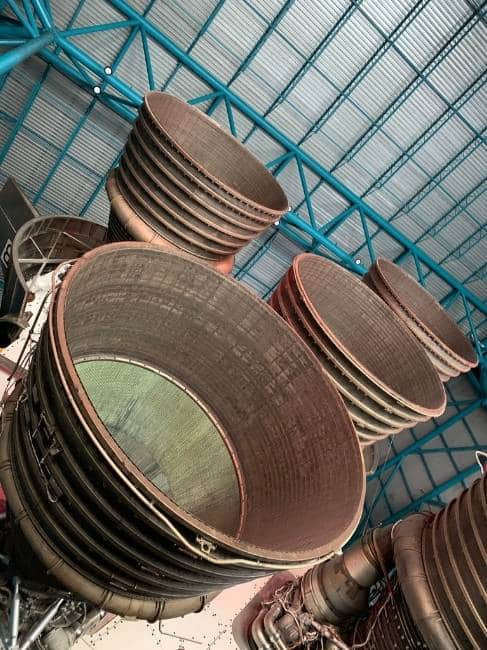 Space Shuttle Atlantis
When you're finished at the Apollo/Saturn V Center you'll take the bus back to the main complex. As you depart the bus look for the large orange and white shuttle boosters outside the Space Shuttle Atlantis building – don't miss this stop!! Inside the Space Shuttle Atlantis exhibit you can see a space shuttle up close – the sheer magnitude will impress you.
Our group found the entrance to this building a little confusing – after you go inside you'll walk up a long ramp that winds around to the 2nd floor. If it is crowded, you'll likely be waiting in a crowd on this walkway, but there are no signs indicating what you're in line for. If you're in a line on the ramp, you are in the right place! Once it is your turn, you'll watch two short videos and then enter the main shuttle and exhibit area.
TIP – When you go into the 2nd room with a movie screen try to get a spot near the front, and be sure you're looking ahead of you when the movie ends. Trust us!
Other activities in this building include a 2 story slide, hands-on exhibits, shuttle flight simulators, a large gift shop, and the Shuttle Launch Experience.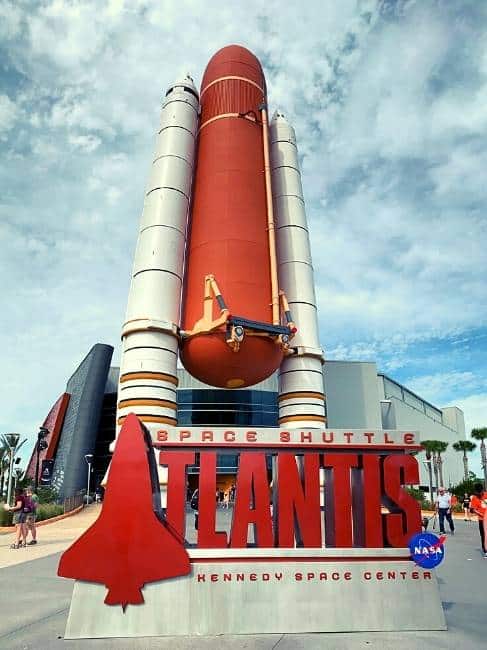 Kennedy Space Center Rides – Shuttle Launch Experience
Located in the Atlantis building, the Shuttle Launch Experience simulates an actual shuttle launch! You'll recline backward, blast off, and then experience the space shuttle's eight-and-a-half-minute ascent into orbit. It is not for the faint of heart, you will feel the G forces on this launch ride at Kennedy Space Center. Must be 44″ to ride, you'll also place all of your belongings in a free locker at the entrance. This takes a minimum of 30 minutes, if you're short on time, check with the attendant for the current wait time.
TIP – This is a true simulator, if you have issues with motion sickness this ride might not be the best idea.
NASA Now + Next
Once you've learned about the history of space exploration, learn about the current and future plans for space travel in NASA Now + Next areas.
In Journey To Mars: Explorers Wanted you can discover NASA's plans to explore deep space through interactive games and simulators.
See the newest concept vehicle, Mars Rover Vehicle Navigator®, or MRVN®, designed for navigating the demanding landscape of Mars.
The newest exhibit – Gateway: The Deep Space Launch Complex – showcases authentic spacecraft, futuristic prototypes and immersive displays from NASA and its commercial partners (Lockheed Martin, Boeing, SpaceX) working on collaborative space exploration.
Check the schedule for daily IMAX movies including Journey to Space and Asteroid Hunters. Shows last approximately 40 minutes and are included with admission.
Planet Play
If you need a break in the air conditioning, stop in Planet Play and let the kids burn off some energy. This two-story indoor climbing structure is designed for ages 2-12.
TIP – Parents can enjoy an adult beverage and relax on the couches on the 2nd level.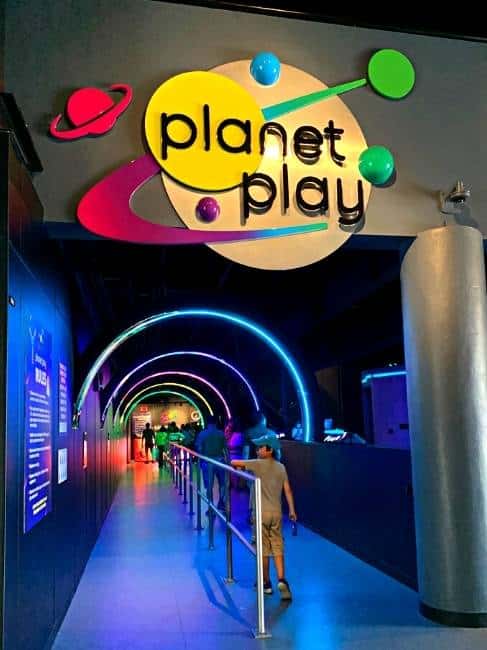 Heroes & Legends Astronaut Hall of Fame + Rocket Garden
The Rocket Garden is the first thing you'll see when you enter the Kennedy Space Center Visitor Complex. We recommend saving it for later in the day as you depart unless it is especially interesting to a member of your group. Daily tours are offered but you can also walk through on your own. You can also go inside the Heroes & Legends building and walk through the U.S Astronaut Hall of Fame.
Meet an Astronaut
You can hear from an astronaut and even get a photo or autograph with someone who has been to space! Astronaut Encounter is a live Q&A session in the Universe Theater. You can also visit the Astronaut of the Day at The Space Shop or Shuttle Express for his or her autograph. The Kennedy Space Center Calendar lists the scheduled astronauts.
Gift Shops
The World's Largest Space Shop is located right in the center of the Kennedy Space Center complex with 2 floors of space memorabilia. Additional specialized gift shops are located at the Apollo/Saturn V Complex and the Space Shuttle Atlantis exits.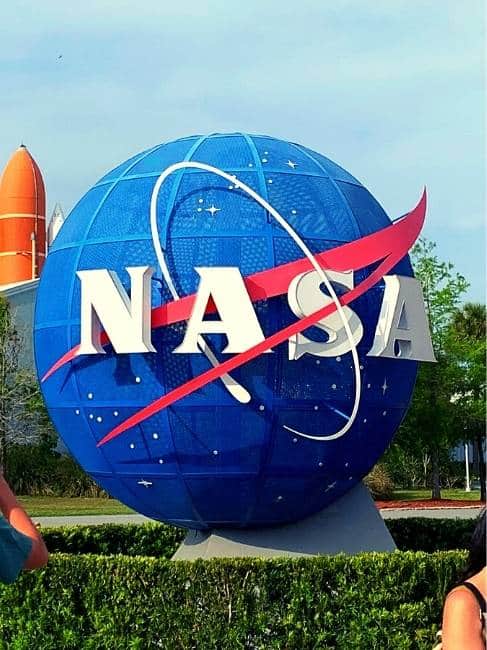 See a Rocket Launch at Kennedy Space Center
Rocket Launches are not frequent but it is possible to see one if you plan ahead and have some flexibility, keep in mind that launches are weather dependent and can be scrubbed on short notice. Check the Kennedy Space Center calendar for upcoming launches and tips for attending in person.
Add-On Experiences
If you really want to dive into outer space, check out the add-on experiences at KSC. Options include Dine + Chat With An Astronaut (45 minutes) and the Astronaut Training Experience® (4-5 hours). Special tours are offered throughout the year. These opportunities are an additional cost and require a reservation, they are not included with admission.
Tips for Visiting Kennedy Space Center
Plan ahead and download the app. Make a tentative plan to be sure you cover everything your group wants to see. Download the Kennedy Space Center App to save favorites, see a map, and check the schedule.
Get there as early as possible! There is a bag check and metal detector at the entrance and this line can get long. KSC is a popular spot for field trips, if you arrive around opening time of 9am you can likely beat the crowds at the gate.
Check the Daily Schedule. It lists the times for IMAX movies, Astronaut Autographs, free walking tours, and other live events. You can get a printed schedule when you arrive or find the info in the app.
Once you're inside, head straight to the bus tour. While you'll be tempted to stop in the Rocket Garden to walk through the rockets – don't! Keep veering right and head straight to the bus that will take you to the Apollo/Saturn Center. Spend 1-2 hours there and once you're done there you'll ride the bus back to the main visitor complex where you can see the Atlantis Space Shuttle, NASA Now + Next, Rocket Garden, and other attractions.
FAQ's for Kennedy Space Center
Is Kennedy Space Center designed for kids?
While Kennedy Space Center is stroller friendly and open to all ages, we think it is best enjoyed by ages 5+ or children who are especially interested in rockets and space exploration.
How long should I spend at Kennedy Space Center?
You can easily fill the entire day. To fully experience the three main eras of space travel, we recommend you allow a minimum of 4-5 hours.
Is parking free at Kennedy Space Center?
At the time of publishing, parking is $10 per vehicle. Parking is included in an annual pass.
What is the difference between NASA and Kennedy Space Center?
NASA's Kennedy Space Center covers 144,000 acres with multiple facilities for launches and other operations. It is one of the National Aeronautics and Space Administration's (NASA) ten field centers across the US. It has been NASA's primary launch center of human spaceflight since 1968 and continues to be a working facility.
The Kennedy Space Center Visitor Complex is the area that is open to the public featuring spacecraft displays, exhibits, space memorabilia, and more.
Where is Kennedy Space Center located?
NASA's Kennedy Space Center is on the east coast of Florida, approximately 1 hour east of Orlando, Florida and an easy drive from most of Central Florida.
Discount Tickets for Kennedy Space Center
At the time of publishing, single day admission to Kennedy Space Center is $57 for adults (12+) and $47 for children (ages 3-11). Discounts are available for seniors and active-duty military. There are also options for multi-day tickets and annual admission.
If you are a teacher, first responder, nurse, student, or veteran, check for discounts through ID.me.
Learn more: Kennedy Space Center Website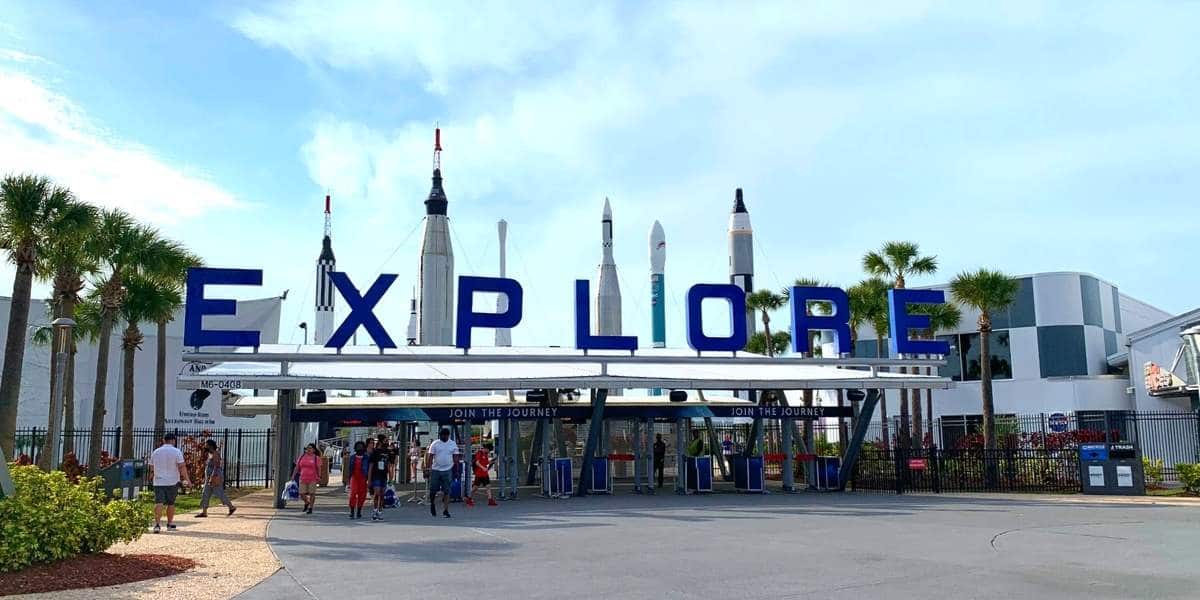 "The exploration of space will go ahead, whether we join in it or not, and it is one of the great adventures of all time." – John F. Kennedy
Now get out there and start exploring!
Travel + Day Trips
Check out our Travel + Day Trips Guide for more articles on travel with kids, day trip ideas, places to go in Central Florida, and more.