Whether you're trying to find the perfect pumpkin, or a place to take photos of your own little pumpkins, we've got a list of great pumpkin patches in the Lakeland area. Keep in mind that they will close once the pumpkins are gone!
A visit to the pumpkin patch is great family fun, and so is pumpkin carving. Since we live in Florida, we can't carve our pumpkins very far in advance or they will rot. HGTV has a list of great tips for carving, lighting, and preserving your jack 'o lantern.
Most (if not all) of the Corn Mazes and Farms listed in our Corn Maze Guide also have pumpkins available as well as great photo spots.
Advertisement – Continue Reading Below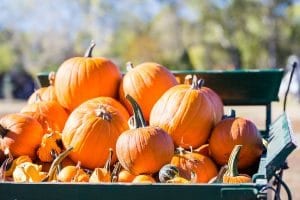 Lakeland Pumpkin Patch Map
MAP TIP: Tap the box with an arrow in the top left to see a list and search by name.
Find Pumpkin Patches Near Me
Advertisement – Continue Reading Below
---
We would LOVE to include more Pumpkin Patches on our list. Please contact us or leave a comment below if you know of one!
Be sure to check out our Fall & Halloween Guide for info on Corn Mazes, Pumpkin Patches, Hayrides, Halloween costume ideas, Trick-or-Treating tips, Haunted Houses and Zombies, Halloween Movies and TV Specials, Fall Festivals, Trunk or Treats, and so much more!