Whether you're trying to find the perfect pumpkin, or a place to take photos of your own little pumpkins, we've got a list of great pumpkin patches in the Lakeland area. Keep in mind that they will close once the pumpkins are gone!
A visit to the pumpkin patch is great family-friendly activity, and so is pumpkin carving. Since we live in Florida, we can't carve our pumpkins very far in advance or they will rot. HGTV has a list of great tips for carving, lighting, and preserving your jack 'o lantern.
Don't miss our Ultimate Guide to Fall & Halloween Activities for a full list of fun things to do this fall in Lakeland and Central Florida including pumpkin patches, corn mazes, haunted houses, Halloween events, trunk or treat, drive-thru Halloween attractions and more.
All of the locations in the first section are free to visit and take photos with the pumpkins. All of them support local churches (usually youth groups), so if possible, show your support by making a purchase.
2020 Update – Some churches have made the difficult decision not to run their pumpkin patches this year but plan to return in 2021. Those are noted below, and we will continue to update this list as soon as we receive information.
We also have a list of corn mazes, farms, and fall festivals that have pumpkins but require paid admission.
Jump to: Pumpkin Patches in Polk County | Corn Mazes with Pumpkins | Find a Pumpkin Patch Near Me
Please check directly with event organizers or local businesses for mask requirements, safety protocols, advance registration, and any last-minute changes. All information on our website is for informational purposes only – we are not qualified to provide health or safety recommendations.
Pumpkin Patches
Booger Mountain Lakeland Pumpkins
We have confirmation of pumpkins in Lakeland!! Booger Mountain Christmas Trees will be selling pumpkins hand picked from their farm in North Carolina. Opens Friday, October 16.
Location: Ardella Baptist Church on Pipkin Rd – 709 W. Pipkin Rd, Lakeland, FL 33811 (MAP IT)
More info: Facebook
Open: SOLD OUT FOR 2020 Beginning October 16, 2020 – Monday thru Friday 3 – 9; Saturday 9 – 9; Sunday 12 – 9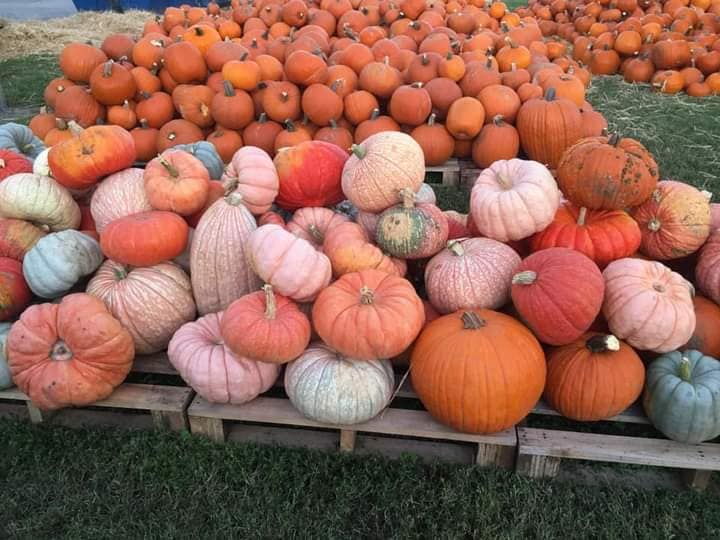 St. John's United Methodist Church Pumpkin Patch in Winter Haven
This pumpkin patch in Winter Haven is OPEN! Prices range from $25 – 0.25. Supports the church youth group.
1800 Cypress Gardens Blvd, Winter Haven, FL 33884 (MAP IT)
Website | Facebook | (863) 324-6347
Open: 2020 – OPEN NOW!
Hours: M – Fri, 1 to 7 pm, Sat, 9 am – 7 pm, Sun, 12 pm to 7 pm
First United Methodist Church Auburndale – Youth Ministry Pumpkin Patch
The pumpkins have arrived in Auburndale! This church is located right on Lake Ariana, providing a scenic backdrop for your pumpkin patch photos.
316 Lake Ariana Blvd, Auburndale, FL 33823 (MAP IT)
Website | Facebook | (863) 967-1262
Open: 2020 – Open now
Hours: Monday-Friday, 1:00 p.m. – 7:00 p.m., Saturdays 9:00 a.m.-7:00 p.m. and Sundays Noon-7:00 p.m.
Walkers Produce
This local produce stand has pumpkins available for sale and a few photo spots.
6320 U.S. Hwy. 98, S., Bartow, FL 33830 (MAP IT) – located at the corner of 540A and Bartow Hwy in South Lakeland
Facebook | (863) 646-0759
Hours: Daily from 8:30 AM – 6:30 PM
Produce 863
This produce stand and farmers market has pumpkins and spots for fall photos. Bring the kiddos out for some good old fashion pumpkin patch photos.
6512 US Hwy 98 N, Lakeland, FL 33810 (MAP IT)
Facebook
Hours: Open 7 days a week – Monday – Saturday 10am – 7pm, Sunday 10am – 5:30pm
Presbyterian Church in the Highlands Pumpkin Patch
1010 Lake Miriam Dr, Lakeland, FL 33813 (MAP IT)
Website | Facebook | 863-646-3121
We have confirmation the PCH Patch is not opening in 2020.
First United Methodist Church Pumpkin Patch
72 Lake Morton Dr, Lakeland, FL 33801 (MAP IT)
Website | Facebook | 863-686-3163
We have confirmation the FUMC Patch is not opening in 2020.
TBA Church Pumpkin Patch
1815 Co Rd 540A, Lakeland, FL 33813 (MAP IT)
Website | Facebook | (863) 647-9282
We have confirmation the TBA Patch is not opening in 2020.
Mulberry United Methodist Church Pumpkin Patch
306 North Church Avenue, Mulberry, FL 33860 (MAP IT)
Website | 863-425-3401
We have confirmation the they are not opening in 2020.
Corn Mazes + Farms with Pumpkins
Most of the corn mazes and fall festivals in our Central Florida Corn Maze Guide also have pumpkins available for sale as well as great photo spots. While you're there you can also enjoy farm animals, hay rides, a day on a family ranch, and more. Paid admission is required.
Corn Mazes with a Pumpkin Patch include:
Harvest Holler Corn Maze near Lakeland (have a fun day on the farm AND visit the pumpkin patch)

Fox Squirrel Corn Maze – Plant City

Hunsader Farms Pumpkin Festival in Bradenton
Pumpkin Patch & Fall Festival at Southern Hill Farms near Orlando
Cornfusion Crop Maze in Lakeland (closed for 2020)
For a pumpkins and fall family fun all rolled into one, check out the Pumpkin Patch Express at the Florida Railroad Museum in Parrish.
Lakeland Pumpkin Patch Map
Find a Pumpkin Patch Near Me
We would LOVE to include more Pumpkin Patches on our list. Please contact us if you know of one!