Whether you're trying to find the perfect pumpkin to carve or a place to take photos of your own little pumpkins, we've got a list of great local pumpkin patches near you in the Lakeland and Polk County area.
A visit to the pumpkin patch is a great family-friendly activity, and so is pumpkin carving or pumpkin painting. Since we live in Florida, we can't carve our pumpkins very far in advance or they will rot. HGTV has a list of great tips for carving, lighting, and preserving your jack 'o lantern.
Looking for free pumpkin patches near you? All of the locations below are free to visit and take photos with the pumpkins. All of them support local churches (usually youth groups), so if possible, show your support by making a purchase.
Keep in mind that they will close once the pumpkins are sold out. We do not update this list with closures but links are provided to check for updates.
Editor's Note: Here in Central Florida, there is some confusion around the term "Pumpkin Patch." While up north and in the midwest this usually means a visit to a farm to pick out a pumpkin and enjoy fall activities, pumpkin patches in Central Florida are typically just pumpkins on the front lawn of a church because pumpkins aren't traditionally grown in Florida.

Are you looking for:
🌽 A place to spend a few hours on a farm with hay rides, corn mazes, duck races, jumping pillows, live entertainment, and other fun activities where there is paid admission – head over to our list of Corn Mazes + Fall Festivals Near You
🎃 A place to spend 30-45 minutes, take pumpkin photos, visit for free, buy a pumpkin – keep reading! Below you'll find a list of pumpkin patches near you.
Please check directly with event organizers for specific dates, discounts, current ticket prices, advance registration, and any last-minute changes. While we do our best to provide accurate information, we include an outside link so you can verify the details for all events and activities.
Pumpkin Patches in Lakeland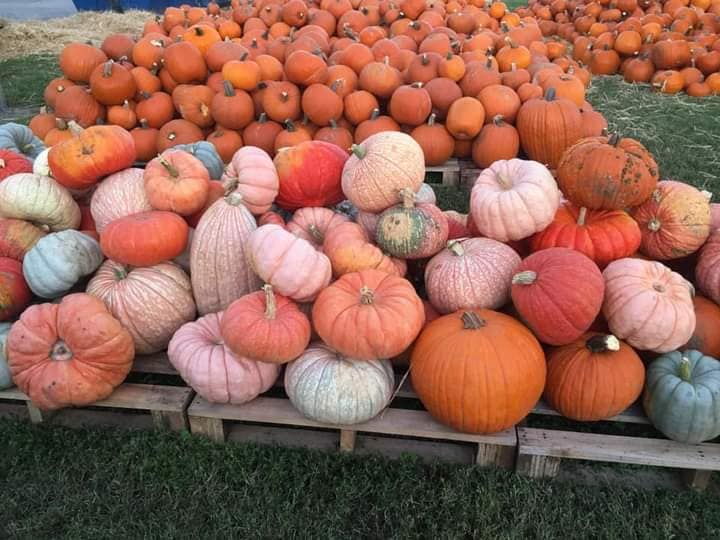 Pumpkin Patches in Winter Haven + Auburndale
Pumpkin Patches in Polk County
Map – Find a Pumpkin Patch Near You
Pumpkins Near You | Church Pumpkin Patch Near You
We would LOVE to include more Pumpkin Patches on our list. Please contact us if you know of one!