Looking for information on the LEGOLAND Preschool Pass for 2023? The free preschooler pass promotion is typically announced during the first week of January. As of 1/3/2023, we have not heard if LEGOLAND will offer a preschool pass this year. Peppa Pig Theme Park opened at LEGOLAND in 2022 and it is perfect for preschoolers and worth an annual pass!
In addition, LEGOLAND ticket requirements changed for 2 year olds in 2022. Beginning February 24, 2022, a child aged 2 years or over will need to purchase a ticket for entry. children aged 1 and under will not be charged a ticket for entry into LEGOLAND Florida. Learn more on the LEGOLAND website.
This post will be updated if we have additional information to share on 2023 Preschool Pass sign-ups.
Both Busch Gardens and Seaworld have announced their 2023 Preschool Promotions as of January 3, 2023 – you can sign up right now for a 2023 Busch Gardens Preschool Pass or a 2023 SeaWorld Preschool Pass and get FREE Admission to those parks for all of 2023 for children ages 5 and younger.
---
INFO FROM 2021:
Kids 4 and younger get into both LEGOLAND® Florida Theme Park and Water Park FREE for all of 2021!
LEGOLAND Florida Resort's Preschooler Pass will be available for a limited time from January 4 through February 3, 2021 at the admission ticket window. Children must be aged 3-years-old or 4-years-old at the time of receiving the Preschooler Pass to qualify. Guests ages 2-years-old and under will continue to receive free admission. Children must be present when redeeming the Preschooler Pass at the ticket window.
The limited-time offer pass grants admission to the theme park and select annual seasonal events (PirateFest Weekends, LEGO® Friends Weekends, Heroes Weekends, Ninjago Days, Brick or Treat) at the LEGOLAND Resort in Winter Haven, Florida.
How to get the LEGOLAND Preschoool Pass:
Visit the Will Call ticketing windows at LEGOLAND Florida Resort between Monday, January 4 – Wednesday, February 3, 2021. This deal is only available at the park, it is NOT available online, and there is no advance registration. Children must be present when redeeming the Free Preschooler Pass at the ticket window.
Be sure to take with you a copy of your child's birth certificate or travel passport for proof of age

From what we can tell on the website, any grandparent, guardian, or relative with access to the child's birth certificate or passport can redeem this deal.
There is no requirement that you use the pass or enter the park between January 4 – February 3, just that you visit the ticketing windows with your preschool children between those dates to get the Preschooler Pass.
TIP – if you aren't visiting the park on the day you get your pass, to avoid paying admission have 2 adults visit and utilize the drop off area for 1 adult and child(ren) to walk up to the ticketing windows while the second adult waits in the car. This is the only way we know of to receive a pass without paying for parking.
Valid for Florida Resident children ages 3-years-old and 4 years-old only. Note that ages 2 & under receive free admission to the park daily and do not need a Preschooler Pass.
Learn more at https://www.legoland.com/preschooler-pass/.
What if you already have a LEGOLAND Annual Pass for a 3 or 4 year old?
Annual Passes are nonrefundable, however if guests have purchased a LEGOLAND Florida Resort Annual Pass for a 3 or 4-year- old, they can choose to extend the validity of that pass by 12 months or transfer the purchased pass to an immediate family member. (Transfers are limited to one per person).
Parking:
Guests who are not currently Annual Passholders and are only visiting the Resort to redeem the Preschooler Pass have the opportunity to use our Drop off location. Current LEGOLAND Florida Resort Annual Passholders (excluding Teacher Passes) receive free standard parking. If you have purchased a full price Annual Pass online in advance, parking charges will be waived. Annual Passes purchased at the ticket window will receive free standard parking on their next visit.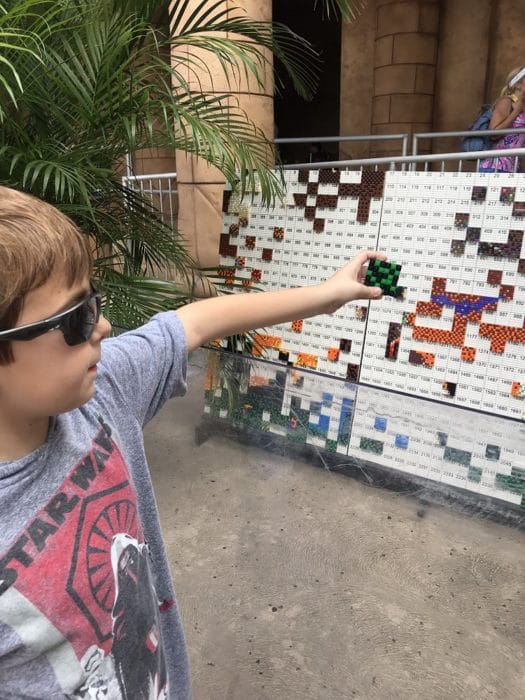 Wondering about the cost of LEGOLAND tickets for the rest of your family members?
There are two options for LEGOLAND Florida:
---
Annual Passes get you 12 months of unlimited admission from the date of purchase, PLUS free parking ($19/visit), discounts, monthly specials, discount on guest tickets, etc. The annual pass program has multiple options starting at $119.99 with blockout dates or $179.99 for unlimited admission for Florida Residents.
Click here to buy an Annual Pass – **The Awesomer Annual Pass will include admission to the new park opening in 2022 – Peppa Pig Theme Park!**
Attractions at LEGOLAND Florida Theme Park for preschoolers include the Florida Prepaid Schoolhouse indoor play area, Duplo Tot Spot, the Grand Carousel, multiple brick play areas, and fun rides just for the younger theme park guests! Don't miss your chance to get a preschool card to our favorite Central Florida Theme Park located right here in Polk County!
Busch Gardens and Adventure Island are also offering a Preschool Pass for 2023.
SeaWorld and Aquatica Orlando are also offering a Preschool Pass for 2023.
Now get out there and have some theme park fun!!
100+ Things to Do with Kids
Check out our Ultimate List of Things to Do with Kids in Lakeland + Polk County to find indoor fun, outdoor fun, free things to do, seasonal activities, and more.