The Rotary Playground in Hernando's Landing at Lake Parker Park is now open and it is AMAZING!
With three different playground structures, a huge pirate ship, zip line type swings, treehouse, parent/baby swings, and multiple other play items, this brand new playground in Lakeland will keep your kids exploring just like Hernando de Soto.
While we could try and describe it to you, we wouldn't do it justice, so we'll just let our photos and videos do the talking!
PIRATE SHIP PLAYGROUND IN LAKEAND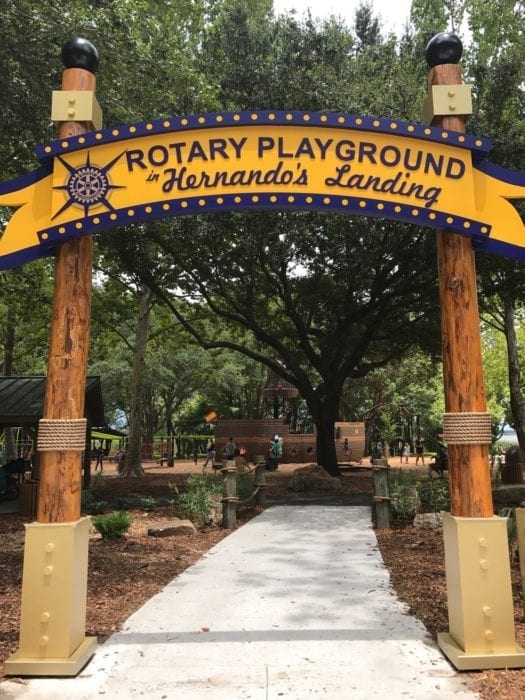 The entrance from the parking lot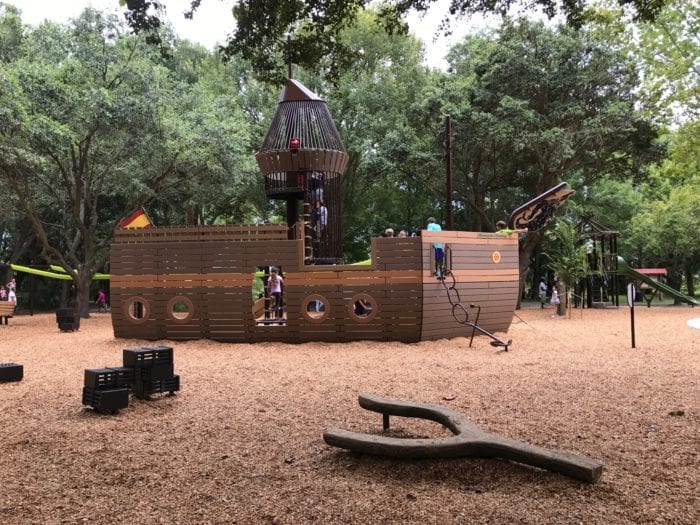 The explorers pirate ship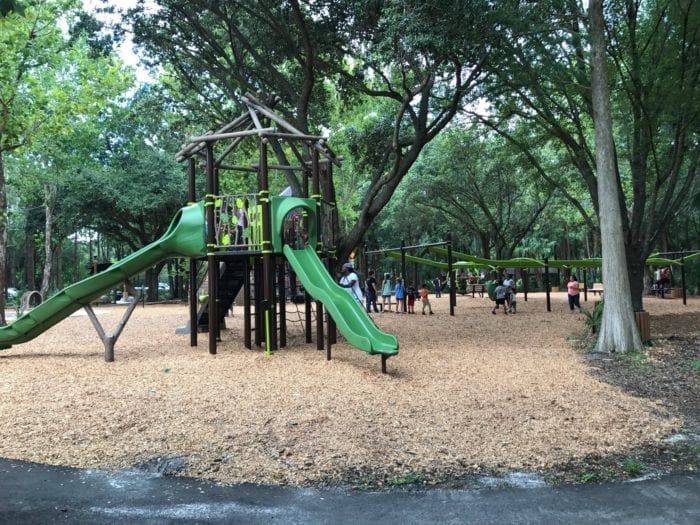 A treehouse where kids imaginations can run wild!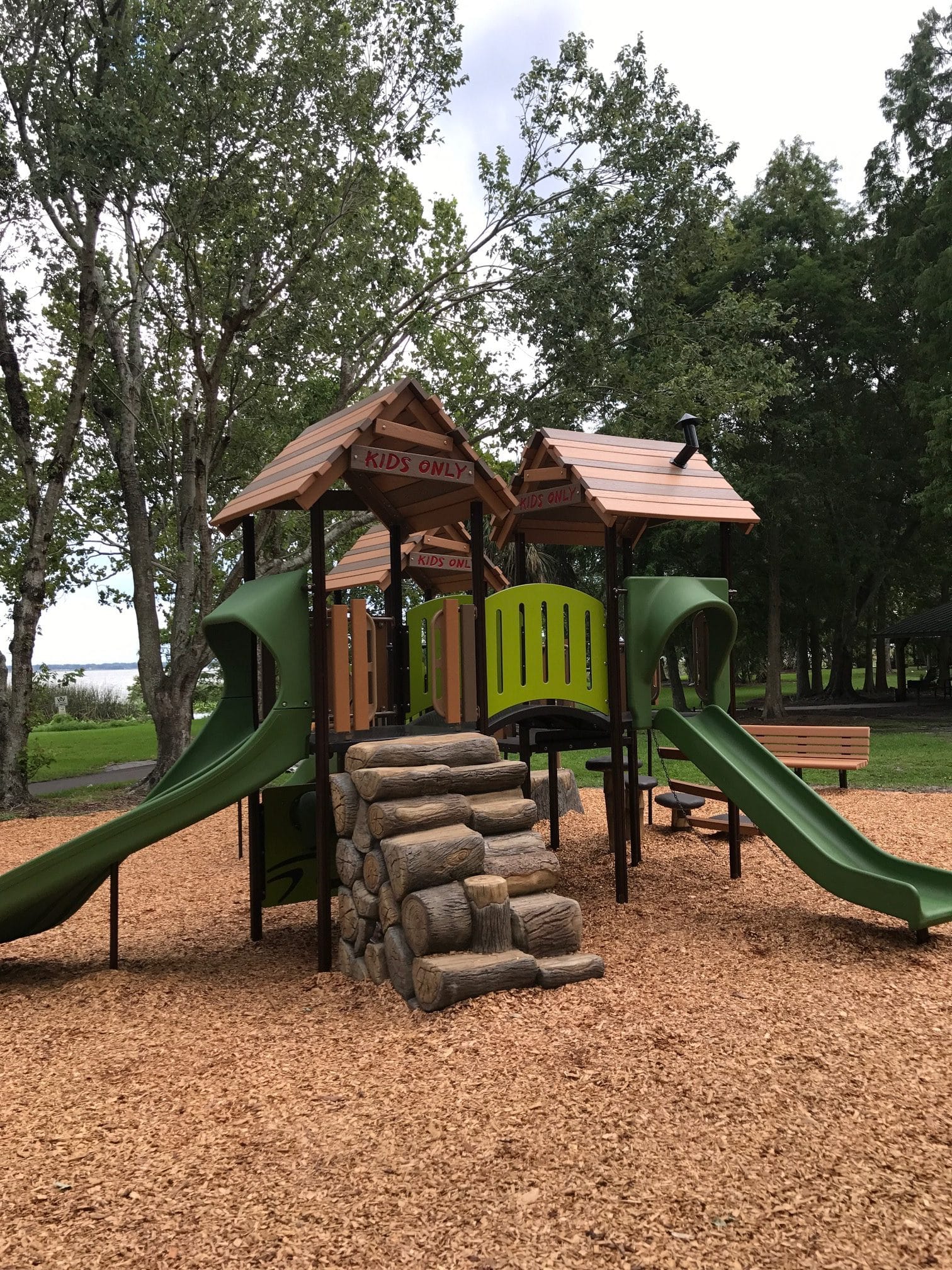 One of three play structures with slides and climbing areas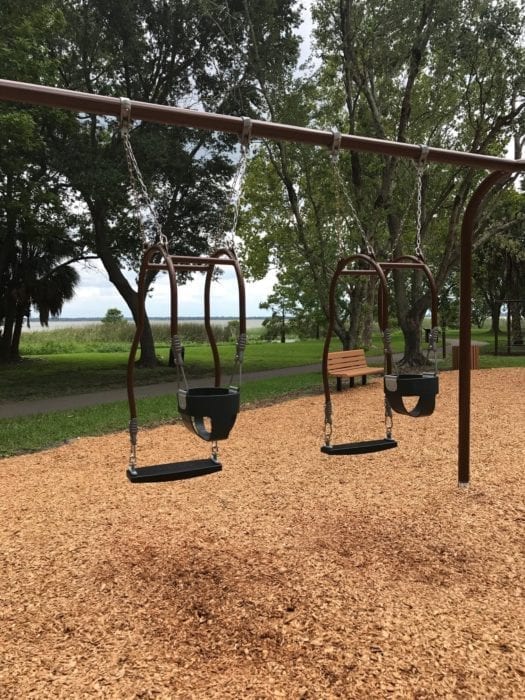 A swing for both mom/dad and baby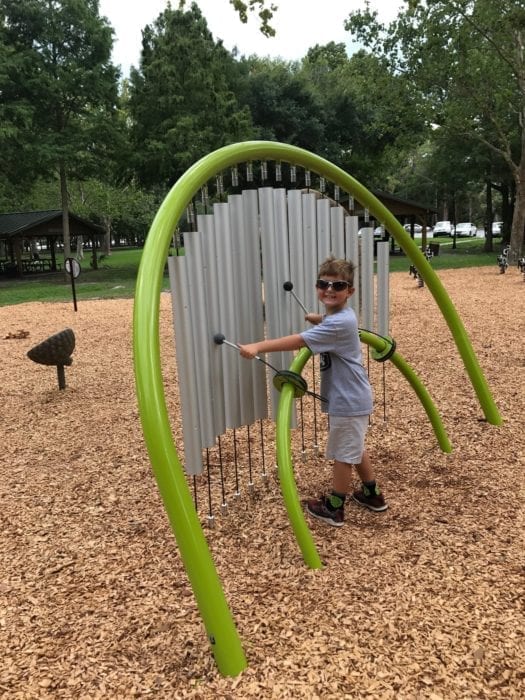 The musical area has chimes and drums
DIRECTIONS TO LAKE PARKER PARK PLAYGROUND
How to get to the Rotary Playground in Hernando's Landing at Lake Parker:
910 E. Granada Street, Lakeland, FL 33805
Lake Parker Park is off Lakeland Hills Blvd just north of Lakeland Regional Medical Center and Joker Marchant Stadium. The Park has multiple entrances – be sure you know where you're going before you head for the playground. If you use the location provided by Google Maps, YOU MAY END UP IN THE WRONG PLACE!!
The playground is located at the park entrance off Grenada Street/W Lake Parker Drive near the soccer fields. Use 910 E. Granada Street, Lakeland, FL 33805 to get you to the correct entrance. Click here to map it.
KNOW BEFORE YOU GO: LAKE PARKER PARK PLAYGROUND
The ground at the playground is all mulch so closed toe shoes are highly recommended
Lots of SHADE! All of the nearby pavilions are covered, plus parts of the playground are shaded depending on the time of day
There are plenty of picnic tables nearby under pavilions if you want to take a lunch
Pavilions are accessible by a paved walkway if you have stroller or wheelchair
Pavilion rentals are first come, first serve (details on City of Lakeland website)
The playground is not fenced in – so if you have a running toddler, be prepared to stay near them (there is a lake not too far from the playground)
The signs on most of the equipment say it is designed for ages 5-12. There is no equipment specifically designed for babies/toddlers, except for the baby swings. Every child is different, we've tried to include plenty of pictures and videos here so you can decide whether it will work for your little ones.
The zip line does require some parental involvement, especially the chair (shown below).
BATHROOMS AT LAKE PARKER PARK
(Because you know your kids won't give you enough notice to go searching for a bathroom)
There are two bathrooms not too far from the playground – look for the small white buildings out past the picnic pavilions on either side of the playground. Photo below so you know what you're looking for.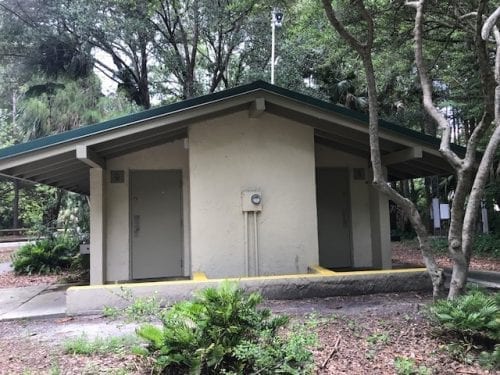 Why Hernando's Landing?
The famous explorer Hernando de Soto landed in Tampa Bay in 1539 in search of gold and began an ill- fated trip through Florida and the southeast US, including a stop in Lakeland, Florida at Lake Parker. That site is included on the state's De Soto Trail. This new playground is designed around the history of Florida and the joy of discovery. From a replica of a 16th century ship to a tree house to a zip line, the new park promises an experience unlike any other in our community.
Why The Rotary Playground?
The four Rotary Clubs of Lakeland raised over $300,000 towards the construction of the playground at Lake Parker. Rotary Benefit Concerts were held in Lakeland in 2015, 2016 and 2017 to raise funds to donate to the City of Lakeland. Past concerts featured The Beach Boys, America, Three Dog Night, Jessie James Decker, Sister Hazel, and Wilson Phillips. The hard work and generosity of this international service organization is recognized with the Rotary name.
What are you waiting for? Get out there and start exploring!
100+ Things to Do with Kids
Check out our Ultimate List of Things to Do with Kids in Lakeland + Polk County to find indoor fun, outdoor fun, free things to do, seasonal activities, and more.