We have started to hear the sound of more planes flying over Lakeland, marking the start of the annual SUN 'n FUN Aerospace Expo. Beginning Tuesday, April 5, 2022 Lakeland will host more than 200,000 guests, volunteers, sponsors, performers, and exhibitors over 6 days at the 2nd largest airshow in the world, held right here in Lakeland. Whether you are a pilot, aviation enthusiast, or just looking for a fun family-friendly event, SUN 'n FUN has something for everyone. The 2022 SUN 'n FUN fly-in runs from April 5 – 10, 2022.
The 2023 SUN 'n FUN Aerospace Expo is scheduled from March 28 – April 2, 2023.
SUN 'n FUN is also the perfect way to introduce children to the world of aviation. You can view more than 4,500 aircraft from homebuilts to warbirds on the 1,000 acre SUN 'n FUN campus, attend kids workshops, play in the KidZone, and catch special events such as the afternoon Air Shows, Saturday morning hot air balloon launch, nighttime Air Shows Wednesday and Saturday, and MUCH MORE.
Many of you have likely watched the airshow in Lakeland from the side of the road near the airport, but if you've never been inside the gates of SUN and FUN Lakeland you are missing out on the MANY other features of this great annual event. Make this the year you check it out!
Fun Fact: During the week of SUN 'n FUN the Lakeland Airport becomes the world's busiest airport with over 14,000 aircraft operations within the span of a week. SUN 'n FUN is the largest airshow in Florida.
Helpful Tips for taking kids to SUN 'n FUN
It can be daunting to take kids to a new event, or any event that covers a large area, is mostly outside in the sun, and requires a commitment of a good part of the day, but with our handy tips below, you'll be a pro before you even hit the entry gates.
Before You Go
Slather on the sunscreen – while there are vendors and exhibits indoors in the hangars, much of the event is outside in the sun.
Wear comfy clothes and walking shoes – you will be outside most of the day, walking on dirt, grass, and concrete.
Check out the SUN 'n FUN map so you know what you might like to see – copies are available on-site as well
Things to Take With You
Stroller or Wagon – the planes and exhibits cover a very large area. If you wouldn't go to a theme park without a stroller, don't go to SUN 'n FUN without one either!
Backpack – backpacks are allowed (may be subject to search), and are always the best way to carry gear when you need your hands free to keep track of the kiddos.
Chairs and blankets – if you want to sit down and watch the airshow, you might like to have a blanket or chairs instead of sitting on the ground.
Portable phone charger
Ponchos – it's Florida in April, there is usually a chance of rain, but often only a brief shower. There aren't a lot of indoor spaces where you can find cover, so pack a poncho if anyone will be upset about getting wet.
Earplugs or noise-canceling headphones – if you have little ones with ears that need protecting – some of the airshow planes get LOUD!
Things NOT Allowed inside SUN 'n FUN
Pets
Coolers, outside food or drinks – there are plenty of food and drink vendors inside the event (if you see the light blue Peachey's Bakery Amish Donut truck, trust us and get one!)
Bicycles, hoverboards, skates, strap on skate shoes, golf carts, skateboards, kids scooters
Rules are specific to the SNF event space, different guidelines may apply for the campground. There is a full list of FAQs and more info on the SUN 'n FUN website.
Safety Tips while at SUN 'n FUN
Safety is paramount at SUN 'n FUN.

Talk to your kids before you go about behavior and safety. You'll be walking through an active airport where aircraft might be moving right in front of you. Spinning props, loud engines, aircraft in motion – there is a LOT of activity in certain areas of the show.
Take a photo of your kids so you'll know what they were wearing in case you get separated and need to alert security.
Take precautions just as you would at any theme park or event with a large crowd. Be sure older kids have your cell phone memorized. For younger kids, write your number on their body or pin it inside their shorts. Be sure they know who to approach if they get lost – SUN 'n FUN utilizes police support as well as a security team of volunteers with bright matching shirts.
Directions + Parking at SUN 'n FUN
Location – Parking for SUN 'n FUN is located off W. Pipkin Road. Shuttles to and from Lakeland Linder Regional Airport Terminal are no longer available. Use 4175 Medulla Rd, Lakeland, FL 33811 (MAP IT) to get directions to the general area, and then follow signage or directions by traffic control officers as there are multiple entrances to the parking lots. CLICK HERE for additional info on getting there.
Parking Cost – $10/day or $40/week. Preferred parking available for $25.
READER TIP: One Lakeland Mom reader says to be sure you make a note or photo of where you parked your car. Will make it much easier to remember at the end of the day in a field full of cars.
Admission Rates + Florida Resident Deals for SUN 'n FUN Lakeland
Daily Admission Rates
Adult Admission Daily: $45
Youth (7-17) Admission Daily: $20
6 & Under are FREE!
After 5pm Daily – Admission is only $10 for Adults & Youth (7-17). Not available online.
Discounts available for Certified Pilots, Members of Florida Air Museum, Aviation Member Organizations and Active U.S. Military – click here for prices
SUN 'n FUN Florida Resident Deals for Saturday & Sunday
Purchase Saturday & Receive Sunday Admission for No Charge: $45 Adults / $20 Youth (7-17)
Sunday Admission Only: $30 for Adults / $10 Youth (11-17)
6 & Under are free every day
Must show some form of Florida ID or Drivers License at ticket window to redeem.
Weekly Rates
Youth (7-17) Admission Weekly: $70.00
Adult Admission Weekly: $170.00
Click here for more details on admission rates and discounts.
SUN 'n FUN Activities for Kids
Exploring the Planes and Displays
Get up close and personal with thousands of planes – from homebuilt planes to warbirds, every year there are new aircraft on display. Some of the planes on site are open for you to walk through or climb aboard. Kids will love seeing the controls up close and personal and meeting real pilots!
Florida Air Museum
The Florida Air Museum, Florida's Official Aviation Museum, is located on the SUN 'n FUN Campus. The Florida Air Museum is open year-round and the construction is now complete on the Ramus SkyLab Innovation Center, be sure to visit during the SUN 'n FUN Aerospace Expo. It features a dynamic display of the best examples aviation has to offer including one-of-a-kind designs, classics, ultra-lights, antiques and war-birds. Explore the Discovery Zone featuring hands on STEM games and activities for kids.
During the 2022 SUN 'n FUN Aerospace Expo, the museum will be in use by many private events and walk-through tours may not be available at the time of your visit. Check the Daily Schedule for more information.
STEMfusion
Don't miss the youth workshops and hands-on activities for kids at SUN 'n FUN. Held daily from 9am – 2pm in the Ramus SkyLab Innovations Center (inside the Florida Air Museum). STEMfusion offers a range of STEM demonstrations to include:
3D Printers
Drone Obstacle Course
Flight Simulation
Stories from Space
Robotics Course
Wind Tunnel
Airplane Design Challenge
Aviation Themed Kid Zone
Check out the Aviation-themed Kid Zone at SUN 'n FUN. Inflatables, zip line, games and more! Kid Zone activities are an additional charge.
Student Tours + Group Rates at SUN 'n FUN
SUN 'n FUN offers educational tours of the new Ramus SkyLab Innovation Center throughout the week of SUN 'n FUN 2022. These tours are included in the price of your admission wristband. Group rates are available for 15 or more people including college, K-12 school, home school, church, family, and scouting groups. Pre-purchase is required.
Summer Camp Savings
The Aerospace Center for Excellence offers Aviation Summer Camps at the SUN 'n FUN Campus for aspiring aviators ages 11 – 18. Save 50% off Summer Camp when you sign up at Skylab during the week of SUN 'n FUN.
SUN 'n FUN Family-Friendly Special Events
SUN 'n FUN Daily Airshows in Lakeland
SUN 'n FUN hosts a daily airshow every afternoon – Tuesday through Sunday from 1:00pm – 5:30pm. The planes performing each day vary but the week includes the SOCOM Para-Commandos, Warbirds, F-16's and many other talented pilots.
This year the US Air Force Thunderbirds will perform the finale of the Daily Airshows on Thursday, Friday, Saturday & Sunday beginning at approximately 4 – 4:30 PM. View the full Lakeland Airshow Schedule.
(Wondering if the Blue Angels fly in Lakeland this year? No, the Blue Angels are not performing in the Lakeland Airshow at SUN 'n FUN in 2022 – they traditionally rotate each year between the Blue Angels and Thunderbirds. Both put on an amazing show! The Blue Angels will return to Lakeland in April 2023.)
Preferred Airshow Seating – this area is located on the flightline in front of the SUN 'n FUN Announcer's Stand. You will have access to seating, bathrooms, some shade (not all areas are shaded), bag storage and free water all day. Purchase allows for all day access to the Preferred Seating Area. Only $25 daily, tickets for children 6 and under are free. Click here to purchase online. (This cost is in addition to your entrance ticket)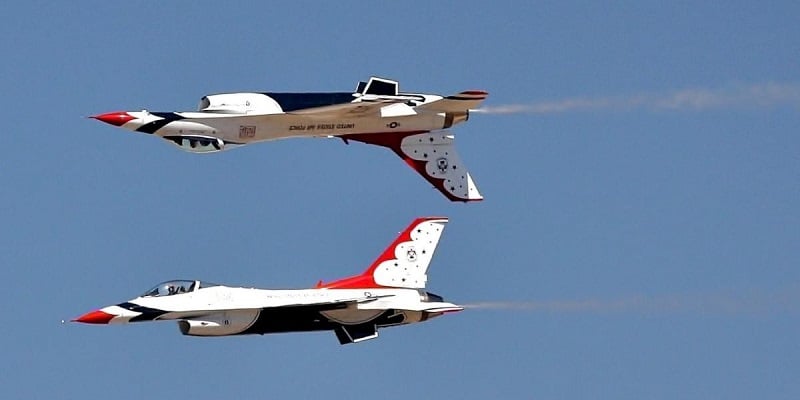 Night Airshows – Wednesday and Saturday
When the skies go dark, the planes light up! Catch an amazing night air show on Wednesday and Saturday, including a drone light show. A video from dusk at a previous year's night airshow is included below.
Wednesday – 7:15 – 9:15pm
Saturday – 7:15 – 9:30pm – ending with FIREWORKS!
Hot Air Balloon Launch – Saturday AM
The Hot Air Balloon Launch happens Saturday morning between 6:30-8:00am (typically at 7am, weather permitting)
Classic Car Show – Saturday + Sunday
Check out the Classic Car Show on Saturday and Sunday. Car viewing is included with SUN 'n FUN Admission.
Visit the SUN 'n FUN website for full details on this air show in Lakeland, FL happening April 5-10, 2022.
Spring Activities Guide
Check out our full Spring Activities Guide for more things to do in Lakeland, Polk County, and Central Florida from January – May.