Candy and costumes… our two favorite parts of Halloween! Wondering where to buy Halloween costumes and accessories in Lakeland, Winter Haven, or Polk County?
Whether your child has his/her heart set on a specific popular Halloween costume you need to track down OR you want to browse a variety of Halloween costume ideas, we've got 9 different websites for costume shopping. Plus a list of local Halloween stores near you where you can shop in person and try on costumes. If you're going to a costume party or trunk or treating, be sure to start early to find the best selection of costumes!
Most of these stores also sell Halloween decorations and Halloween party supplies.
Don't miss our Ultimate Guide to Fall & Halloween Activities for a full list of fun things to do this fall in Lakeland, Winter Haven, Polk County, and Central Florida including pumpkin patches, corn mazes, haunted houses, Halloween events, trunk or treats, drive-thru Halloween attractions, trick or treat details, and more.
A few ways to use our list of Halloween Stores near you:
• Find a local store to look for costumes in person*
• Compare prices on a certain costume at multiple online stores (all of the websites listed are reputable sites)
• Use these websites to see what local stores have in stock
• Track down that one specific costume your child wants that you haven't been able to find locally
• Brainstorm ideas for costumes for couples, group costumes, adult costumes, costumes for the whole family, etc. Maybe even dog and pet costumes!
* SCARE WARNING * Spirit Halloween and Party City often have scary displays in their stores, sometimes right at the entrance. I vividly remember my son freaking out when we went into one of them around age 4-6, so be prepared if you're taking kids into these stores with you.
Once you find your perfect costume, be sure to check out our other Halloween posts to find events and activities where you can dress up including:
Don't miss our Halloween Safety Tips for Trick or Treating and find out the hours for Trick or Treating in Lakeland & Polk County.
This post contains affiliate links.
Jump to: Map – Halloween Costume Stores Near You
Halloween Stores Near You for Costumes + Decor
Target's in-store costume selection is somewhat limited, but they have hundreds more available on their website that you can have shipped to the store for free OR straight to your house (shipping is FREE if you spend over $35). I also LOVE that you can use the Target website to see what they currently have in store.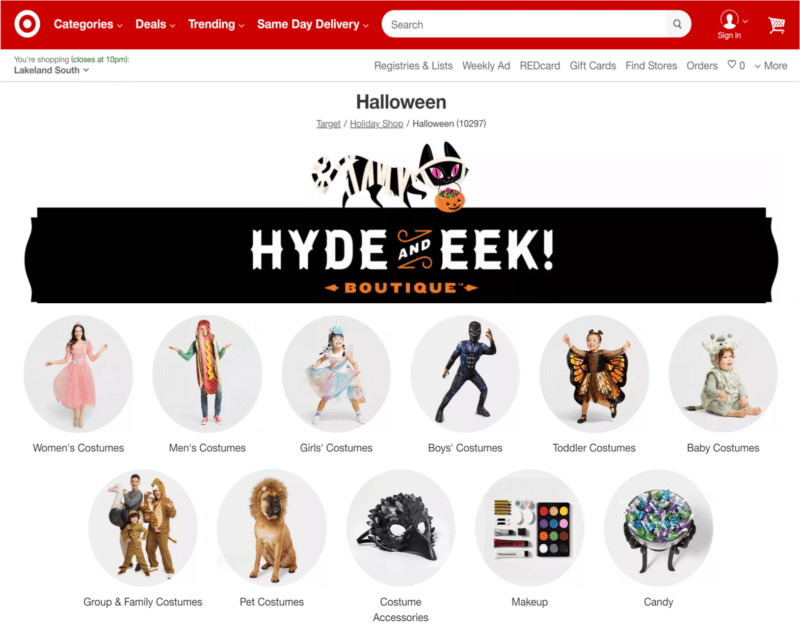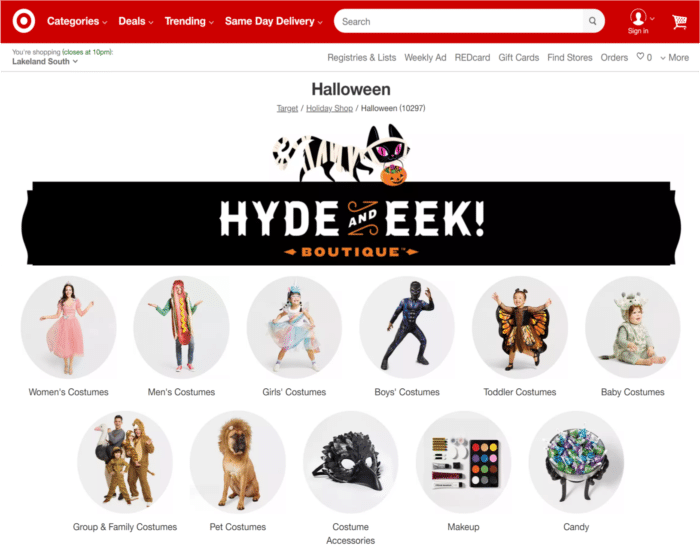 Spirit Halloween has a large selection of costumes for kids and adults, plus accessories. They probably have the largest in-store selection for adults, including lots of "couple costumes," wigs, masks, as well as funny shirts and things that are perfect for Halloween but not a full costume. They also have a huge selection on their website.
Spirit Halloween stores can usually be found in empty storefronts, meaning they aren't always in the same location each year.
Find a Spirit Halloween Store near you – 2023 Spirit Halloween Locations:
Spirit Halloween Lakeland FL – 4764 S Florida Ave, Lakeland, FL 33813 (South Lakeland – Lake Miriam Publix Shopping Center, former LA Fitness location)
Spirit Halloween Lakeland FL – 4985 US Highway 98 North, Lakeland, FL 33809 (North Lakeland – in the shopping center just north of ALDI, former Save A Lot location)
Spirit Halloween Lake Wales – 501 Eagle Ridge Dr, Lake Wales, FL 33859 (former JC Penney location)
Spirit Halloween Davenport / NE Polk County – 6250 Grandview Pkwy, Davenport, FL 33837 (Next to Best Buy)
Spirit Halloween Brandon FL – 911 Lithia Pinecrest Rd, Brandon, FL 33511 (Former Tuesday Morning)
Spirit Halloween Valrico FL – 3456 Lithia Pinecrest Road, Valrico, FL 33596 (Former Stein Mart)
In previous years there was a Spirit Halloween in Winter Haven but there is no Winter Haven location listed at the date of publishing. Check the Spirit Halloween website for a full list of locations.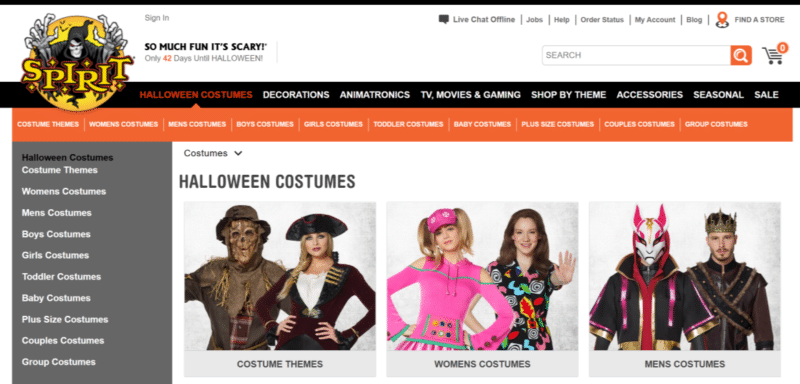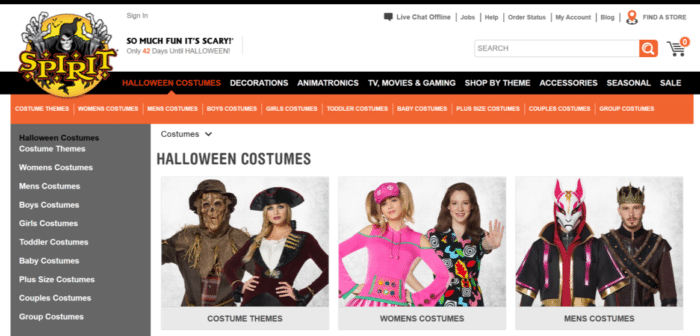 Party City offers a wide variety of Halloween costumes for both children and adults, along with accessories galore. You can use their website to see what is in stock, OR order online and pick up in store.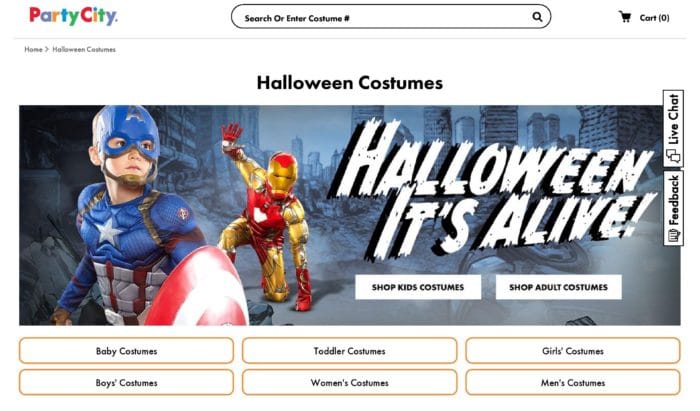 WalMart has great prices on their costumes but finding what you want in-store can sometimes require a bit of searching. You can use the Walmart Website to see what they have in stock, or order from the 1000+ costumes on their website.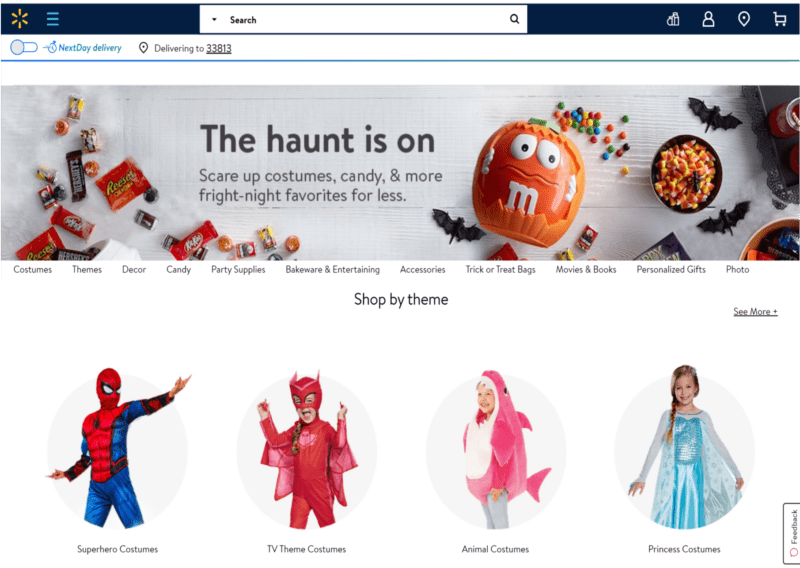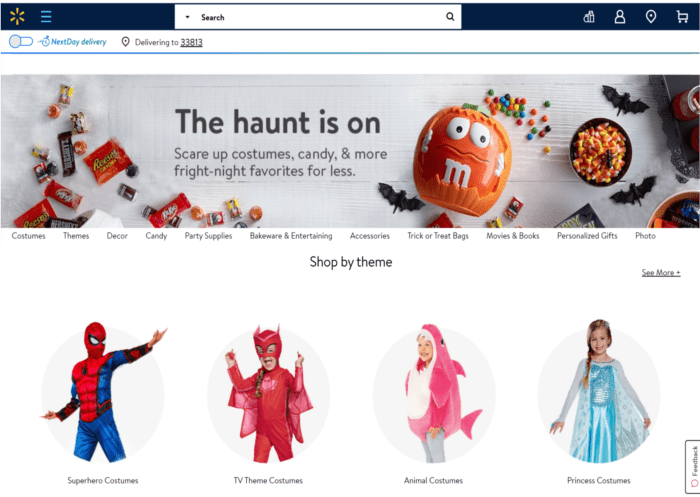 Once Upon a Child
At Once Upon A Child you can earn cash on the spot for the gently used clothing, shoes, toys, books, and equipment that your little ones have outgrown, AND also shop for all of these items at a discount. Halloween Costumes are available now!
4272 US Hwy 98 N, Lakeland, FL 33809
Website • Facebook • Instagram • (863) 858-6822
Sam's Club is always the first place I see Halloween costumes, they put them out EARLY. In past years the selection has been slim BUT this year I saw 20+ options in store plus a selection of 50+ costumes on the Sam's Club website.
MAP TIP: Tap the box with an arrow in the top left to see a list and search by store name.
Map of Halloween Stores Near You in Lakeland + Winter Haven
Websites for Halloween Costumes
HalloweenCostumes.com claims to have the largest selection of costumes in the world. We don't actually know if that is true BUT they do have a great selection of couple, group, and family costumes, as well as accessories and decorations. They also have the option to Rent Costumes for some of the more elaborate (and better made) costumes. Check out their website to see their large selection of Halloween costumes.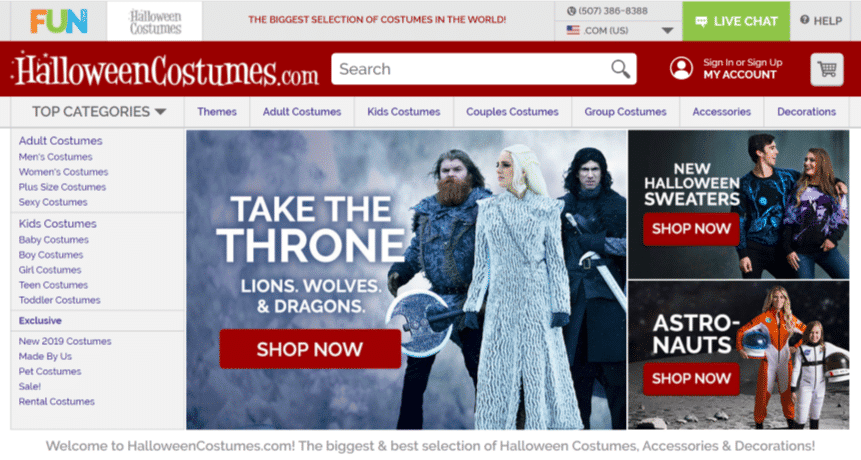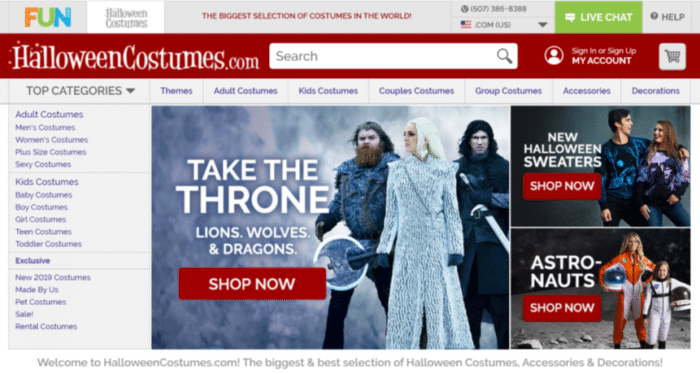 HalloweenExpress.com
The Halloween Express website has a large selection of costumes and offers free shipping with orders of $49+.


Since it seems they sell everything under the sun, of course you can find costumes on Amazon.com. Be sure to do your research, while they have great deals on costumes, a few of the costumes we searched for are priced higher than you can find them on the other websites listed above.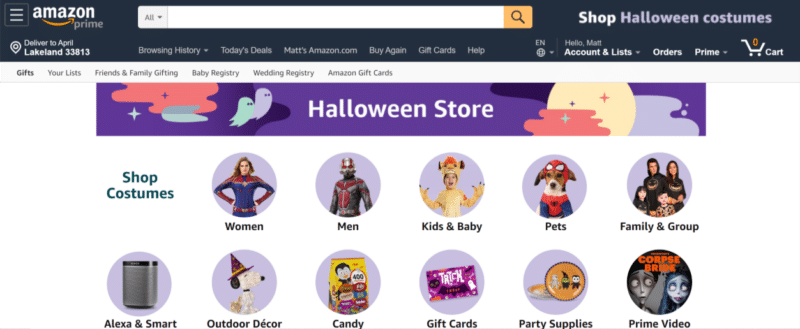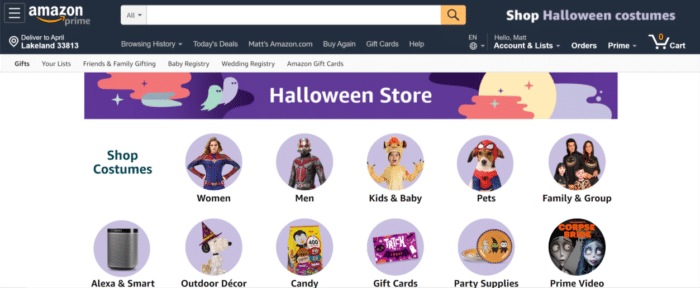 If your son or daughter wants to dress up like a real football player, Fanatics sells full uniforms from all NFL teams and a large selection of college football teams. The uniform includes a helmet, pants, jersey, and a selection of numbers to add to the back. We bought a Bucs uniform one year and I was really pleased with the quality, especially how real the helmet looks! Hockey jerseys and masks are available as well.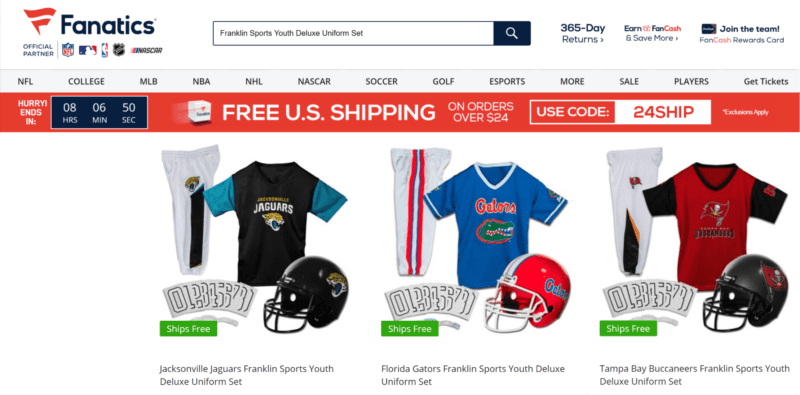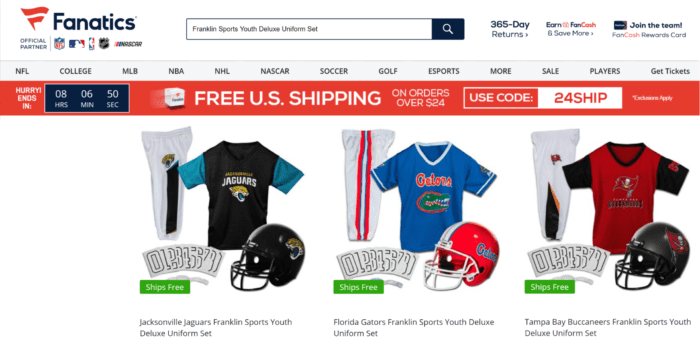 Pottery Barn Kids
Pottery Barn Kids has some of the CUTEST and most creative Halloween costumes. They are pricey but so well made and could defintely be re-used by other siblings OR for dress up during the year. Check out the selection on their website. (The nearest PBK store to us is in Hyde Park, Tampa but they will have a very limited selection in store)
They also have adorable personalized treat bags, my boys both have these and they have held up really well over 5+ years.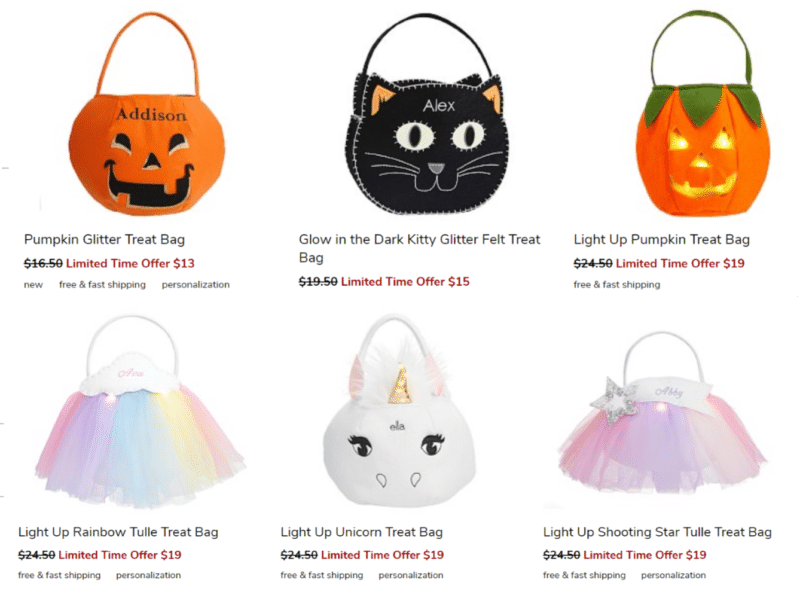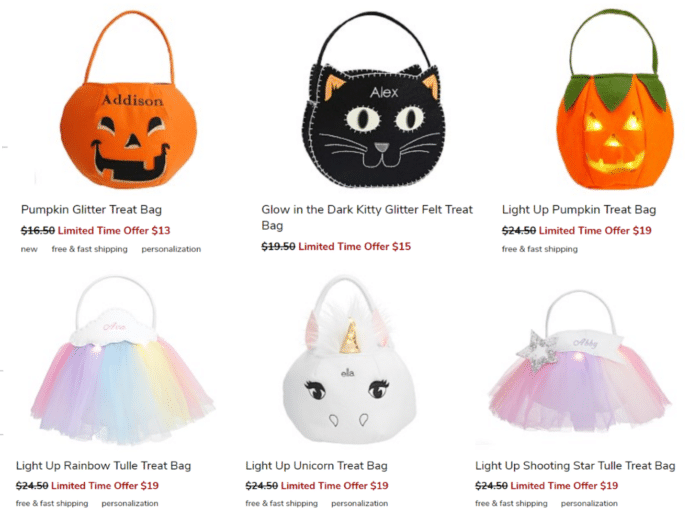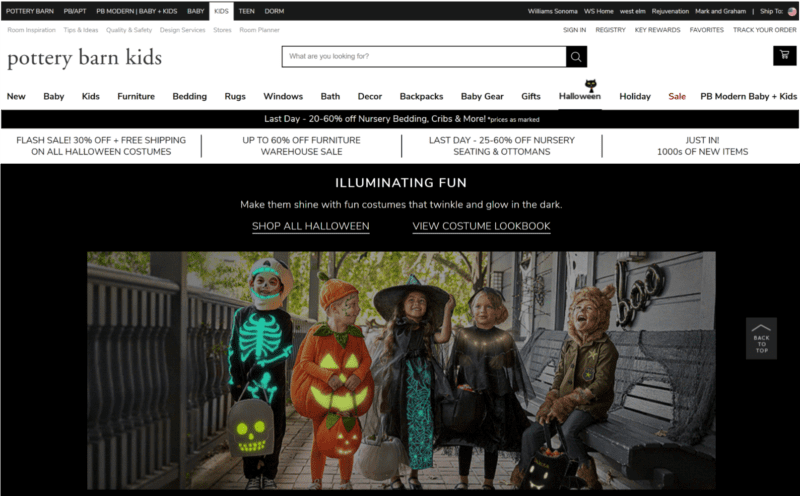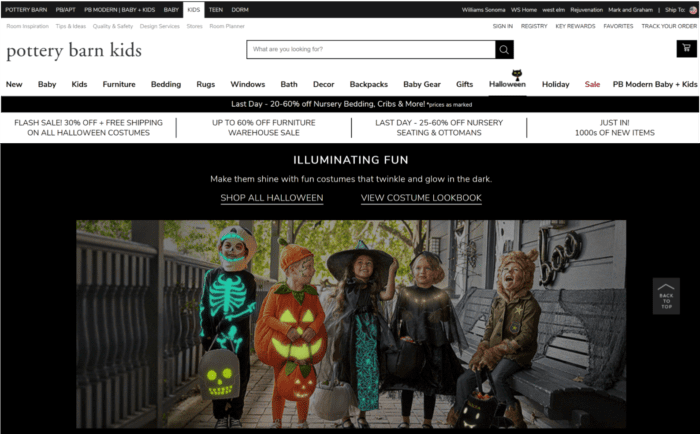 You'll find an assortment of costumes on Groupon, and although it might take some searching to find what you're looking for, it is a great option if you're just looking for ideas. They have women's, men's and kids costumes, as well as Halloween accessories and home decor. Groupon Website
I could spend HOURS browsing all the sales on Zulily. If you've been on there before you know what I mean, and if you haven't, I'll apologize now for possibly introducing you to your newest shopping habit. Their products rotate every 3 days – you'll find both great deals AND items you won't likely find anywhere else. Everything from children's clothing, women's clothing, home decor, kids crafts, toys – they really have some of everything. You can search OR shop by brand, and can even save your favorite brands to get an email when they are going to be available (You will have to enter your email to see the items they have for sale).
Click here to see current Halloween costumes on Zulily. They also have all kinds of Halloween home decor.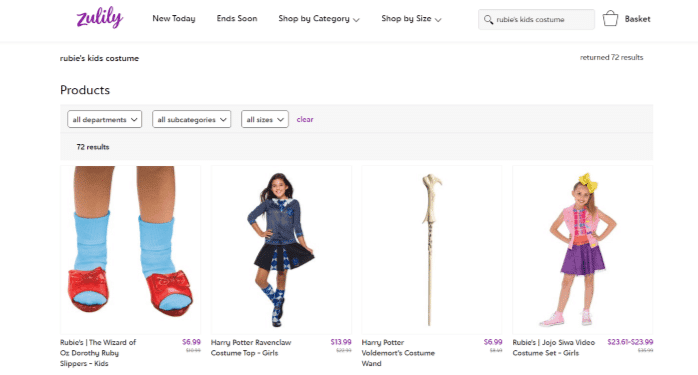 While you can find princess, Toy Story, and all kinds of other Disney costumes in Target and Walmart, another place to shop is the Disney store. Speaking from experience, authentic Disney costumes are well made and last much longer than a typical costume. Disney shop costumes often feature detailed design, light-up elements, sound effects & more.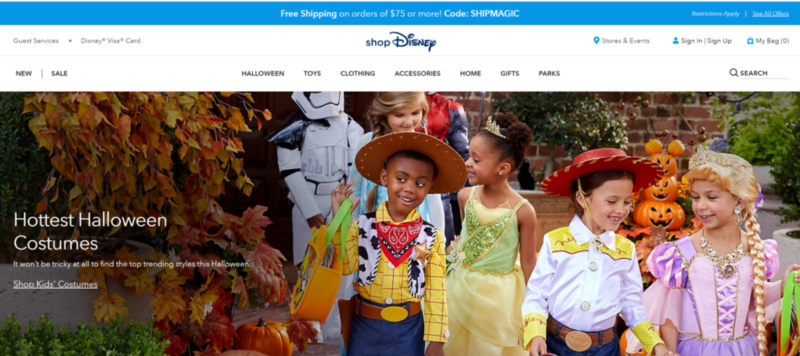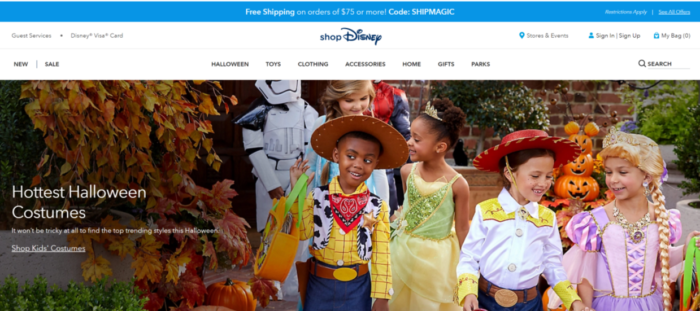 Fall + Halloween Activity Guide
🌽 Corn Mazes 🎃 Pumpkin Patches 💀 Haunted Houses 🍬 Halloween Events in Polk County 👸 Neighborhoods for Trick or Treating 🍭 Trick or Treat Hours and more!