Looking for a place to have a baby shower, wedding shower, or private event? Maybe an adult or teen birthday party, company lunch, rehearsal dinner, or holiday party? We can help you find local restaurants that host private events so you can stop searching and start planning your special occasion!
The easiest way to host a stress-free event is at a restaurant with a party room. You book the date and send the invites, they take care of the food, the drinks, and the service.
The event venues listed below are local bars and restaurants in Lakeland FL with private rooms or semi-private event space. Whether you want a plated full-service meal, a family-style dinner, or a cocktail party, these restaurants offer a variety of private dining options. Please check directly with these venues for the most up-to-date information on pricing and event capacity.
Prefer to book your own caterer or have more flexibility in your event set-up? We also have a list of party venues and banquet halls where you can rent event space.
Looking for an outdoor venue? Try our list of restaurants with outdoor seating, our list of event venues for local barns and outdoor patios, or check out our list of park pavilion rentals.
Restaurants with Private Rooms in Lakeland
Nineteen61
Banquet61 offers a 3,000 square foot facility for your next meeting, private party, shower, wedding or any occasion. It includes a state-of-the-art kitchen with Nineteen61's talented chefs ready to serve you. A rooftop bar is also available for special events – the perfect setting on a gorgeous night in Downtown Lakeland.
Location: 215 E. Main St, Lakeland, FL 33801
More info: Nineteen61
Frescos Southern Kitchen and Bar
Frescos Southern Kitchen & Bar has three private banquet rooms available for anything from a small gathering to a wedding reception. Whether you plan to host a corporate celebration for your office staff, a more intimate affair with family, or a holiday party with your best friends, the Frescos team can provide a one-of-a-kind experience for you and your guests.
The Board Room can accommodate up to 16 guests, The Banquet Room can accommodate up to 50 people, and The Speakeasy Room is their largest event space – 4000 square feet for up to 200 guests. It includes a stage, a bar, private bathrooms, and enough space for a dance floor.
Location: Downtown Lakeland – 132 S. Kentucky Ave, Lakeland, Fl 33801
More info: Frescos Website
Texas Cattle Company
At Texas Cattle Company, your guests can feast on wood-fired steaks, their delicious house salad, and other local favorite menu items. Texas Cattles makes it easy to plan your event with set dinner packages and bar packages. Two private dining rooms are available that seat up to 22 and 36 guests.
Location: 735 E Main St, Lakeland, FL 33801
More info: Texas Cattle Company
Grillsmith Lakeland
Looking to host a cocktail hour, company lunch or holiday dinner at a local restaurant? Grillsmith offers two private dining areas that can seat 25 guests each or up to 50 guests when combined. Their private dining menu options make it easy to plan your food from Grillsmith favorites, and include appetizer, salad, entree, and dessert.
Location: Lakeside Village – 1569 Town Center Drive, Lakeland, FL 33803
More info: Grillsmith Private Events
Harry's Seafood Bar & Grille
The Wakeman Room at Harry's Seafood Bar & Grille in Downtown Lakeland has exposed brick walls, view of Munn Park, a private entrance & restooms. Includes audio visual capabilities.
Location: 101 N. Kentucky Avenue, Lakeland, FL 33801
More info: Harry's Seafood Bar & Grille Lakeland
Cob + Pen
Looking for a unique event venue with both indoor and outdoor space? The Tudor House was originally built in 1927 and is now home to Cob and Pen on South Florida Avenue. Whether you want to host a formal meal with seating or have a casual event with appetizers and mingling, Cob and Pen can host your event. The outdoor patio and lawn are available for outdoor events and can include yard games and a satellite bar. A full food menu is available as well as beer, wine, and a full bar.
Location: 1221 S. Florida Ave, Lakeland, FL 33803
More info: Cob & Pen
Cleveland Heights Golf Course Clubhouse
The Cleveland Heights Golf Course Clubhouse can host groups from 20 to 250. Enjoy picturesque views from the main ballroom, or use the Sawgrass Suite for your next company lunch. Catering is provided by Second Plate Catering or 1916 Irish Pub.
Location: 2900 Buckingham Ave, Lakeland, FL 33803
More info: Cleveland Heights Golf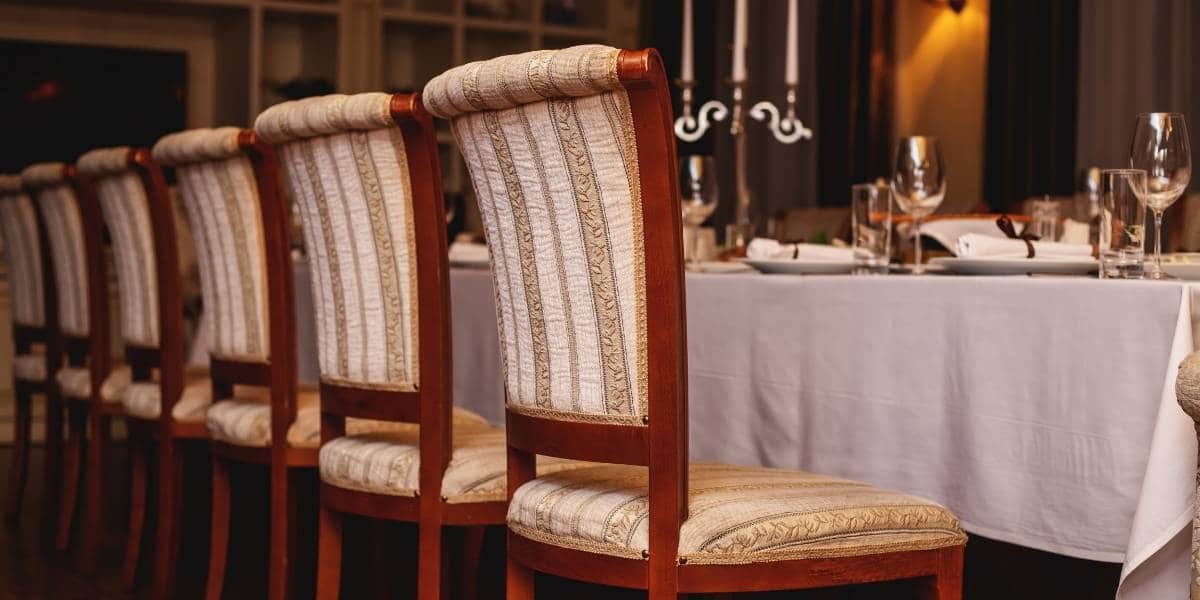 The Terrace Grille
The Terrace Grille at the Terrace Hotel in Downtown Lakeland offers private event space for parties and special events up to 180 people, with a variety of menu options and a full bar. Great for large dinner parties, small weddings or elopements, showers, and other social events.
Location: 329 East Main St., Lakeland, FL 33801
More Info: The Terrace Grill
Fleur Bistro
If you want amazing desserts at your next event, look no further than Fleur Bistro. They have a private room that is perfect for a baby shower, wedding shower, or other gatherings, plus a menu filled with delectable treats. Room rentals are available on weekdays after 3pm or all day Sunday. Can seat 50-100 people depending on the space.
Location: 4525 South Florida Avenue, Lakeland, Florida 33813
More info: Fleur Bistro (call to inquire about booking an event)
The Red Door
The Red Door takes pride in its scratch kitchen, craft beverages, classic cuisine with a modern twist, and a pretension-free atmosphere. Enjoy a beautiful view of Lake Morton from the outdoor covered porch while you let The Red Door host your event.
Location: 733 E. Palmetto St. Lakeland, FL, 33801
More info: The Red Door
Swan Brewing
Swan Brewing can host your next Birthday Party, Baby Shower, Corporate Event, Friendly Gathering, or even a Wedding Reception. Options include Swan Brewing South (smaller groups), the outdoor patio at Swan Brewing Downtown for up to 150 guests, or you can rent the entire Swan Brewing patio and taproom. Scenic views over Lake Wire are a great backdrop for your special event!
Swan Brewing has up to 30 different beers on tap. There are food trucks on site most days, and arrangements can be made for outside food for larger groups. Fill out the Event Inquiry form on their website and an event coordinator will be in touch to plan your special event.
Locations: Swan Brewing Downtown – 115 W Pine St, Lakeland, FL 33815
Swan Brewing South – 2972 Lakeland Highlands Rd, Lakeland, FL 33803
More Info: Swan Brewing
The Yard on Mass
The Yard on Mass offers indoor space, outdoor cabanas, and a large outdoor yard for events, plus live music on the weekends. You can also opt for a full buy-out if you want the entire place to yourselves!
Location: 802 N Massachusetts Ave, Lakeland, FL 33801
More info: Yard on Mass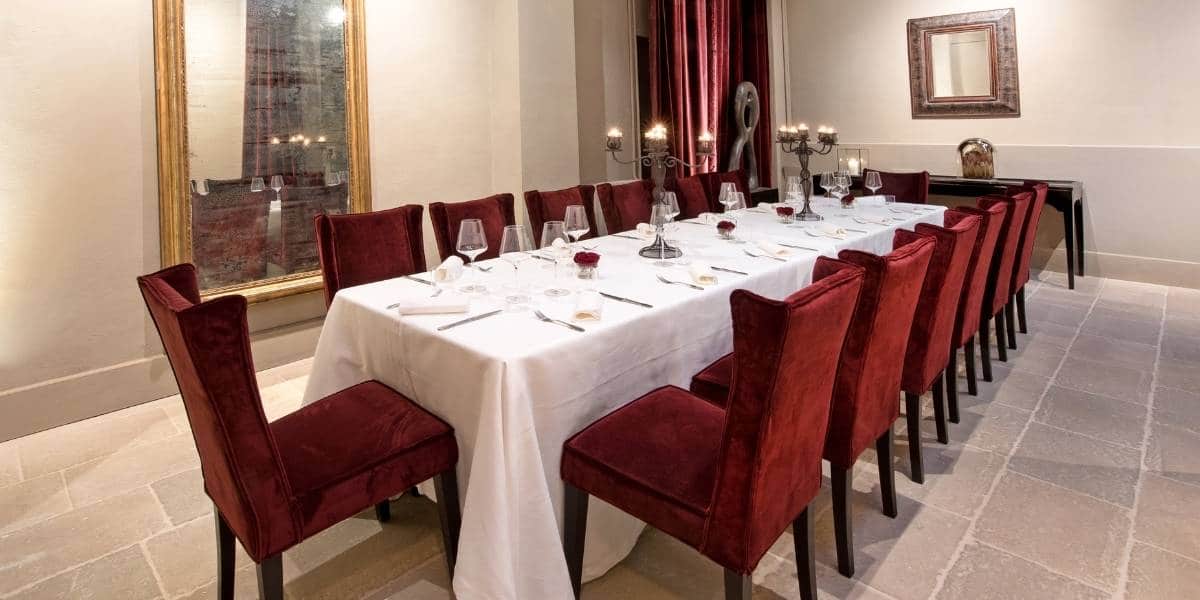 Restaurants with Private Rooms in Winter Haven
Arabellas
Enjoy the best Italian and Mediterranean cuisine in a private dining room at Arabellas. Two private rooms are available that seat 10-22 guests and 15-30 guests. A full restaurant buyout is also available for up to 95 guests. Whether you're hosting a business lunch, a holiday dinner, a baby shower, or anything in between, Arabellas can help you host an elegant dining experience with delicious food and drinks.
Location: 346 W. Central Av. Winter Haven, FL 33880
More info: Arabellas
Harborside
Enjoy gorgeous views over Lake Shipp from your private dining room at Harborside. Multiple private venue spaces are available for up to 70 guests, ideal for a sit down dinner or a cocktail style event. Pre-set menu selections can help make your event decisions easy!
Location: 2435 7th St. SW, Winter Haven, FL 33880
More info: Harborside
Country Clubs + Reception Halls
Below you'll find a list of Country Clubs and Reception Halls where you can host an event. These are not restaurants but they do have an on-site kitchen or culinary partner that will provide food for your event.
The Club at Eaglebrooke
The Club at Eaglebrooke has versatile event space that can host up to 200 guests. Wedding receptions, rehearsal dinners, high school reunions, bridal showers, corporate lunches – Eaglebrooke has hosted them all.
Complete the banquet or wedding request for information, a member of the staff will reach out and contact you with more details. You do not need to be a member at Eaglebrooke to host an event there.
Location: South Lakeland – 1300 Eaglebrooke Blvd, Lakeland, Florida 33813
More info: Eaglebrooke Banquets | Eaglebrooke Weddings
The Country Club of Winter Haven
The Country Club of Winter Haven can host events for up to 220 people in their main dining room and outdoor patio overlooking the golf course. Conference space is available for small groups or intimate parties up to 40 guests. They also have a beautiful lakeside venue designed for an outdoor wedding ceremony or outdoor reception. You do not have to be a member to host an event at The Country Club of Winter Haven.
Location: 4200 Country Club Road South. Winter Haven, FL 33881
More info: The Country Club of Winter Haven
RP Funding Center
The exhibit halls and convention center rooms at the RP Funding Center are designed to host large events with over 1,000 guests.
Location: 701 West Lime St., Lakeland, FL 33815
More info: RP Funding Center
Private Clubs
These Private Clubs in Lakeland host an array of social and business functions. They do rent event space to non-members, but may require a member sponsor. Contact them directly for more information.
Tea Rooms in Polk County
Most Tea Rooms are small and private by nature and often offer group reservations. They are a perfect location for a wedding shower, baby shower, or birthday luncheon. We have a separate article listing all of the Tea Rooms in Polk County and Central Florida including:
Sweet Magnolias in Auburndale
The Backporch Restaurant at The Barn in Lake Alfred
Lavender and Lace Tea Room & Restaurant in Lake Alfred
Map – Restaurants with Private Rooms Near You
While we've done our best to list all of the restaurants with private rooms in Lakeland Fl, this is not a comprehensive list and other restaurants may also offer semi-private group dining options or full restaurant buyouts. If you don't see your favorite local restaurant listed here, check with them directly for more information on private parties.
Birthdays + Special Events Guide
Check out our Special Events Guide for Lakeland + Polk County to find Birthday Party Venues, Rental Spaces, Banquet Halls, Restaurants with Private Party Rooms, Park + Playground Rentals, Birthday Freebies, and more.